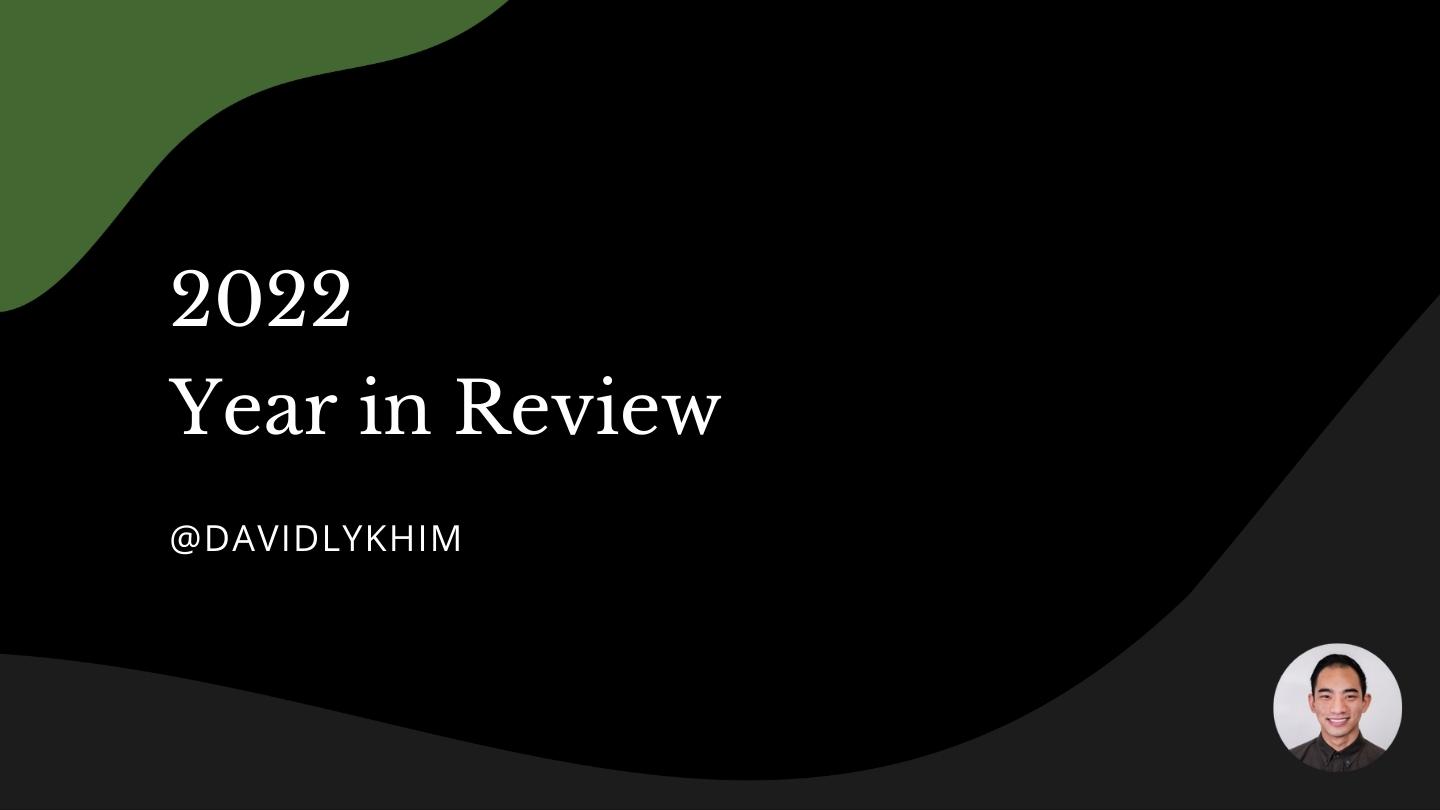 What a crazy year. A lot happened in the world politically and financially. A lot happened in my life personally, professionally, and financially. There's always room to do more things, but rather than focus on that, I'm quite happy with how the year played out.
My goals from last year were to:
Scale Omniscient Digital to 7 figures in revenue. Done.
Delegate and elevate. Always trying to get better at this.
Take The Long Game to 100 episodes. Done.
Write a book with Alex and Allie. Nope. Deprioritized.
Buy a cash-flowing business. Big no this year with interest rates.
Produce assets like courses and templates. Created a few resources, but it wasn't a priority.
Continue to maintain and improve my mental, emotional, and physical health. I feel good about this, though always working on it.
Continue to build relationships. Always working on this.
As with my 2021 review, I'll focus on highlights throughout the year. I'll break this up into personal, business, and financial highlights.
Annual Playlist
Here's my annual playlist as you read this review.
Personal Highlights
Work is fun and energizing again.
I left my job as Head of Growth at People.ai and jumped into building Omniscient Digital full-time.
This is the most focus and excitement I've felt about work in years. I wake up excited to build and go to bed eager to build in the morning. I'll get more into this in the business highlights.
No longer feel shame over enjoying work.
There was a period where it felt taboo to say you enjoyed working. Anti-capitalism rhetoric and all that. But I enjoy thinking and working through the challenges of building a business. And I won't shy away from talking about work just because others don't like their work. It excites and interests me so I feel no shame in talking about it.
Took a vacation in Hawaii.
Spent about two weeks in Hawaii with Lisa, Alex, and another friend. We ran a Spartan Beast race. We had some injuries, but everyone's okay. A few days after the race, I went on a long run to the Diamond Head volcano and shattered some limiting thoughts while on that run. More on that in a previous newsletter.
I also went scuba diving for the first time despite only recently getting comfortable swimming across a pool with no floatation devices. They surprisingly let me go on a dive without any experience. I freaked out but eventually calmed down.
The vacation was much needed.
Participated in entrepreneur groups and conferences.
I participated in three different entrepreneur groups this year that allowed me to learn and grow from others.
Entrepreneur's Organization (EO): I joined the Accelerator program and going to stick with it. I'm happy to chat about my experience if you're interested in joining.
Leveling Up Live in Austin, Texas: I attended as a holder of the Leveling UP NFT, but haven't gotten to attend their other events. Was great getting to catch up with Eric though.
Agencito: I tried this for a few months but decided it wasn't for me.
Feeling physically, mentally, and emotionally strongest than I have in a while.
The pandemic took a toll on my strength and conditioning. I ran a lot but wasn't able to lift as much when I got back to it. Now I'm back to squatting and deadlifting 225lb or more for reps and improving my bench press. The workout regimen and refreshed excitement for work have given me things that happy to apply my time and energy to. I feel great all around.
Business Highlights
Alex, Allie, and I jumped into Omniscient Digital full-time.
It was time. It was a big pay cut from our big tech salaries, but we're happier and more excited about work. It's exciting to build with these two and our team.
Omniscient hit $1.5M in revenue.
We tripled revenue from last year again. This will likely be the last time I'm going to share a revenue number publicly because, if things go according to plan, that number will be less comfortable to share next year.
Our team grew.
We brought on 7 full-time and part-time team members this year. We expanded our client success team and formed an editorial team and added another content strategist. These folks will allow us to take on more clients next year.
Alex, Allie, and I often reflect on our journey of building a team. We're responsible for their livelihood and ensuring the business succeeds so we can support them and their families. These folks took a bet on us and our company and I don't take that lightly.
I'm grateful for the trust each person has placed in us and excited to build with them.
Curious about working with us? Check out our team page for current job openings.
We got awesome case studies.
We got amazing testimonials and case studies from people and companies like Dave Gerhardt, Jasper, and GatherContent. We have more coming down the line.
Know any CMOs or VPs of marketing at B2B software. companies that could use help with content and SEO? Send them my way.
We're building our media engine.
We hosted over 20 events and published 100 podcast episodes of The Long Game. Big props to Karissa for leading the charge on all of this.
Here are some of the podcast episodes I hosted this year:
We're set up to survive a rough 2023 and thrive.
We build a strong balance sheet and did a cost-cutting exercise. We're going aggressive with our own marketing while other businesses decide to shy away from marketing investment.
Our team naturally has a competitive spirit with many team members having backgrounds in some competitive sports. That competitive spirit is ready to pounce on the opportunity this coming year.
We see the challenging economic situation and the upcoming recession as an opportunity as much as it's a risk.
Investments
Nothing really to add here except to admit that the value of my real estate, stocks, crypto, and NFTs all went to shit with the market shifts.
I guess I'll just continue holding 🤞🏽
Favorite Books
2023 Goals
My goals have become more focused over the years. I have personal things I want to do next year but I think of them as "to do's" rather than goals so they aren't listed here.
Scale Omniscient to multi-million-dollars in revenue
Build 2 new revenue streams for Omniscient
Build or buy a second cash flowing business
Get PADI certified – perhaps scuba diving will be my next hobby
Continue to maintain and improve my mental, emotional, and physical health
Continue to build relationships
2023 Theme: Faith, not fear.
The theme for the last two years was "scale." It was about being ruthless with prioritization and how I spend my time, delegating more, and trusting others. That would in turn allow me to spend more time on the things that matter most.
This year, I adopted the phrase, "Faith, not fear."
This came out of watching the Kanye documentary on Netflix. Regardless of what you think of Kanye, this guy was extremely talented and driven. I noticed Kanye had complete faith that, even though it wasn't going to be a straightforward or easy path for him, he would make it as a rapper. To him, it was a matter of when, not if.
I realized a lot of my decision-making was rooted in fear. I was scared of looking stupid, scared of missing out, scared of messing up.
I asked myself what I would do differently in life and business if I were to focus instead on faith over fear.
No more fear-based decision-making.
Faith-based decision-making has helped me leveling up tremendously.
Previous reviews: