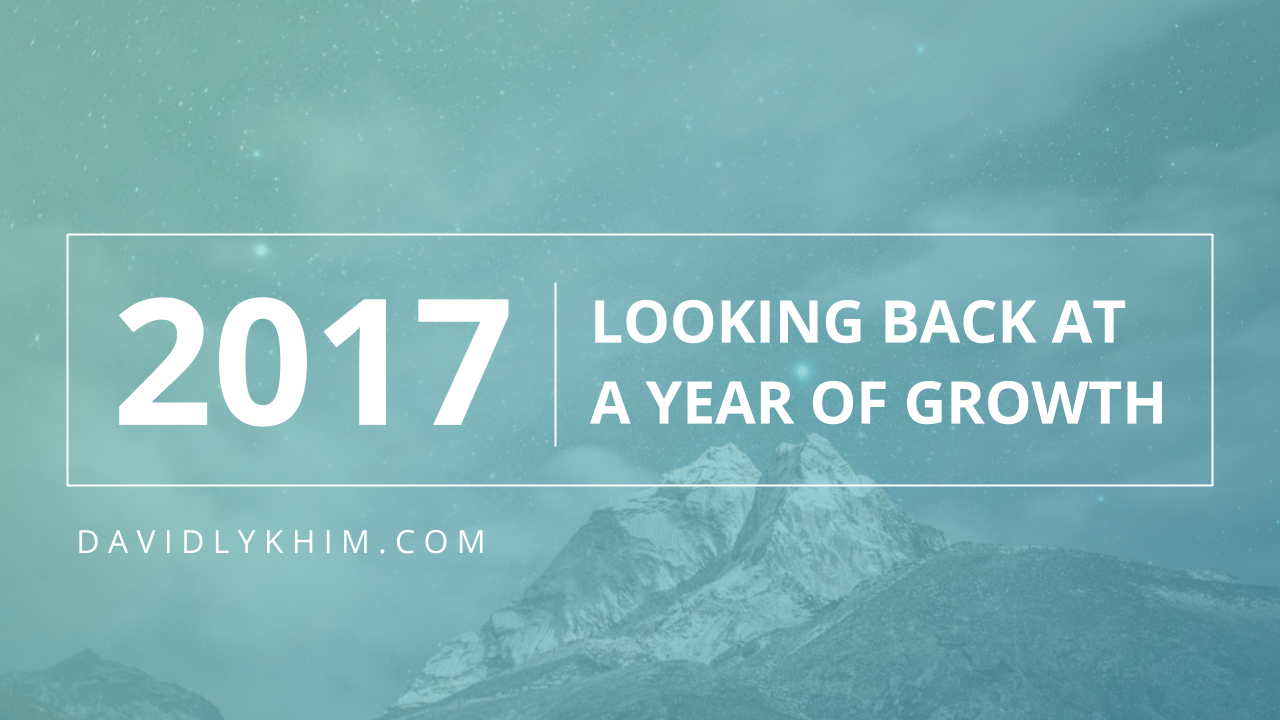 This holiday season I got to spend a lot of time with family and some of my closest friends whom, on average, I've known for a decade. Being extremely introspective people, we reflected a lot on how far we've come, how we've changed, what the future looks like, and what has generally been on our minds.
Whether it's between three months, six months, a year, or eight years since we've seen each other is, the one thing that we always say is, "Damn. Time went by quick."
Over the four years since I've completed my undergrad, friends have moved to and from Japan, Taiwan, New York, Denver, Nevada. I moved to Boston. Change came with challenges, but it also came with growth. Personal growth, professional growth, and friendship growth.
While I've met many people who aren't a fan of getting older, I've been taking a different view on getting older: I'm excited for it.
I've found that the people I admire most see a lot of growth and success between ages 25-40 (and beyond!). While I'm far from 40 (I know I'll get there sooner than I think), I'm excited to get to 30, to 35, because I know that a lot will happen in the years leading up to those birthdays.
It's during those days of maturity and putting in the time that big things happen. We experience success, meet interesting people, start new partnerships, start new ventures. The crazy thing for me is I feel I've already experienced many of those things in the last four years. I can only imagine what's in store.
That's why I've been excited to do share my personal annual review. Let's dive in.
Here's what happened in 2017 that I'm happy about.
What Went Well
I like to focus on the things that went well. That isn't to say things went perfectly. Within the things that went well are things that could've been better.
My focus is on what I should do more of instead of the things I shouldn't do.
Career Level Up
My role at HubSpot was undefined and fluid this year. Our initial plans for 2017 didn't play out well so I created a proposal explaining where I believed we should dedicate resources. My proposal contained projects that required cross-department collaboration, but the way teams were set up made it difficult to collaborate.
My mission was to influence Marketing and Product leadership's thinking on how teams were set up in the future and ultimately how the company thought about marketing and growth. I pulled relevant data to make a case for my arguments and created presentations that told a story of expected results and examples of companies who successfully executed on similar strategies. My Director and VP were also pushing for these ideas and having the same discussions at the executive level. They eventually saw the picture we were painting.
While I don't believe I was the sole reason for the change, I like to think that I played a role in the improved alignment between Marketing and Product.
As a result, I'm going to move to Dublin in next year to take on more responsibility and execute on the projects I had proposed. The move will also come with a promotion. ??
In parallel with those conversations, I continued working on partnerships and other marketing initiatives. Because my role wasn't clearly defined, it was up to me to determine my own priorities and communicate why I was working on my projects and the potential impact of each.
Another point of affirmation is an increase in interesting companies showing an interest in hiring me.
Non-Profit and Community Work
I continued to serve on the advisory board for United Way's Youth Venture program. This involves providing guidance on program growth and development, efforts to measure impact, and volunteering to help each group develop their businesses.
We recently hosted our annual pitch day where the groups pitch their social enterprise idea for funding. This is one of the more superficially rewarding events because you can see each of their faces light up when they hear their business idea has received funding. It's a big deal because many of these youth come from low-income families and are generally not expected to go to college.
The Youth Venture program provides them with mentors who believe in them, help them craft a business idea, and help them get funding which reinforces the idea that there are people who believe in them and their ideas are valuable. While not all business ventures are successful, it's the process and the experiences they get that we hope will propel them to continue their education and give back to the community in the future.
I've also continued working with People of Color at HubSpot (POCaH). Myself along with a group of coworkers and friends created a mentorship program in early 2017. Melissa Obleada has taken charge of the program and the second cohort of mentees have recently been matched with mentors.
Making Friends and Building Relationships
This year, I became more intentional with asking people to spend time over coffee, drinks, dinner, lunch, brunch. There were people whose presence I appreciated and whom I wanted to spend more time with. This included friends, co-workers, mentors, and more intimate relationships. Instead of thinking, "They're probably too busy," or "They probably already have plans," I just asked if they're free for brunch or coffee. If they weren't free, we'd find a date that worked. The answer was never "no."
I went on lakehouse and ski trips, took salsa classes, met people with similar interests in marketing, or similar aspirations in international development, or people with similar backgrounds. Some friendships might have spawned from a simple email or tweet that led to a coffee meeting. The key thing was I would follow up and ask to hang out another time.
In addition to new friendships, I continued keeping in touch with old friends. I now have many friends who I've known for over a decade, and other friendships are getting closer to a decade. It's mind-blowing that I've known these people for so long and I appreciate that they continue to be my friend.
Travel
I got to travel a lot this year due to work and speaking gigs (which I'll explain in the next section). Here's an overview.
In May, I visited home in Long Beach for my sister's graduation.
Then I picked up a speaking gig in San Diego and got a chance to visit home again.
My friend, Justin Ho, had finished his Doctorate of Physical Therapy at NYU so I visited him one last time in June. He has since moved to Seattle to start the next chapter of his career.
I also went to Denver in June to see another friend receive her Masters in International Security.
Next up, I went to Berlin in August for work and met with HubSpot's regional marketers to talk about upcoming marketing strategies.
My coworker and I took a couple days off to visit Barcelona and spend time with other coworkers who were working remotely.
Barcelona was an important trip for me. I had wanted to visit Spain since high school when I took four years of Spanish. One of my Spanish teachers would often speak of Seville, Granada, and Córdoba with a yearning in his voice. I ended up in Barcelona, but it was every bit of romance and joy I had expected and more. The lifestyle was slower. You're expected to spend a lot of time at restaurants. We'd spend hours eating tapas, drinking sangria, enjoying dessert. It was about enjoying life – "disfruta la vida" as my friend Cambria would say. This trip was refreshing and brought a sense of urgency into my life that's reflected in my 2018 plans.
I returned to Boston at the end of August and quickly flew over to Lansing, Michigan to give a talk.
In October, I ended up going on a quick trip to San Francisco to work on a project with Coursera.
My next trip was in November to give a talk in Vancouver on SEO and content strategy.
A couple weeks later, I was back in Canada, this time in Montreal, Quebec for Thanksgiving vacation to spend time with extended family and meet my newborn nieces. I was truly unplugged.
My final trip: Long Beach, California to spend time at home where I'm writing this. I also visited Fremont to hang out with my friend Kendrick Wang.
Whew. Altogether, I was on 22 flights. That's a record for me. I'm planning for that number to be much higher this year.
Speaking
I still remember how nervous I was about my first marketing talk in 2016. Public speaking isn't difficult for me, but speaking about teaching people about marketing was different. It meant people could criticize my knowledge or tell me I didn't know what I was talking about. It meant I had to be vulnerable. Naturally, I saw it as a challenge and decided to do more of it.
I spoke five times in 2017. I guest lectured twice for Richard Greif's class at Boston University on developing a marketing career. I spoke at two HubSpot User Groups, one in Vancouver about a content strategy framework and one in Lansing, Michigan on SEO and content strategy. And I spoke at San Diego Startup Week on how startups can get PR mentions – this was my biggest talk at about 300 people.
The toughest part of speaking wasn't the talking. It was the preparation. It was challenging to come up with a compelling topic, find an angle, determine the main talking points, then write the blog post and create the presentation. I'll work on improving my process this year.
Writing
I set out to write a marketing essay each quarter this year. The first three posts which I've mentioned above coincided well with speaking gigs. My last post of the year was a personal one on how I worked through mental health challenges.
I have another essay coming up that's about marketing and growth.
Reading
This past year, I decided to read denser books that would take longer to finish and I clocked in at 14 books. I'll share all my book recommendations in a separate post but here are a few worth highlighting:
Consulting
I helped two clients launch their own virtual summits which helped them to build relationships with experts and generate leads. Working with these clients helped me evolve my freelance work in two ways:
Instead of creating content, I was focused on providing advice and guidance, this meant I didn't create any content and focused on consulting.
I increased my hourly rates 500% from what I use to charge when I wrote blog posts.
These two gigs built my confidence and reminded me that I'm knowledgeable in what I do and people are willing to pay for that knowledge.
My mindset shifted from, "They're paying for what I create (blog posts)," to "They're paying for my knowledge and experience to save them the trouble of making the mistakes I've already made."
Articles from Ramit Sethi and Brennan Dunn helped me reshape my thinking about consulting and raise my rates.
Side Projects
There was a project I couldn't stop thinking about for about two years. I've written about how I stood out in the application process and how I got my first marketing career breakthrough so people often ask me about how to break into a marketing career. Now it's time for me to create a course to help others do the same.
I also wanted to figure out how to help people around the world who lack access to more foundational needs according to Maslow's Hierarchy of Needs such as food, shelter, and health. I started working on another project that involves working with social impact organizations. This project is in the initial research phase and I'm  talking to people who work in international development and non-profits to understand the space.
Mentors
I'd be remiss if I don't point out the four mentors who played significant roles in my life this year.
I've been lucky to meet mentors through work and events and what I appreciate most is that they're diverse in their life experiences and their careers.
Conversation frequency may range from weekly to monthly or biannually, but the value I've gotten from each conversation has been tremendous. I've received insights on career development and personal growth that I don't believe I would have gotten otherwise.
The advice could be as simple as "focus wins" or as nuanced as "act as if you already have the job you want."
One of the best reminders was, "Career growth is great, but don't just focus on that. Think about your relationships with friends and family. You won't get that time back. Don't let yourself get to the point where you wish you spent more time with them."
They helped me negotiate my salary and navigate a large company to move projects forward. They helped me improve my problem solving and polished my critical thinking. They help me be more future thinking about my life and where I want to be.
More valuable than the advice they've given me, they've become people I've come to trust and role models for me to base my career and personal growth on.
Thanks to Yvonne Hao, Brian Balfour, Sam Mallikarjunan, and Matthew Barby for teaching me so much.
Finances
My finances are in order for the most part. I have three savings accounts: emergency,  vacation, and wedding (yeah, planning ahead). All three get funded each month. I invest 14% of my salary into my 401(k) and I'm maxing out a Roth IRA. I have about 5% of my net worth in cryptocurrencies (yep). I've gotten my credit card debt to point where the balance will get paid off on a monthly basis. According to benchmarks, my credit score is healthy for my age.
Books that helped me get my finances in check are I Will Teach You To Be Rich and The Millionaire Next Door.
Physical & Mental Health
I cooked the majority of my meals for the year except for when I was traveling a lot. As the year progressed, I tapered off my alcohol consumption. I felt more focused, less groggy, and lighter.
I did either cardio or weight lifting three to four times a week and started dancing more in the second half of the year.I completed a Spartan Beast which proved to myself that I'm in decent shape.
I haven't journaled as frequently as I'd like, but make sure to write out my thoughts when thinking through big decisions and reflecting on significant life events. I've also continued to practice mindfulness
Family
I learned more about my family this year each time I visited home. My mom has shared plenty of stories about her time surviving the Khmer genocide. I've learned new stories about my parents' sacrifice to immigrate to America, move from poverty into the middle class, and raise three kids and put them through college. I don't know many people who've demonstrated such grit. They're my role models for what hard work truly means.
Those are the good things that happened this year. Let's look forward.
Onward to 2018
Last year, I laid out my focus points for 2017 which included:
Give back
Build and develop relationships
Exceed goals at work
Write an essay per quarter
Pick up a side project
Take care of my finances
Maintain my health
Things won't change much in 2018.
Build relationships. Since I'm going to move Dublin, I'll need to make new friends and build another support network while maintaining my relationships in the states. But no matter the situation, I'm always looking to connect with people.
Bias toward action. I'm going to face new challenges at work. I'm going to face new challenges as I adapt to life in another country. I'm going to face new challenges as I develop a course and work on my side projects. The best I can do is bias toward action.
Give back. I plan to continue as an advisor for Youth Venture and getting involved with POCaH in HubSpot's Dublin office. I'll continue working on Compound 8 to better understand how my skill set and experience fit into the international development space and get involved with Effective Altruism in the UK.
Maintain my health. Things won't change much here. I'll continue exercising three to four times a week, cooking the majority of my meals, journaling, and meditating.
Keep on writing. I'll write at least one essay each quarter. This will inform my speaking.
Level up my speaking. My talks up until now have been very tactical, how-to type talks. While I'll continue doing those talks, I want to try my hand at an aspirational, keynote talk to improve my storytelling. I'll also take on speaking gigs around the world. It'll be a cool thing to say I did. :)
Double down on investing. Each year I increase the amount I contribute to my 401(k) with the goal of getting that contribution to 18% of my salary. I'll also start investing in other public companies and doubling down on cryptocurrencies. As Chamath Palihapitiya, says, I want to "get the fucking money." Money can be a powerful instrument for change. I need to accumulate a lot of it so I can give it away. This thinking was shaped by values my mom has instilled in me and the idea of giving while living has been solidified after reading The Billionaire Who Wasn't.
Manage my finances. Finances are an ongoing thing for me. I have a monthly informal financial review to make sure my finances are healthy and I adjust the amount I put into each account as needed.
Finish a product and monetize it. I will release the marketing career course in the first half of the year and start marketing it to get enrollments.
—
As I often say to my friends, it's going to be an intense and interesting year. Let's do it.
For some fun, here are my Top Songs of 2017 on Spotify. Let's take some chances in 2018.
—
Previous yearly reviews: