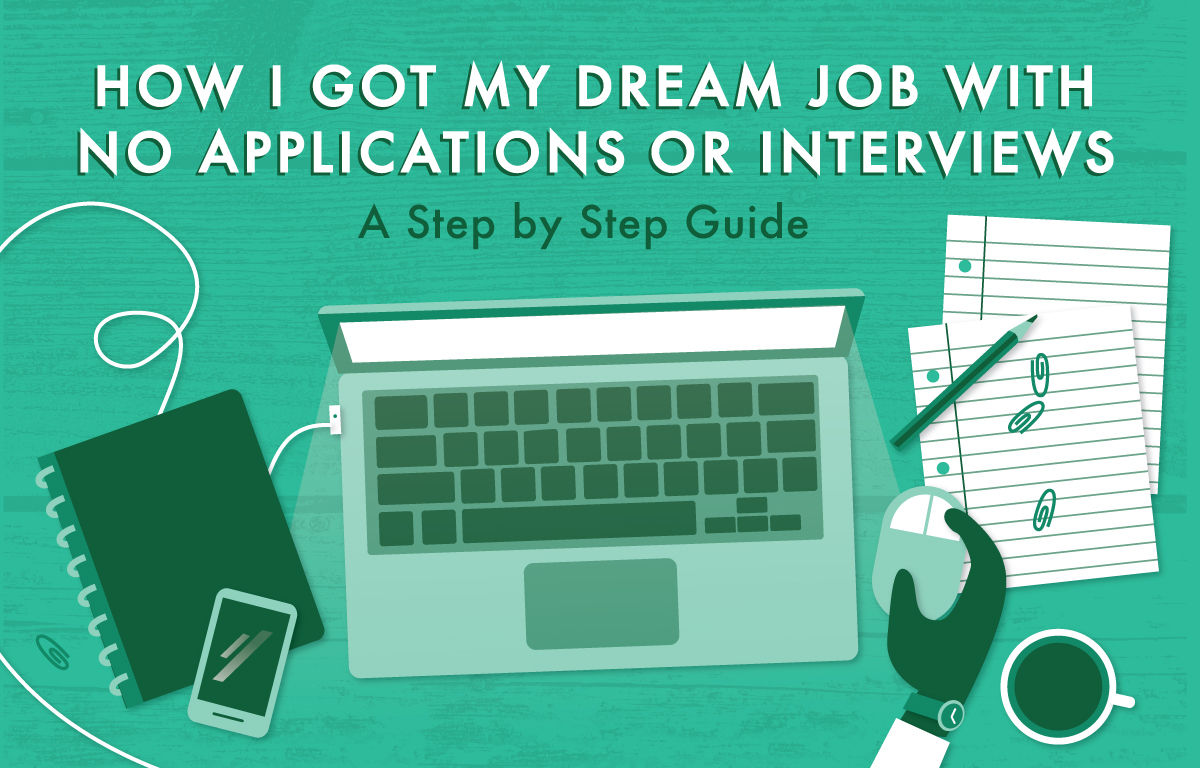 Jobs are difficult to get. You know that. I know that. But that doesn't mean companies aren't hiring. As long as there are businesses, jobs will always exist.
Many blame the job economy for not having a job. That's like a student blaming the professor for his bad grades.
There's always someone else to blame. In reality, you have more control than you think.
Heyo! I'm creating a resource to make the job hunt easier. Want first dibs?
From my own experiences and research, the most popular approach is the shotgun method: blast out hundreds of resumes and applications in hopes that someone… anyone hires you.
Unfortunately, there are various flaws in that approach:
You don't really want most of those jobs.
You don't care about all of those companies.
You're just another resume in the pile.
You don't stand out.
Chances are, no one's going to hire you.
A few get lucky. But those few often end up at companies they hate, doing something they don't want to do.
Sound familiar?
I have friends who are stuck in their job search. After speaking to a few of them individually, I quickly realized that I had a different approach–an approach that has had a 100% success rate for me.
I'm going to walk you through the exact steps that allowed me to skip the entire application process and land a job at a great company. This method can be applied to nearly any field.
No applications involved doesn't mean it's easy. In fact, it's more work on your end.  It's easier to upload your resume and click submit hundreds of times.
You're welcome to continue submitting resumes. But for those who want to try something new, I'd like to present a more targeted approach to the job search that focuses on quality than quantity.
With that being said, this is a thorough explanation of what I did that lead to my current job. Don't spend your time reading this post if you're:
not open to admitting that your current approach isn't working
not open to trying something new
not willing to do real work
not planning on getting a job you want anytime soon
This isn't for lazy people.
But I know you're not lazy. You're hardworking and driven and you deserve that awesome job. You can do this.
However, if you'd rather complain about the job market or how submitting resumes does work, please do so elsewhere.
For the rest of you, read on.
Before we begin, I'd like to clarify that my initial intention in this process was not to get a job. I genuinely wanted to connect, learn and get advice, but I realized that I created an opportunity and took it. Don't expect good results if you go into this process expecting a job. Employers can tell right off the bat if you're trying to game them. Instead, focus on the idea of meeting professionals and learning from them. Knowledge and relationships are extremely valuable.
Let's begin.
Shop Around Until Someone Catches Your Eye
With a targeted approach, you'll be doing plenty of work to get in touch with someone at the company. It's important to approach companies you have an interest in. Don't get excited just because they're hiring.
I recently began to use Twitter more and, as an experiment, did a search for startup jobs in the Los Angeles area.
After browsing around, I ended up on the Single Grain Twitter profile. I researched the company on LinkedIn and found Eric. His profile stood out for three reasons: (a) a professional profile photo, (b) he had a freaken check mark next to his name (it looks super legit), and (c) take a look at his skills: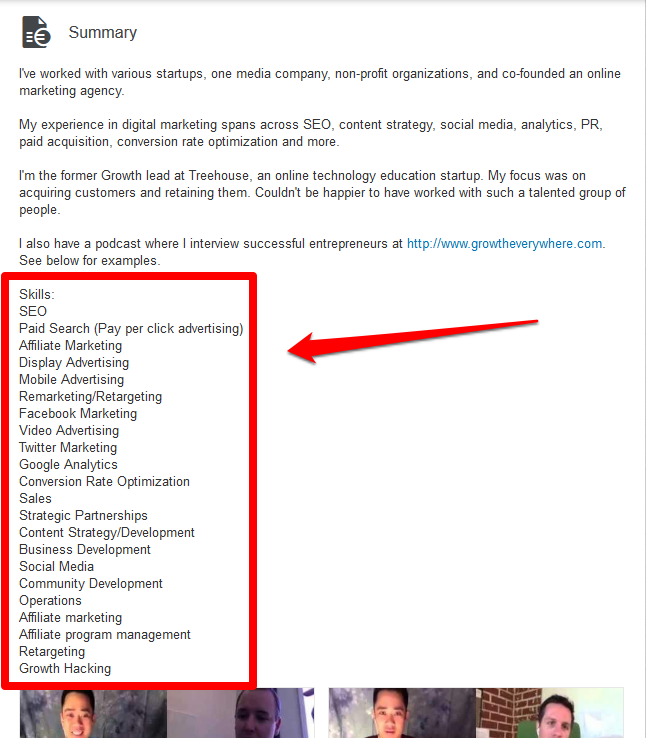 To a digital marketer like myself who's looking to learn, I saw a goldmine of knowledge. I've learned that the people around you determine your success and I saw that I could learn a lot from Eric.
A quick look through Eric's LinkedIn profile took me to his two companies, Single Grain and Growth Everywhere both of which he is CEO.
To learn more, I visited the websites of both companies and downloaded any free material they provided. I read months worth of blog posts to become acquainted with their work.
The problem was I didn't know how I could provide value to his company (keep this in mind).
Formulate Your Ask and Get in Touch
Then I took my first leap. I contacted Eric using the contact form on the Growth Everywhere website: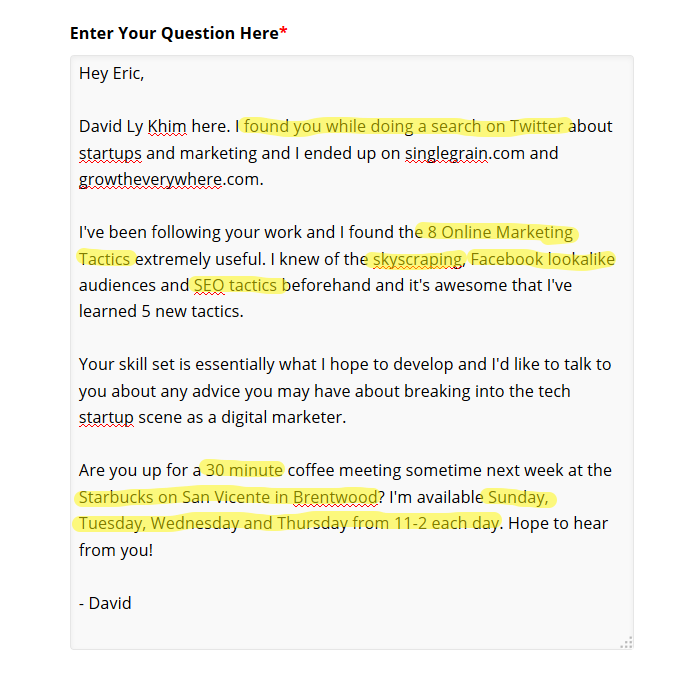 The key points of my email:
Explain how I found him so I don't come off as a spammer.
Demonstrate that I've read material from his company and learned from it.
Specify how much of his time I'd like, suggest a place to meet and provide times I'm available.
The goal was to make it easy to say yes. All Eric had to do was let me know what time worked best for him.
I sent the email and walked away from my computer. Eric sent back a response in less than an hour.

The meeting was in our calendars.
Why would I ask for a coffee meeting? Why not just look at the websites and see if they're hiring?
A coffee meet is an opportunity to connect with highly experienced professionals and to learn. It's not a means to get a job. I was in a position where I needed a mentor, someone with more knowledge and experience that I could learn from.
Many of my friends have realized that getting a job is largely based not on what you know but who you know. They also emphasize the difficulty of making meaningful and valuable connections. A coffee meeting will help with that. As long as you don't screw it up by asking for a job.
Many refer to this as an informational interview, which is easily, but wrongly considered part of "the game" of getting a job. It's important to genuinely want to learn from the person you reach out to. Professionals can tell right away if you try to kiss ass to get a job. Even the slightest hint of it will disqualify you from receiving advice. This is why I prefer to think of it as a meeting over coffee instead. It's a conversation, not an interview.

Do Your Research to Avoid Stupid Questions

Here's where the first stage of work comes in.
I went to the Single Grain and Growth Everywhere websites and subscribed to their newsletters. I had already read the blog posts but I read more. I wanted to know everything about these companies, how they started, what they value and what they do.
I visited Eric's LinkedIn page again and looked at previous companies he had worked at. I wanted to know as much about him as possible before we met up.
Why all the research? Contrary to what people say, there are stupid questions and the point of doing research is to avoid asking those stupid questions.
What's a stupid question?
What do you do? (It's all over the internet.)
What does your company do? (Seriously?)
How can I get a job? (You just met this person and you haven't done anything for them, why would you ask for a job?)
I wanted to ask specific questions that I believed he would be best fit to answer.
In the end, I had about 15 questions prepared. I didn't plan on asking all the questions, but it's better to be over prepared. Here are a few questions I had:
You have a lot of experience in marketing. How did you end up in this field of work?
Could you walk me through your typical work day?
What's the biggest challenge you're facing with your company right now?
My understanding of digital marketing is holistic. I have a broad understand of the different avenues of marketing, but I haven't figured out what channels to specialize in. What advice would you have for that?
Would you have any advice for me for breaking into a digital marketing agency or a startup team?
You may notice that my questions are tailored for Eric and his experiences. For question ideas, do a search for informational interview questions.
Eric and I met and we had a good chat. I had my notebook handy with questions and took notes as he spoke. The biggest thing he emphasized was to "stay hungry and always be looking to learn."
Note: There's no doubt I was nervous to meet someone I considered successful and knowledgeable. I arrived to the meeting an hour early so I could settle down. My biggest tip is to stay curious about the person in front of you. Don't just ask about their job. Ask about their knowledge and experiences.
The Crazy Crucial Follow Up That You CANNOT Forget

This is the next big leap–and surprisingly where many people fall off the process.
Imagine you ask a girl (or guy) out to a date and she says yes. You both have a great time, but neither of you text each other afterward. You can't expect to see each other again without following up. That's why you follow up.
The follow up is crucial to solidify the connection and continue the relationship. Don't forget to follow up–EVER.

It's similar to how you meet a friend's friend at a party and decide to add your new friend on Facebook. That's a form of following up.
I didn't send Eric a friend request, but I did send an email the next day.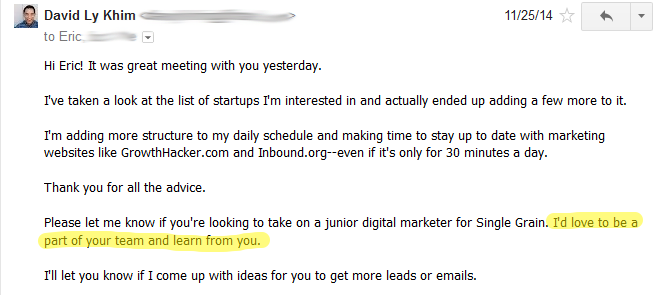 I threw in the idea of working with him–but I didn't focus on the work part. I wanted to be a part of his team and to learn from him.
Eric asked if I've ever done marketing reports or audits and wanted to see some internet marketing I've done.
Nope I hadn't done any reports or audits. My previous jobs didn't require me to. And I wasn't sure how to demonstrate the internet marketing I've done.
However, I've learned the briefcase technique from Ramit Sethi and I've been taught that top performers will go the extra mile to stick out and make things happen in their favor. Although it seemed like my lack of experience was a handicap, I knew there was something I could do about it.
I had to apply the briefcase technique, but I didn't think there was anything in my briefcase yet. Better yet, I didn't even have a briefcase.
I had to fix that.
Heyo! I'm creating a resource to make the job hunt easier. Want first dibs?
Time to Buff Up My Briefcase
This is the point where more than half of all job searchers will give up on this approach because it's too much work. This is better for us because we're willing to go the extra mile.
This is the most important part of this process because you have an opportunity to demonstrate your capabilities and your value.
I could've said, "I guess I'm not qualified," thrown my hands up and leave it at that.
No thanks.
You'll often find yourself looking at job listings that you feel tremendously under-qualified for and decide not to apply. Join the club.
However, there's always a way to look better to hiring managers–do work for them as if you're already working for the company.
Although I hadn't done any marketing audits or reports at previous jobs, I recalled that the latest newsletter from Eric was on how to do a quick SEO audit (I wouldn't have known this if I didn't do my research beforehand).
I followed along with the video and presented Eric with an SEO audit for his company, Single Grain.
If you don't know what SEO is, don't sweat it. I'm going to provide examples of how you can apply this idea in other situations.
I sent over the report and Eric responded within an hour with feedback. After reviewing the feedback, I improved the report and sent it over again.
Again, Eric sent me more feedback to improve the audit.

I could've thought "This is way too much work. For nothing." I could've stopped right there. Instead, I realized this guy is really pushing me. He isn't settling for work that's just okay. This is helping me. I have to prove myself.
I found the two articles he referred me to. One was an inbound marketing audit of Buffer. The other was a comprehensive technical SEO audit for a sports website. One look at these articles and the first thought you might have is "These articles are really long."
I read through the reports. Then I read through them again. The third time, I followed along and performed each technical audit for Single Grain.
The original audit I had sent to Eric was only three pages long.
After buckling down for at least 15 more hours, the result was an information-dense 15-page technical SEO audit full of actionable steps that Eric's team could take to improve Single Grain's SEO.
I sent it over.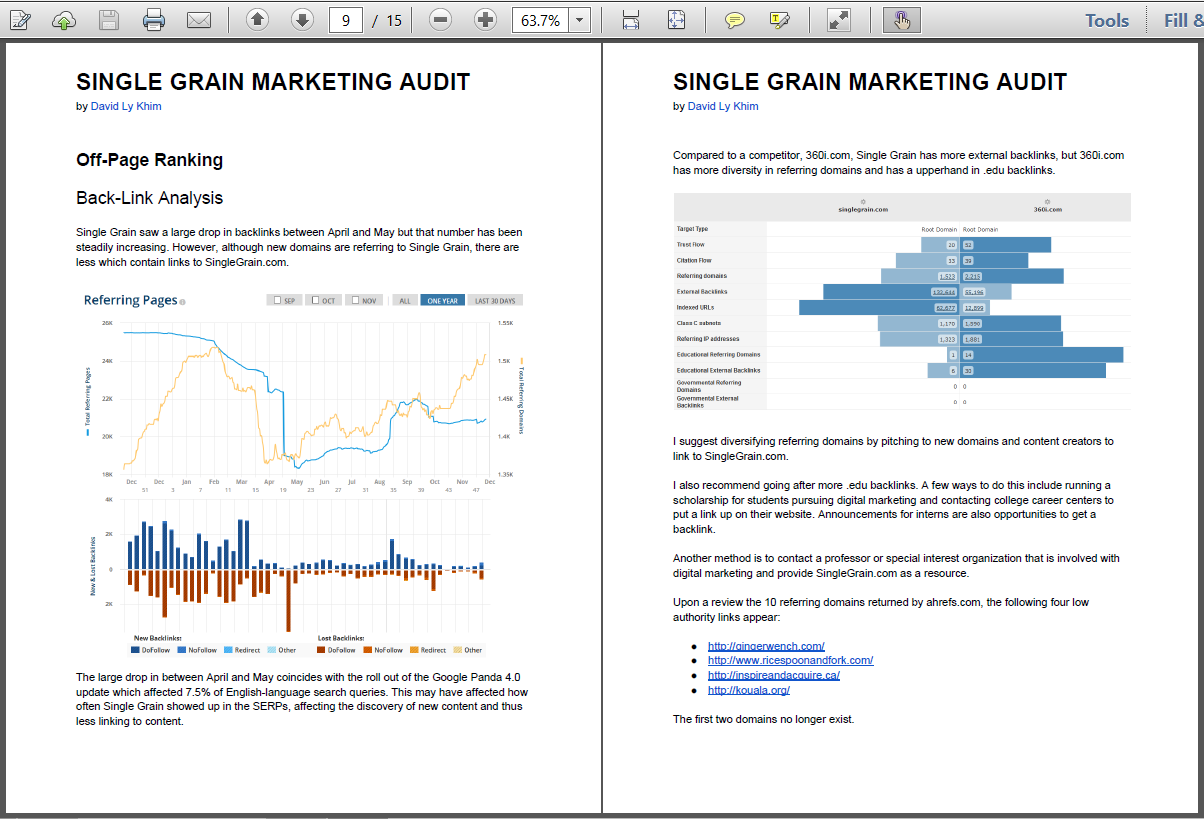 Two pages from the audit.
You don't have to be in marketing to understand that I essentially did about 20 hours of free work for Eric and produced a real product for him that would help his company.
Within an hour, Eric responded to my with the following email:

Awesome. At this point it was about to be the holiday season. I took a break.
I must reiterate that the point of this section is to show that instead of leaving it at "I don't have experience," you can choose to create your experience.
You don't have to be in marketing to produce tangible work. Don't think too much about the work aspect. You can demonstrate your value by getting certifications or taking courses or internships. These things vary in the time it take to obtain them, but all of these things will fill in your skill and experience gap, and give future employers something to look at it. It'll be worth it.
In my case, I created a report. I wanted to show you the back-and-forth that might occur. It's not a one time thing. Eric essentially told me he was testing me.
Finalize the Offer
The day after Christmas, I got an email from Eric.

YASS.
We chatted on the phone and he presented an offer. I was excited. But I had to interview with two more people on the team, Matt and Josh. Another meeting was scheduled via email.
Remember how I did my research on Eric before our meeting? I did my research on Matt and Josh as well. Although I was the one that was going to be interviewed, it was yet another opportunity for me to learn and get advice from people who are more experienced than me.
Three days after the meeting with Matt and Josh, I got on a call with Eric and he offered me job at Single Grain.
As shown by the dates of the emails in this post, this process took a month and a half.
This process isn't a one-time thing like submitting resumes. As stated, it's a process. It's about developing a dialogue. You build a relationship and find people to learn from.
This is the exact opposite from the shotgun method that most people choose to take.
Other Factors to Consider
If you don't have a source of income and you need a job ASAP, do not rely only on this approach. I suggest a hybrid of the two approaches. Use the shotgun method to get a job as soon as you can to have a source of income but also have a few companies which you are laser targeting by applying this process.
Although I didn't take the shotgun approach, I was in touch with two other companies during this process with Single Grain. I had a very similar approach to the other companies. I kept my options open.
Does that mean I was doing more work than what you just read about? Yes. And it was worth it.
Although I can't give you exact steps for your situation, you can apply similar steps in your job search.
There are two large hurdles throughout this process:
Patience: Those who don't have patience will go back to submitting resumes because it feels productive. It feels like they're applying to a lot of companies–and they are–but they're just adding to the pile of resumes.
Hard work: Those who don't see the necessity of going the extra mile to stand out will give up quickly.
Now It's Your Turn
If you've read this far, I hope these tactics will help you in your job search. Know that you may have to add your own twist to it to fit your situation.
Remember, don't focus on getting a job. Focus on meeting professionals, getting advice and learning from those who are more experienced. Through this approach, opportunities are created–not jobs. Through these opportunities, you can show how much value you can add to their company.
At that point, you may not even have to ask for a job. (:
Do you still want to send out a few hundred more resumes to companies you don't care about?
Or would you rather get a job you truly want?
Leave a comment and let me know how it goes! Feel free to leave questions.
Was that helpful? There are a lot more ways to get your dream job. I'm creating a resource to make that process easier. Want first dibs?
Header image was created by Jake Gavino.