2018 felt like a long year. I think a lot of people would agree with that. No matter what side of the political spectrum we sit on, a lot happened that added emotional, mental, and perhaps even physical stressors to our lives.

We may have gotten stuck in the minutiae with all these stressors, so much that we may not have had the time or didn't feel like we had the space to reflect on everything.

Me publishing this review in 2019 instead of 2018 shows I had a ton on my mind that I had to address before stepping back and having a 10,000 foot view of the year.

In his 2018 year in review, Bill Gates says, "Today of course I still assess the quality of my work. But I also ask myself a whole other set of questions about my life. Did I devote enough time to my family? Did I learn enough new things? Did I develop new friendships and deepen old ones?"

These are important questions that I've begun asking myself more over the years and will continue to reflect on each year.

So here I am and here's my annual review.

What went well in 2018?
I spent more time with people I care about.
Relationships became the main focal point for me this year both at work and in personal life. Moving to Dublin meant I needed to make new friends, learn to build a new support network, and join new communities. I got more comfortable being vulnerable. I'll dive into this in the "what I learned section."

Traveled to 15 countries.
I moved from Boston to live in Dublin for six months and I got to travel a lot because of that. Over the last year, I've traveled to 15 countries (not counting the U.S.) and have been on 54 planes over the last year. A lot of time was spent in airports and in the air. I've been extremely fortunate to get to travel and see new countries, experience new cultures, and meet new people.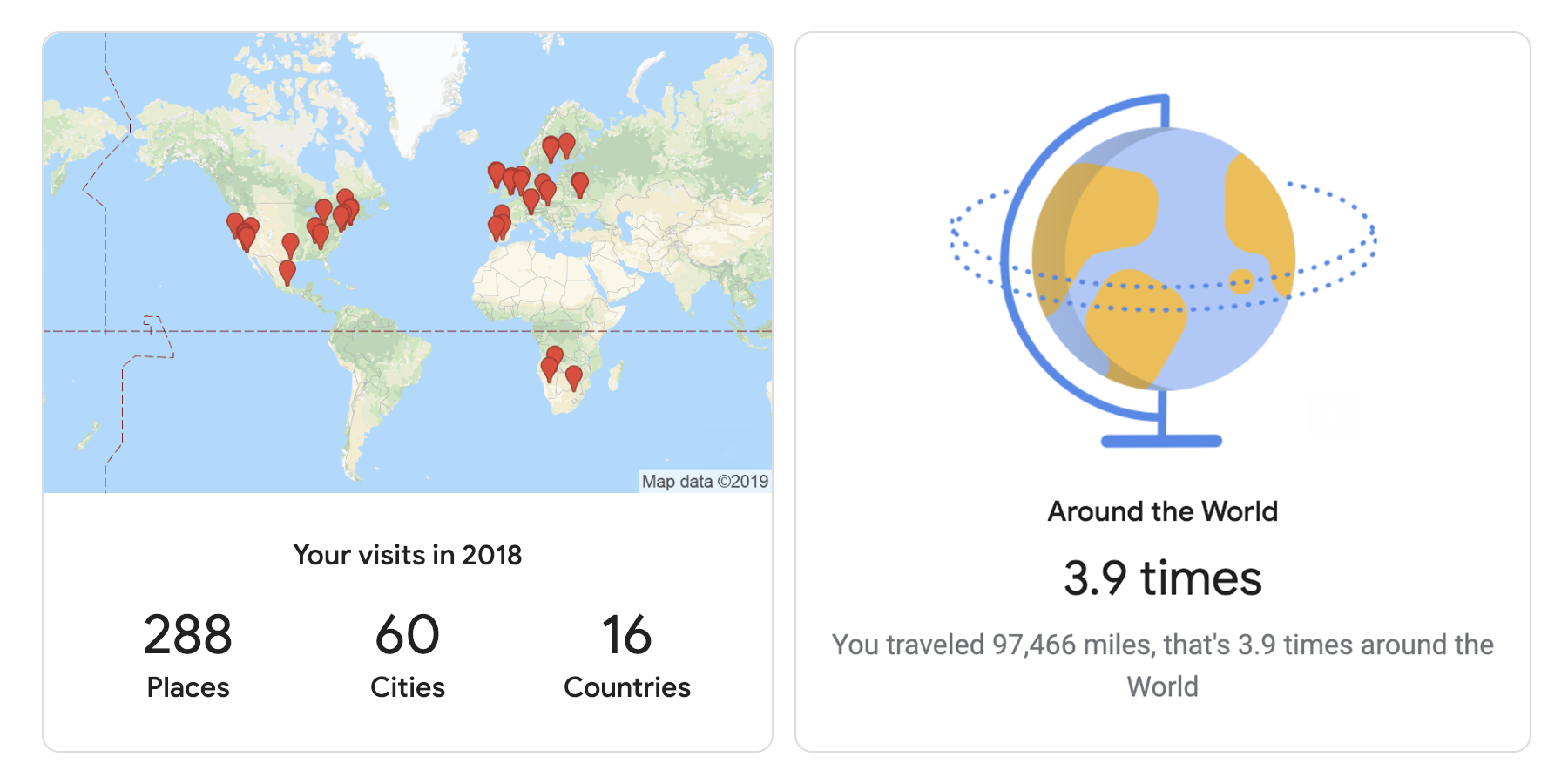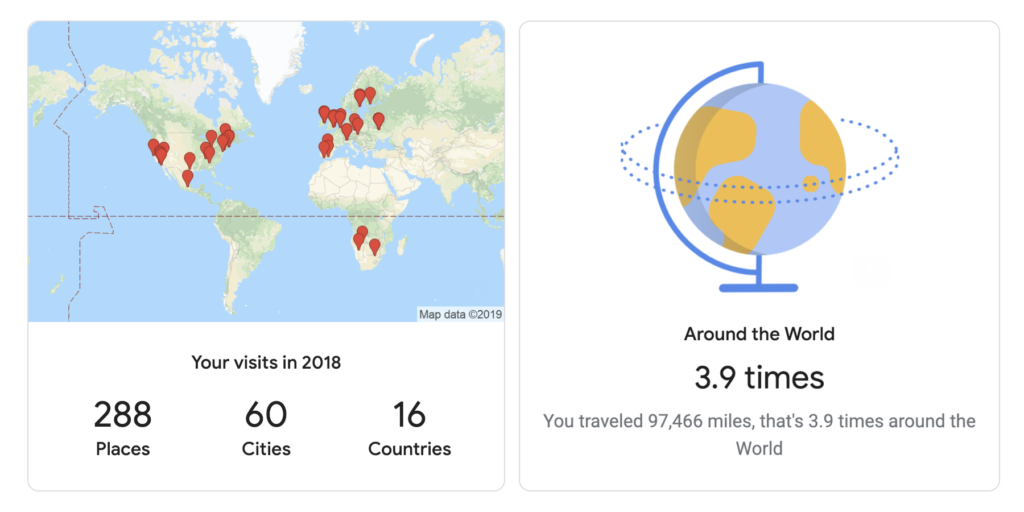 The frequently traveling meant I was always on. I was always planning the next trip, researching what to do and where to do, and didn't have many idle weekends.

Spoke at 9 events.
While some travel was for leisure, some of it was also to give talks. I spoke in Tijuana, Dublin (twice), Milan, Antwerp, Boston, Cambridge, Kiev, and San Francisco. It was the first year that I began getting people requesting and paying for me to speak at their events. While it was a great experience, I'm going to cut down on the speaking gigs I do.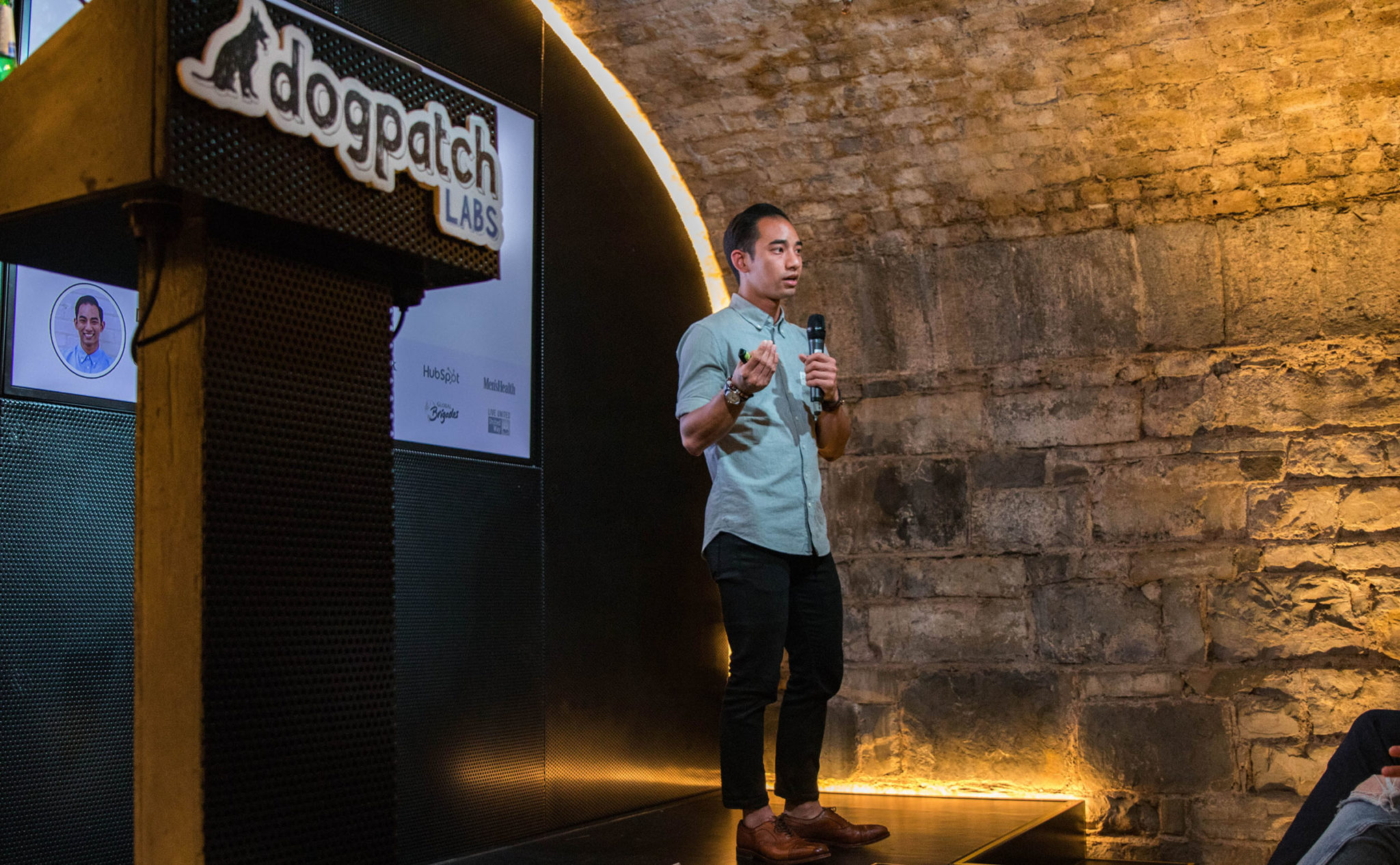 Worked with 4 clients.
Client work includes both consulting on projects and speaking engagements. I started just writing for different companies and wanted to shift the model to do less writing and more coaching and teaching.

Wrote 2 essays.
I aimed for an essay each quarter but consider the travel I did that the different type of role I've taken on at HubSpot I'm happy with putting out two essays on the changing skill set of marketers and HubSpot's growth process.

Read 20 books.
I clocked in at 29 books in 2016 and 14 in 2017 so 20 books in 2018 feels like a good average. I've written that I don't read much news online anymore and instead I spent more time reading books and listening to audiobooks and podcasts. Books generally need to go through more of aa quality filter before getting published and podcasts often teach me more curate and interesting things. You can see my reading list here. A shortlist of this year's recommendations:

Personal finance upgrade.
I've followed the work of Ramit Sethi for nearly 6 years and his book on personal finance strongly shaped how I think about money. This year, I enrolled an his Advanced Personal Finance course, and it upgraded how I think about wealth accumulation and management. While I don't consider myself wealthy, I realize I'm part of the global top 1% (if you're reading this, you probably are too) and I feel the responsibility to manage my finances well to grow my wealth to give it away.

Enjoying what I'm working on at HubSpot.
I credit HubSpot tremendously for my career growth. I'm forever thankful to Anum Hussain and Brian Balfour for taking a chance on a young, hungry marketer back in 2015. I've gotten to work on various projects over the years and now in a position to have a big impact on the business. It's an exciting time.

Got involved with a Cambodian-founded non-profit.
Through many serendipitous moments, I found myself sitting with Saveun Nhim, the managing director of Cambodian Volunteers for Community Development (CVCD), at a café in Boston discussing how to improve access to education in Cambodia. CVCD focuses on making K-6 education more accessible to children, provides resources for women's economic empowerment, and hosts a student immersion program. I recently joined as an advisor to help with their marketing and fundraising.

What didn't go well?
There weren't a lot of things that didn't go well, but a few things come to mind.

Working and traveling internationally burnt me out.
It a great experience, but constantly being on and planning trip after trip on top of speaking gigs and my day job took a toll on me. My take on burn out is that it means I'm pushing my limits — and I've gotten better at recovering. I'll continue to travel, but perhaps not as frequently.

Relationships fell to the wayside.
While I developed a stronger focus on building relationships, I've accepted that it's a natural part of life that some people come and go and sometimes, we outgrow some relationships. That's okay, but it doesn't feel great.
Gave up on my side project earlier in the year.
I started off the year with plans to create a course to help young marketers build their careers. I started developing the content, but lost motivation and questioned whether I really wanted to create the course. That led to spending less time on the course. Once I moved to Dublin, I was focused on building up the new team and traveling instead of working on the course. The content is still in my Google Drive if I decide to pick it up again.

What did I learn?
I'm always focused on learning but I'll keep this section to five big learnings.

Relationships are everything.
I've realized that relationships are important in every aspect of life. If you're trying to push a project through, it helps to have people support that project and people generally support people they like. If you're going through a hard time in life, it's helpful to have people you can rely on who will help get you through that moment. It's important to help others too.

This doesn't mean you should be friends with people just to use them. It means it's a good idea to spend more time with the people you care about and develop good relationships with the people you work with. Otherwise, life is going to be tough.

To get to someone's mind, get to their heart first.
One of the most insightful interviews I've listened to is Cal Fussman's interview with Tim Ferris. During the interview, Cal discusses how he interviews people and how he gets to learn about who they are at the core. To do this, he says, "Get to people's heart first, then you can get to their head, and then there is a way to the soul."
The most enjoyable conversations I've had aren't about work or sports or Netflix shows. It's when we got learn to about what motivates each of us, what excites us, what we care about, and why we're doing what we do. I want to have more of these conversations.
It's okay to think differently.
While I consider myself a liberal, I started to wonder if some plays by the left have gone too far. I had to question whether this made me a horrible person. I know it doesn't. I simply don't believe in extremes and understand there's a lot of grey despite people making things seem black and white.

Enjoy missing out.
In one sentence, I've gotten better at saying no to things that I'm not 100% a "hell yes" about. I'm okay with missing out on things. And when I'm not okay with it, I remind myself that there will be more opportunities.
Plans for 2019.
I've changed my approach to my annual review each year and this year I've gone another step and changed my to goal planning and how I'm setting myself up for success.

In previous years I would set the goals and that was it. This year I've set up systems to keep myself accountable and be more aggressive with my goals.

At a high level, my goals haven't changed. I'm still focused on building relationships, giving back, becoming financially independent, maintaining my health, and doing a great job at work. How I go about doing these things will look different, but my values have remained consistent.

These aren't new resolutions. These aren't goals I hope to achieve and move on. They're milestones I plan to hit to create the life I want and I'm flexible about the path to reach them. I view these attempts less as one-time achievements and instead as a way of living, habits I want to build into my life.

Here's what I'm focused on going in to 2019.

Build and deepen relationships.
I've intentionally shifted more to spending time with people than having extended periods of me-time. That means less time for reading and lounging around and more time with people I care about. I've been happy making that trade-off and will continue doing so.

Build an agency.
This will be the most interesting part of 2019. I've taken on one-off projects over the years. This year, I plan on build an agency with a few partners.
Curious where we're at? Visit the website here.

Maintain my health.
Things won't change here. I'll continue lifting weights, running, and doing yoga. I will add more events to keep myself accountable. That includes completing a Spartan Trifecta, running a marathon, and running a Ragnar Relay.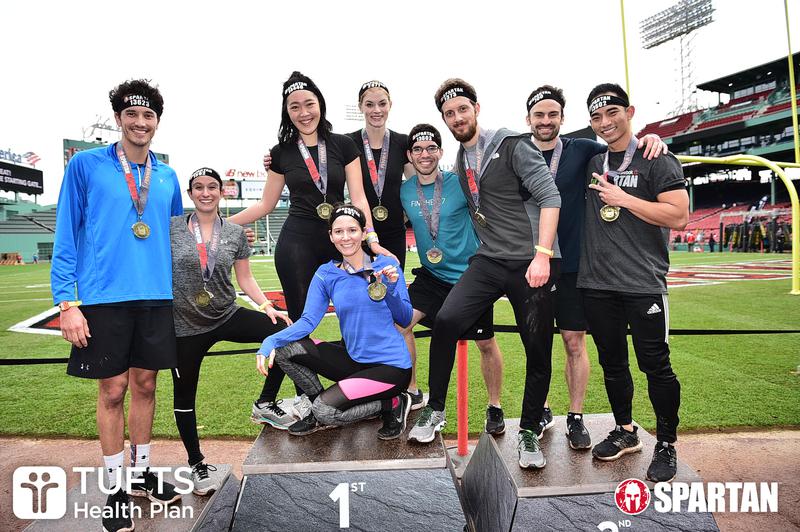 Grow my net worth.
All of this is automated, but building wealth is important to me so I continue to include it in my plans. I'll continue maxing out my 401(k) and Roth IRA contributions, pay all bills in full, and increase the amount of money I save and invest every month.

Give back.
I try to always incorporate an aspect of giving back in my life. That includes working with non-profit organizations, lending money on Kiva, and mentoring students and young professionals. I'll continue doing all of that and will spend extra time working with CVCD.

Become conversational in Spanish.
Spanish has had a consistent, but infrequent presence in my life. I studied it in school for six years and have maintained it through trips to Honduras and Spain, watching Netflix shows in Spanish (Narcos, Casa de Papel, Cable Girls), listening to Spanish podcasts, and using Duolingo every now and then.
I made an off-handed joke recently, "I feel like I'm always practicing Spanish, like haven't ever been comfortable just saying I speak Spanish." This year, I'd like to develop fluency to a point where I can comfortable say, "Yes, I speak Spanish," and comfortable get a around in a Spanish-speaking country (perhaps Peru!). I've signed up for Babbel and will hire a Spanish coach for weekly calls.

Continue traveling.
I traveled a lot while I lived in Europe and that opened me up to meeting interesting people and great experiences. I'd plan to continue doing this. It could be as simple as flying to Colorado for a Spartan race, taking a bus down to Washington D.C. to see the cherry blossoms, or flying to Estonia for a speaking engagement. I will continue exposing myself to new experiences.
The theme of 2019: breathe.
I didn't set a theme for 2018 but a recent conversation with my friend Kruti inspired me to have a theme for 2019.

I've had a meditation practice since 2014 when I was first introduced to Headspace. Through that practice, I found Stoicism. I recently took up a yoga practice.

Throughout my life, from sports, to dance, to meditation, Stoicism, yoga, and life in general, breathing is the most important thing. In moments of stress, I've found that grounding myself with a single deep breath has helped me calm down and move forward.

It doesn't matter what I'm doing, what challenges I'm facing, or how great life is going. Just keep breathing. Everything passes.

2019 is going to be an interesting year. We just have to breathe.
---
My 2018 Spotify playlist
---
Previous yearly reviews: