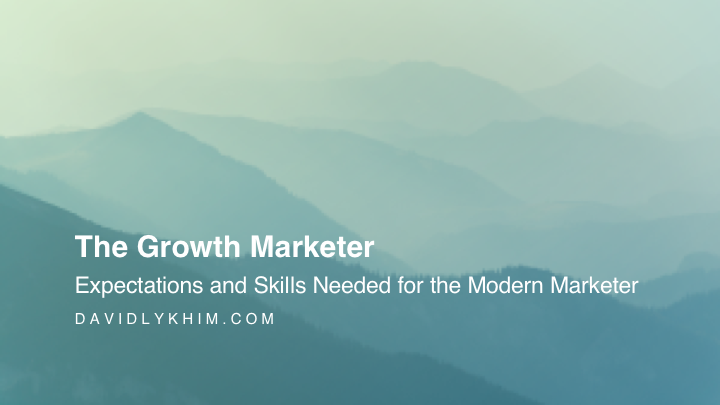 Last year I got dinner with a friend in San Francisco. He works at a large tech company and had become responsible for building a new marketing team.
Unprompted, after a couple minutes of enjoying our meal, he says, "Hiring marketers is tough."
Why? Isn't there a ton of talent in San Francisco? LA? California? The states?
"The ones that are actually skilled at marketing, still aren't good fits because they've specialized in mainly one channel or haven't worked with a product team before."
Over the years, I've met numerous marketing leaders and hiring is always among one of their biggest challenges.
So what's going on with marketers?
Are we becoming obsolete? Are our skills not as valuable anymore? What's the difference between the marketers who were deemed "not good enough" to be hired and the ones that do get hired?
Before we get to that, it helps to set the context for marketing skills have evolved.
How has the marketing skill set evolved?
Marketers have evolved over time out of necessity and developed a T-shaped skill set. That T-shaped skill set also evolved.
In 2010, Tim Brown, CEO of IDEO, discussed the idea of T-shaped stars and their importance to IDEO's collaborative culture. Brown explained that,
"…the vertical stroke of the 'T' is a depth of skill that allows them to contribute to the creative process." On the other hand, "the horizontal stroke of the 'T' is the disposition for collaboration across disciplines." 

Tim Brown, CEO of IDEO
In other words, "T-shaped people have both depth and breadth in their skills."
Around 2013, the concept of the T-shaped marketer took root and became popular through blog posts by Brian Balfour on becoming a customer acquisition expert, Buffer on growing your marketing career, and Distilled on what's included in an SEO's job.
T-shaped marketers previously had general expertise across various marketing channels and specialize in one or two channels.
For example, a they might've had general knowledge about paid ads, social media, copywriting and PR and be specialized in content marketing and SEO.
That T-shaped marketer began to evolve and develop more skills that didn't traditionally fall under marketing such as graphic design, web development, and data analysis.
Eventually, the T-shaped marketer developed more layers and the skill set looked more like this: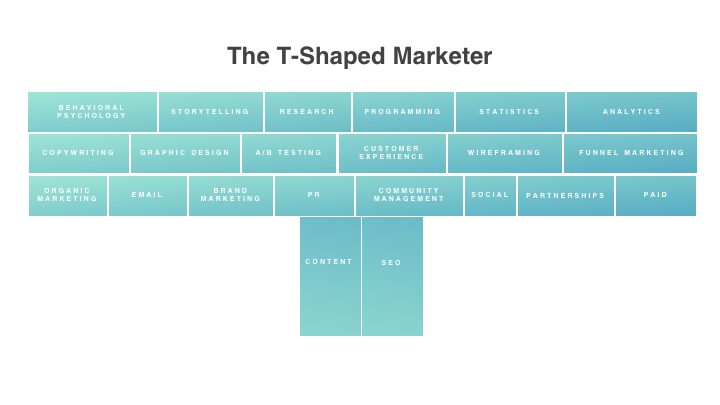 The T-shape marketer a base knowledge layer in areas such as behavioral psychology, storytelling, research, programming, statistics, and analytics – notice that the skill set became more technical.
They also became skilled in marketing-related but channel-agnostic skills such as copywriting, graphic design, A/B testing, and funnel marketing.
Not only that, but they became experts at tools such as Google Analytics, Ahrefs, SEM Rush, and BuzzSumo and took a more analytical approach to marketing.
And they continued to specialize in one or two channels.
T-shape marketers were more versatile and more attractive to employers who were tight on budget and wanted someone who could wear many hats. This gave marketers a reason to dabble and learn more skills.
The marketer became a Swiss army knife, able to adapt to multiple situations, solve various types of marketing challenges and, if needed, be a marketing team of one.
It became normal to find a marketer who could:
Do in-depth keyword research using tools like Ahrefs
AND create content that can rank in Google
AND make it look aesthetically pleasing with basic HTML & CSS
AND build backlinks to that content
AND set up Google Analytics with custom reports
AND analyze how many leads are coming in from the content
AND optimize the content to get more leads
AND measure how effective the content is at generating revenue.
I'm 100% positive that describes many of you in the audience.
Those marketers didn't develop skills like that all at once. A lot of it happened naturally as their jobs demanded more and they saw opportunities to take on more interested projects.
Now, fast-growing businesses often expect more from T-shaped marketers and, because of that, the T-shaped marketer has evolved once again. You could even say they look less like the traditional marketer.
Why are businesses expecting more?
Why are small businesses, startups, and big companies alike looking for these type of marketers now?
Small businesses and startups, as a I imagine many of you here are, have a lot of uncertainty. You may not know who your ideal customer persona is, why they pay for your product or service (if they do at all), or what marketing channels work best.
In addition to those unknowns, small businesses and startups also have small teams, less money, and little-to-no brand recognition.
Despite the unknowns, little access to resources, and no brand equity, these businesses are trying to grow fast.
Employers may not explicitly say they're looking for a growth marketer. Instead, they just need a lot of help with different things the business needs and a marketer might end up being the person they turn to for help figuring things out.
According to Gagan Biyani, growth marketers thrive within these constraints. Using a combination of analytical thinking, engineering, marketing, and creativity, they can significantly grow the company's core metrics.
Marketing leaders want to hire growth marketers.
Getting back to the marketing leaders who've had trouble hiring, what were they expecting from interview candidates that they weren't seeing?
Let's look at the number of search results for different job listing titles on LinkedIn.
Searches for job listings:
| | | |
| --- | --- | --- |
| Job Listing Search Query | # Results on LinkedIn | # Results on GlassDoor |
| Demand Generation | 6,970 | 13,727 |
| Content Marketing | 36,945 | 16,767 |
| Growth Marketing | 58,788 | 2858 |
| Director of Growth | 25,835 | 25,544 |
| Director of Marketing | 33,660 | 32,597 |
| Head of Marketing | 4,590 | 5,294 |
| Head of Growth | 6,760 | 2,207 |
| VP of Growth | 5958 | 2,948 |
| VP of Marketing | 7744 | 7,555 |
Other searches for terms like "online marketer", "digital marketer" had fewer than 10,000 results.
We won't discuss the leadership roles in growth for this talk, but it shows that in a short amount of time, the idea of a Growth leader has really taken shape.
What is a growth marketer?
A growth marketer can look across the business for various levers to improve core company metrics.
Mike Volpe, CEO of Lola and former CMO of HubSpot and CyberReason, believes that:
"Growth marketing is removing the boundaries of marketing to enable every aspect of the customer experience to focus on attracting more engaged customers."

Mike Volpe, CEO of Lola
Marketers are now expected to have an even broader skill set that encompasses multiple business domains outside of marketing.
Before we continue, let's clarify one thing: growth marketer =/= growth hacker. "Growth hackers" often sell people on the idea that one tactic can provide explosive growth.
What skills do growth marketers have?
If you ask Joanna Lord "who should you hire" you probably won't like her answer.
Lord believes that "the real impact hires are ones where the deep domain is an ENTIRE domain, and the broader stretch is exposure to all the other domains."
For her, an ideal T-shaped hire looks more like this:
Screenshot of Joanna Lord's t-shaped hire
This type of marketer has a T-shaped skillset where the broad knowledge spans across multiple business domains and the specialization is in marketing.
That's a huge change from the T-shaped marketer we previously discussed.
For Lord, great growth contributors,
"…don't think as a one-team contributor, they think as a cross-team contributor. They are aware of every single lever across the business that could drive growth, and they have built the relationships across the company to influencer those levers."

Joanna Lord, CMO of ClassPass
This belief aligns perfectly with what Tim Brown said about T-shaped stars and their ability to collaborate with those who have different specialties.
The wide range of skills and knowledge in various business domains outside of marketing allows growth marketers to tackle challenges from different angles with a different set of tools.
A growth marketer can look at an entire funnel and view it from the points of view of marketing, product, sales, customer experience, and data analysis.
Here is a non-exhaustive list of skills that growth marketers have.
Marketing
This is a given. Be T-shaped marketer. Have a general understanding of various marketing channels and specialize in one or two channels. Then build on top of that skillset with the skills below.
Data analysis.
Data isn't useful unless it's actionable.
Growth marketers know how to pull the right data, analyze it, describe what it shows, think critically about it, explain why that is the case, and pull away actionable insights.
This allows the marketer to analyze the effectiveness of campaigns, experiments (more on this later), and use data to determine what's worth working on.
Examples:
Looking at a marketing funnel, defining the bottlenecks, analyzing potential causes, and brainstorming potential solutions the implement.
Looking at yearly organic traffic trends and explaining what might have caused spikes or dips in organic traffic and determining what content or SEO tactics to double down on or stop doing.
Resource: Analytics for Decision Making on edX
Quantitative Modeling
Related to data analysis, a growth marketer can look at historical data (such as organic traffic) and build a model to forecast growth and predict what performance might look like if things were to continue the way they are.
Quantitative modeling also allows you to determine whether an opportunity is worth pursuing. Based off the information and data you have, you can build a model with educated guess to determine the potential impact of a marketing campaign or a new feature.
Examples:
Predict organic traffic growth for the next year based off historical performance, point out when you expect organic traffic to drop and determine potential solutions to avoid that dip.
Predict how much revenue a campaign might bring in by using data from previous (similar) campaigns, average purchase rate and average sales price.
Resource: Fundamentals of Quantitative Modeling on Coursera
Experimental Process
Experimentation is necessary for marketers. It helps you understand which copy or visuals to use, features to release, content to create, and so on. This comes in the form of A/B testing, multi-variate testing, and being able to communicate the reason behind your experiments.
This means following the scientific method and being able to develop a strong hypothesis, designing an experiment, analyzing results to see if the data is statistically significant, teasing out learnings, and determining the next steps while maintaining detailed documentation of your experiments.
Resource: Reforge Growth Series
Front-end development
There's no need to become a fully-fledged web developer but marketing campaigns often require changes to the user experience on a website or a product. If you're comfortable with basic front-end development, it'll be easier for you to run tests or make changes without the help of a developer.
This will let you run tests that could have a significant impact on the business.
Example:
Run an A/B test on the homepage to determine whether or not there is demand for a new feature.
Run an A/B test on the homepage to determine the best placement of a lead capture form to improve conversion rates.
Resource: Codecademy
Engineering Awareness
Besides having some ability to code, it helps to have an understanding of how to work with engineers, the language they use, and the development process.
This will improve your communication skills and your understanding of technical requirements when scoping a new project with your engineering team.
Resource: How to Work with Engineers by Julie Zhuo
Product Management
During a previous conversation with Brian Balfour, he mentioned "Everyone should be a product manager."
As a marketer, you'll be required to utilize product management skills at some point. This is especially required of individual contributors – people who don't manage teams.
This includes radically prioritizing what to work on, scoping out projects, managing communicating with stakeholders, and managing expectations.
Example:
You have 10 different campaigns you want to run and each one has a different set of stakeholders.
How do you prioritize which of these campaigns to run first?
How do you communicate to other stakeholders why you didn't run the campaign they wanted?
How do you communicate progress to stakeholders of the campaign you do run?
How do you manage expectations of how fast the campaign can be rolled out and the expected results?
Resources:
Customer Experience
The customer experience includes everything from the experience on the website, to the emails they receive, to the sales process, to the product experience, all the way down to the customer service experience. As you can imagine, that includes:
The copy and visuals used on websites
The challenges prospects have that nurturing emails speak to
How your sales team speaks to the prospect
How easy it is to use the product
How your support team treats your customer.
Improving each of these things requires speaking to people across the company, conducting customer interviews, understanding customer psychology, and empathizing with both colleagues and customers .
Resource: How to Design a Customer Experience Strategy by HubSpot
User Experience
As a marketer, you'll inevitably need to create some graphics for blog posts, social media, and other content campaigns. When it comes to design and UX, we're talking about how customer behave and how they interact with your website or product.
Can you define the persona and their problem? Can you use industry standard tools like Sketch or Invision to wireframe design solutions?
Resources:
In addition to those skills, Lord also expects these hires to have low ego, high EQ, be kind, and be a culture fit to the team.
Other marketing leaders might expect even more skills.
That's a lot to ask of any one person, but that is the type of people who make up a high performing marketing team.
At the end of the day, it doesn't matter what you want to call this person, what matters is (1) as an individual contributor, understanding how to develop these skills or (2) as a hiring manager, understanding how to hire these type of marketers.
How to develop growth marketing skills.
There are many ways to develop the skills listed above and other skills both on the job and in your free time. The only thing is that it is a time investment that may not always have tangible results. I'll explain what I mean below.
1. Have many conversations.
Knowledge in the areas above can be gained by having conversations with people who do those things for a living.
Depending on the size and culture of your company, you can grab coffee with colleagues in different departments simply to learn about what they do on a day-to-day basis, how they approach their work, challenges they're facing, and how they think about those challenges.
Then understand how you can take their thought processes, apply them to your day-to-day marketing activities, and think about how you might collaborate with them.
2. Take courses and attend workshops.
There are online courses for each of the skills above and more. I'd recommend the Reforge Growth Series, General Assembly UX course, and Product Manager HQ.
It also helps to attend workshops and meet up events to meet people who are skilled in areas you'd like to improve.
3. Do side projects.
Do side projects that require you to think about more than marketing. For instance, build a product or provide a service then actually try to get customers.
This will push you to think about what pain you're solving for customers, how to tailor your product or service for that, then get a sale, then how to provide good customer service.
4. Do the work.
Aside from starting your own business to get the experience, you can also start doing growth marketing-esque work at work.
Example:
Dig into your Google Analytics to understand how organic traffic trends year-to-year.
Try to predict what the next year's organic traffic would be if you didn't do any new content marketing or SEO tactics.
Propose how to improve organic traffic, for example, by implementing a topic cluster strategy.
Model out the potential impact on organic traffic.
Example that requires cross-team collaboration:
Talk to people on your sales team to learn about the biggest challenges they hear from prospects.
Take what you learn and thin about how you can answer that question by improving copy on the website so that's no longer a point of confusion.
Run an A/B test.
See if including that copy improves the conversion rate of a website visitor becoming a lead.
Of the people who were exposed to the experiment and became a lead, how well do they convert into customers compared to those who do not see that copy on the website?
Is there an improvement in that conversion rate? Is there an improvement in revenue? By how much? Should you roll out the website change to all website visitors?
What does this look like in real life?
Using myself as an example, from learning SEO at my first internship, I began writing content for my own personal blog. This led to me getting a content marketing job that required me to learn how to do content promotion.
Then I took a front-end web development course so I could make design updates to pages without the help of a developer. This allowed me to make changes and run tests on landing pages.
All HubSpot employees have access to company financial data. I regularly reviewed notes from executive meetings to understand the company's financials and how leadership was thinking about the business. I listened to earnings calls to understand what Wall Street cared about and how leadership communicated with them.
I reached out to product managers to understand what they were working on and how that could help inform my work on the marketing team. There turned out to be a lot of opportunity to partner up and better align marketing activities with product changes.
Outside of work, I enrolled in the Reforge Growth Series program. I read blog posts from Brian Balfour, Andrew Chen, Tomasz Tunguz, Ben Thompson, and a16z.
And so on.
Everything naturally mixed together and layered on top of each other. I developed my own combination of skills.
How to hire for growth marketing skills.
The number one thing to keep in mind that Scott Tousley learned when hiring growth marketers at HubSpot is to find the "lakes" where the "fish" are hanging out.
Where do these candidates learn about marketing? Who do they follow? What blogs do they read?
These growth marketers are going through programs from Reforge, Tradecraft, and General Assembly.
They're reading articles from Andrew Chen, Casey Winters, Tomasz Tunguz, a16z, etc. 
They're attending conferences like Growth Marketing Conference to learn new strategies and meet other growth marketing professionals.
Scott used found two effective tactics to reach growth marketing candidates:
Use LinkedIn Recruiter to find people who took courses related to growth marketing.

Use BuzzSumo to find authors who wrote about growth marketing, find their email, and reach out to them.
Once you get to the interview stage, Joanna Lord recommends a few  questions to screen for growth marketing skills:
What domain are you strongest in and what are the other domains you are comfortable with?
Please give an example of a time you had a question, self-served the data required to resolve it, and acted on those insights.
If you discovered a core funnel was underperforming, how would you go about understanding what to do next?
Can you walk me through your forecasting process?
If you could learn any other area of the business, which one would it be and why?
Once they get through the initial interview, give them an ambitious project.
For example: "We currently acquire new customers at $100 with a life-time value of $2,000. Our website visit to lead rate is 20%. We're generating $1 million in annual revenue. Come up with a strategy to 10x annual revenue. Ask for any numbers you need."
Give them free reign to come up with a strategy and proposal.
When they present their proposal, ask how they came up with the strategy and how they prioritized each play against all possible options.
Look for evidence of them modeling out potential impact of each play, how they think about rolling out each play, why they believe the strategy will result in 10x revenue.
It's unlikely that they'll provide the most realistic or plausible strategy as they don't have all the context about your business, but it'll show you how they think about marketing.
Your turn.
Individual contributors, what's your game plan to develop growth marketing skills and become more versatile and more valuable?
Managers, what's your game plan to find and hire these growth marketers?