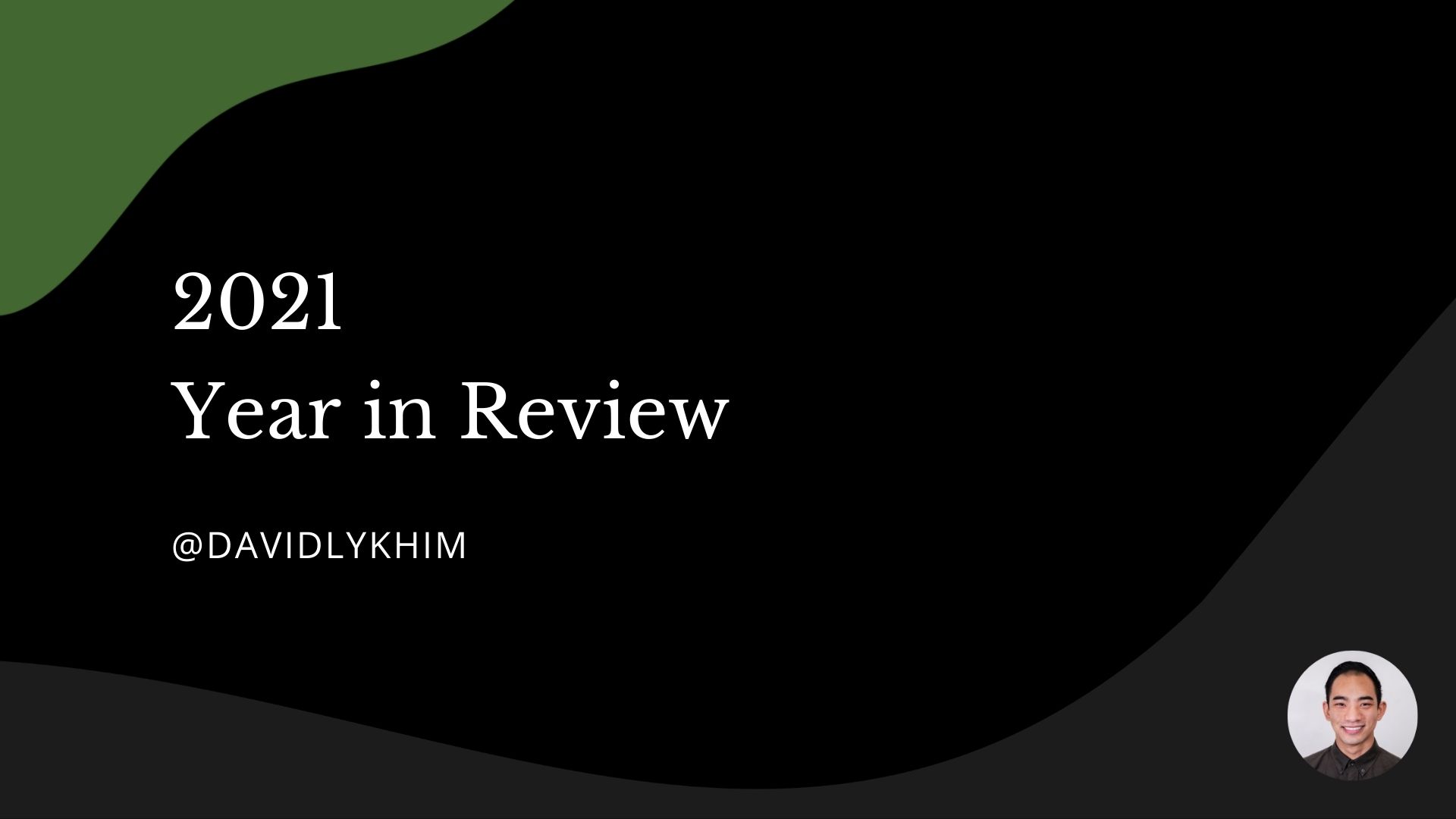 This year I narrowed even further in on what's important: health, relationships, and building wealth. That meant saying no to more things, something I had trouble with until recently.
Those three things took many different forms. It was as simple as being present when taking my dog on a walk (no podcast, music, or phone call). It could be sitting at the park with friends enjoying some beers. Or it could be doing an offsite with my business partners for annual planning.
As the year progressed, I (sometimes subconsciously) decided to focus on things that are more important to me versus worrying about minor details or spending time on things I didn't actually care about.
That's to say, it was a fun year to reflect on.
I previously structured my annual review in terms of what went well what could've gone better, and plans for the next year. Last year I nixed the "what could've gone better" section.
This year, I'm going to focus on highlights and learnings. It'll be less of a bullet-pointed list and more of a walkthrough of what happened this year with few edits.
Personal Highlights
Lisa and I spent January and a half of February in California with our families. We spent three months and while the priority was family, we also made time for hikes and trips to Big Bear and Joshua Tree.
In February, we visited Justin and Cindy in Seattle and got in some more hiking and skiing. It was my first time skiing in west coast powder, very different from New England skiing. I feel much better at skiing after going just a handful of times and taking a lesson. I've already invested in my own pair of boots and now going to invest in skis and bindings.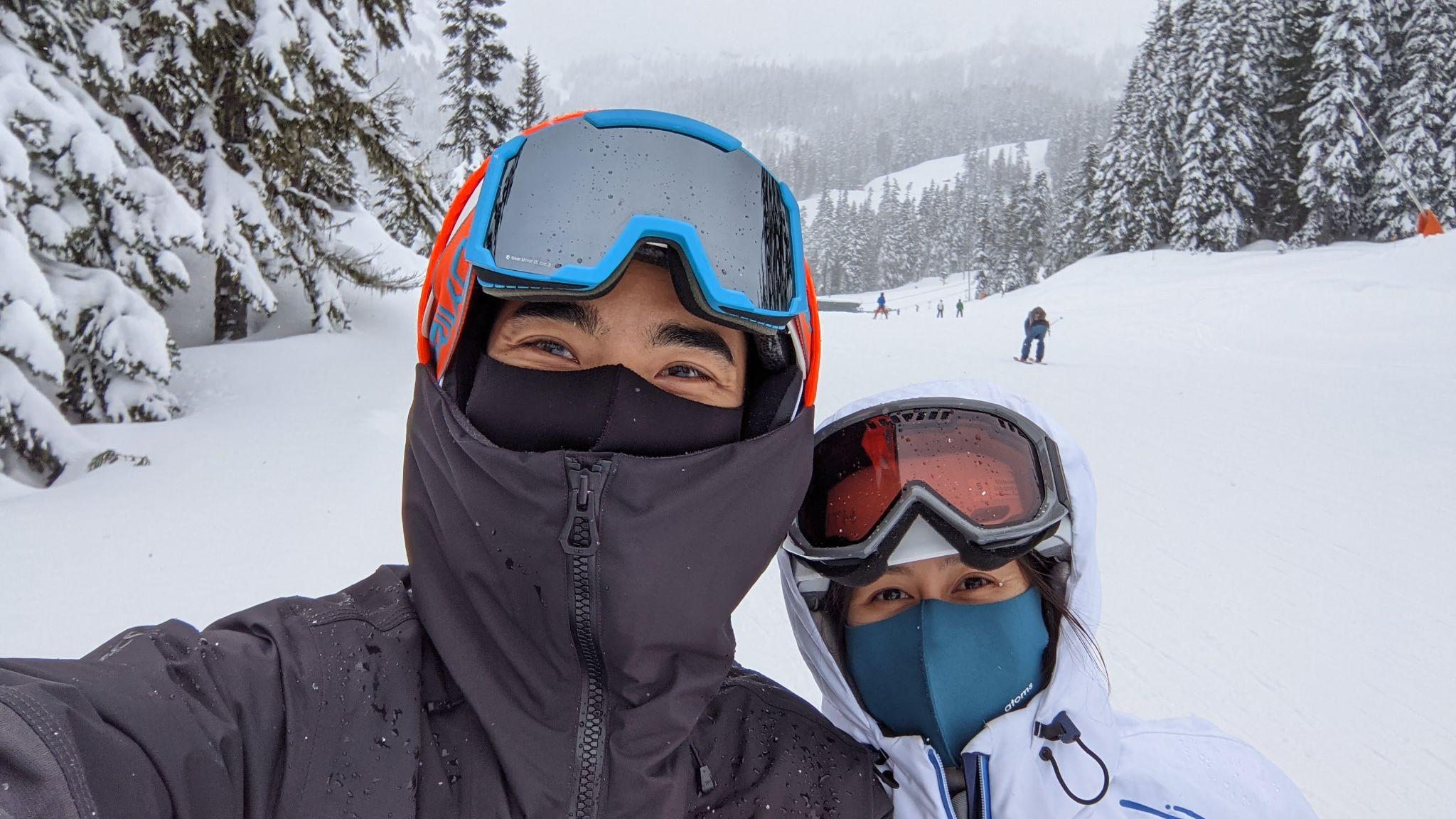 I also switched jobs and became Head of Growth at People.ai thanks to an intro by a good friend, Chris Miller. It's been a fun experience transitioning from a tactical product management role to leading a strategy across the company.
To add to the mix of change, we adopted a dog, Chance. Suffice to say, he takes up a good amount of time. We've built a routine of walking him for 45-60 minutes in the morning and in the evening. It sounds like a lot of time but it gets us outside. Otherwise, we'd be sitting at our desks all day.
Caring for Chance taught us a lot about ourselves and how we work together as a team. There are days when I have a lot going on and Lisa picks up the slack and vice versa. That might mean I'll walk Chance twice in one day so she can get caught up on work and go to the gym. Or it might mean she walks Chance in the evening and I cook. We're figuring it out and I'm lucky to have someone so patient and understanding.
To spice up life a bit more, we moved twice in two months. The first place we moved into wasn't great and we weren't happy with our landlord. We found sub-tenants to take our place and Lisa purchased a condo that we moved into in November.
We're in a much better spot now despite the stress of finding a subtenant, dealing with our landlord, and the stress of moving. It was all worth it.
We made another big-ticket purchase, a 2022 Honda Civic. It took a few weeks to narrow in on what type of car we wanted, but we're happy with our decision. After months of renting cars to go on hikes and take Chance places it made more sense to purchase a car to save money and time.
As for my other relationships outside of Lisa and Chance, my sister had a daughter so that makes me an uncle, which took some time to get used to. I'm excited to watch her grow and (hopefully) be a cool uncle.
I've fortunately built some new friendships and strengthened existing ones. It was as simple as reaching out to people through Instagram or LinkedIn to have a phone call or grab a drink. We also hosted Friendsgiving this year and I plan on hosting more dinners in the new year.
I got to see three of my friends get married this year. One of them was my friend from high school, someone I've known for over 10 years. It was fun to see friends from high school whom I haven't seen in years and hear what everyone's up to. I got to see my friend and business partner, Allie, get married in Louisville and met her family. I love it when worlds come together.
Speaking of business partners, this past year has been a fun roller coaster building Omniscient Digital with Alex and Allie. I'm fortunate that my business partners are also my friends who push me to grow and take the business to the next level and make sure I take care of my mental health and avoid burnout.
All of the growth from this year was compounded by therapy which allowed me to revisit, examine, and work through my implicitly held assumptions, habits, instinct, patterns of thinking that were holding me back.
Travel came back into my life in 2021 as well. I traveled to California five times for work and weddings. Went to New York for work and had an offsite in Chicago for Omniscient Digital. Also got to spend time with friends in Boulder and Aspen.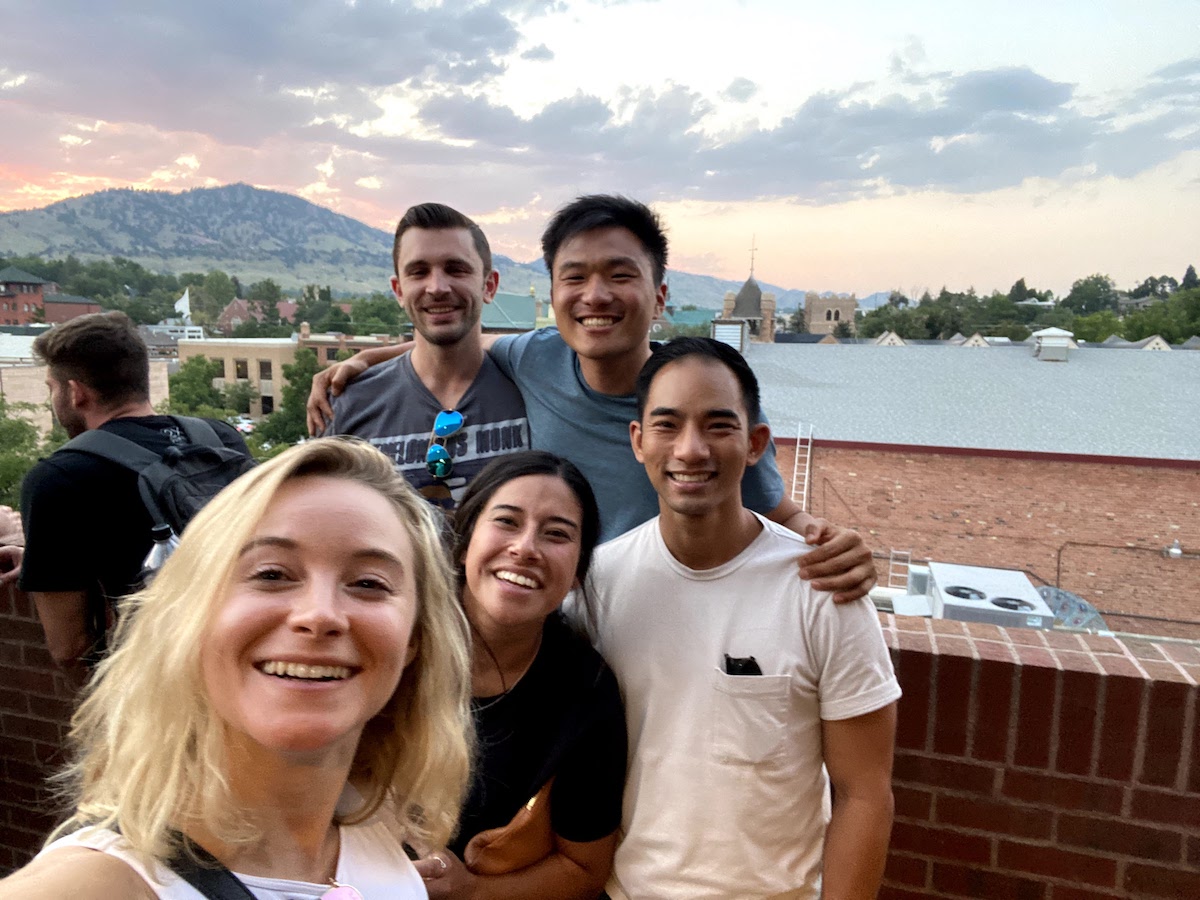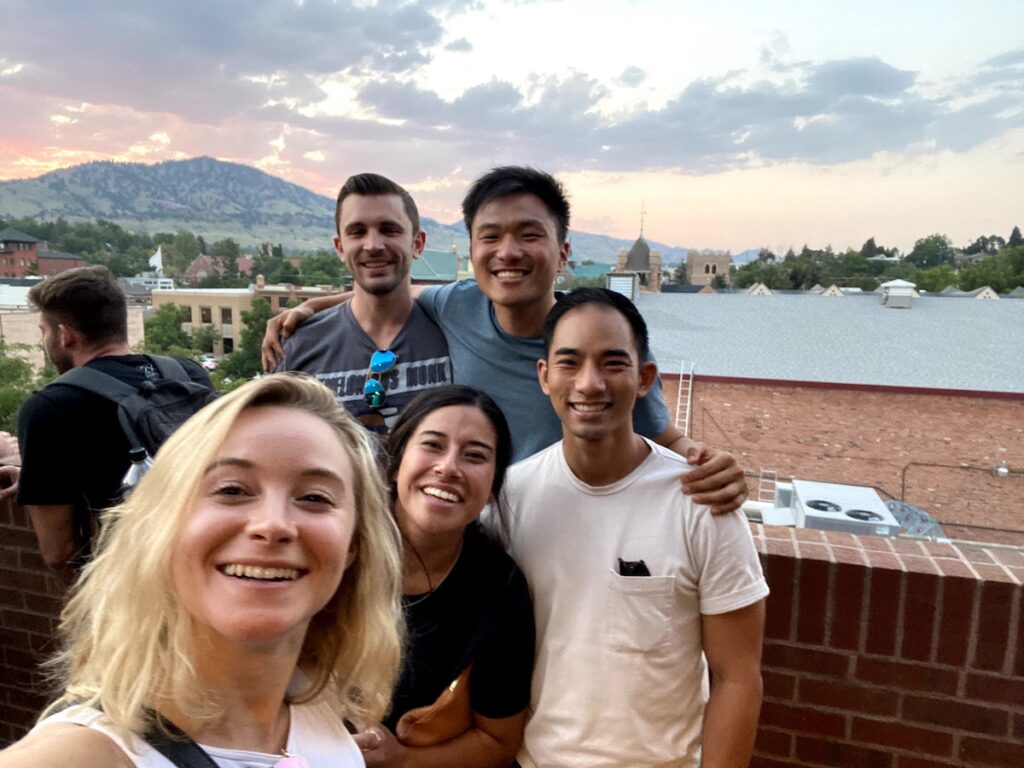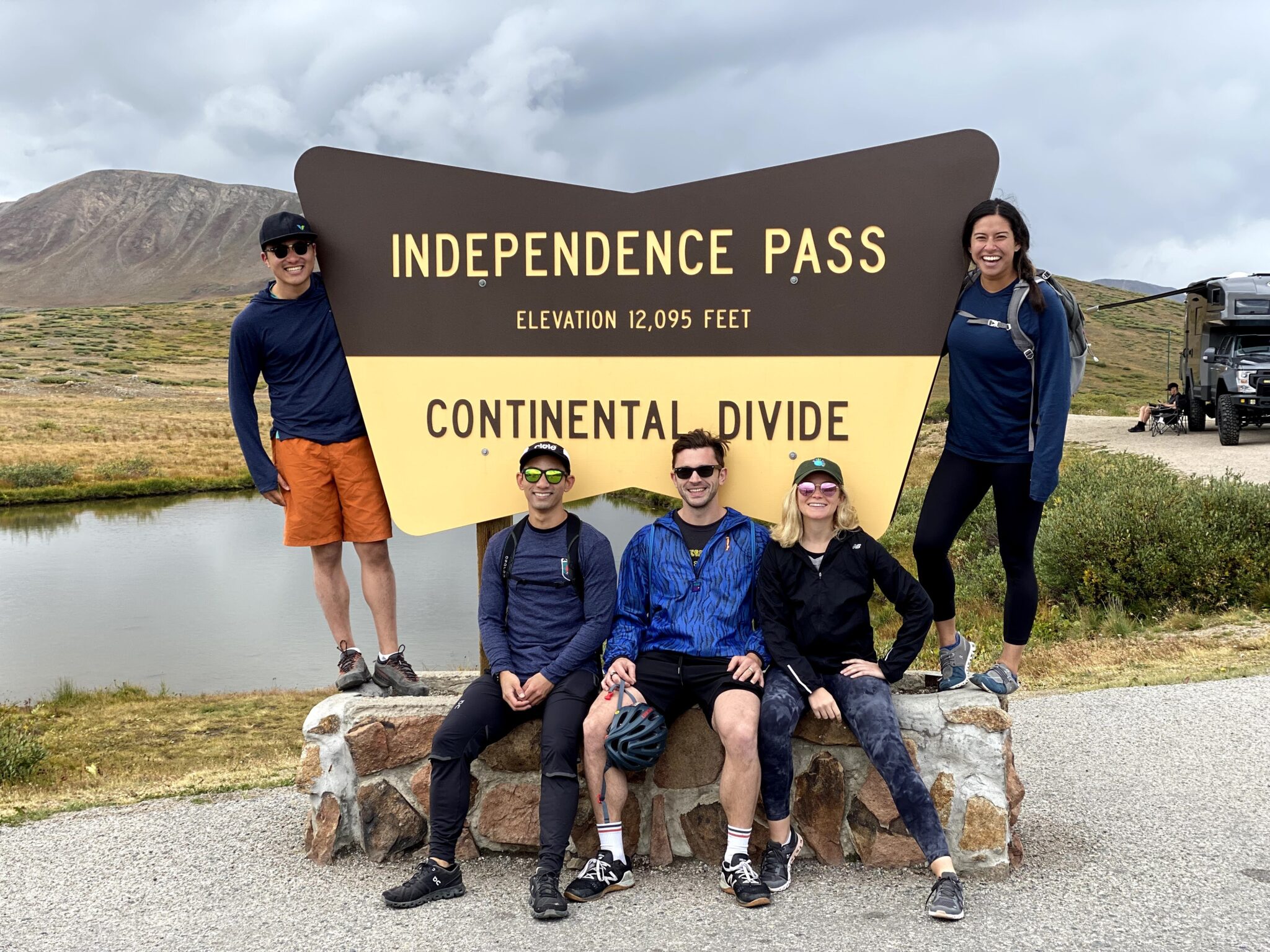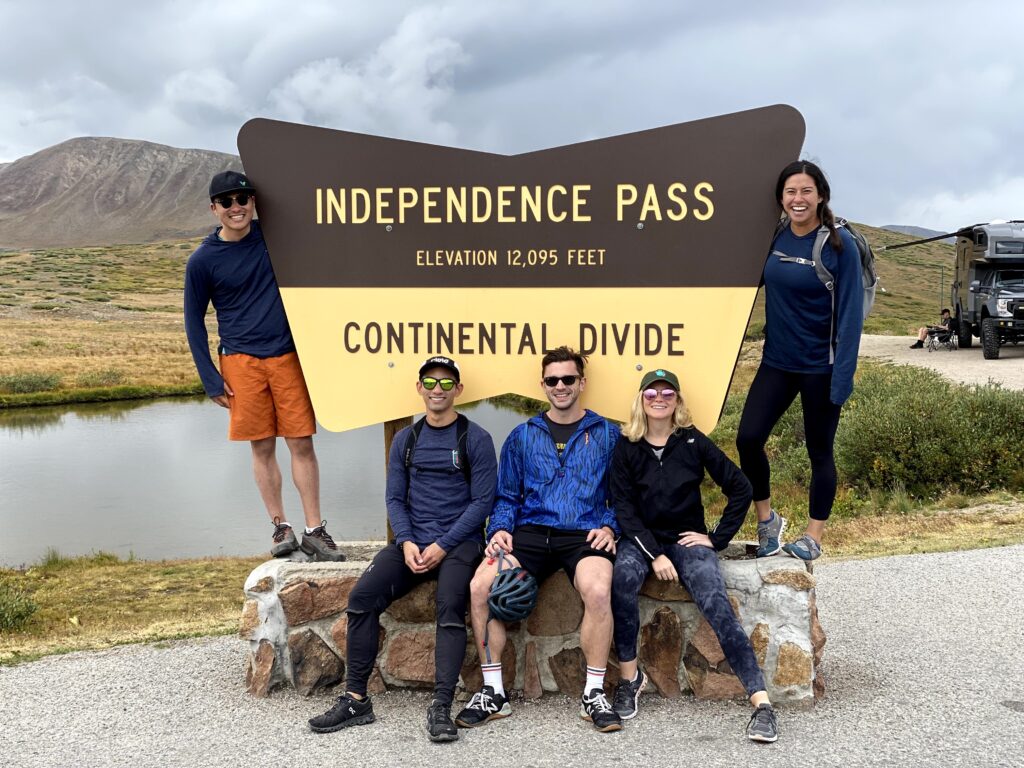 At the Continental Divide with Cambria, Brittany, David, and Alex.
Because of all the travel, I got Hyatt Globalist status and maintained Mosaic status with JetBlue (though I did have to buy some points and do a mattress run to get them). Hyatt Globalist status gives me access to lounges, room upgrades, early check-in, and late checkout. JetBlue Mosaic waives all change fees, allows free checked luggage, first dibs at boarding, and free in-flight alcoholic drinks(!). Those things make life a bit easier and travel a bit more enjoyable so they're worth it to me.
As for fitness, I hired Adriell Mayes as my personal trainer and it was worth every dollar. I started by purchasing his kettlebell programs then hired him for in-person training to keep myself accountable.
I had mostly gotten back to pre-covid fitness after working with Adriell and was ready to continue with my own training. I just purchased another one of his programs and will continue being more intentional with my workouts.
On the financial side, I spent more time strengthening the foundations of my personal finance. I continued working with Facet Wealth for financial advising and got insurance plans in place: auto (of course), renters, umbrella, and long-term disability. Thanks to PolicyGenius for making it easier.
I've also rebuilt my emergency fund and now have 44% of my post-tax income going into my Betterment investment account while still getting to play around with fun investments like stocks and NFTs.
I'm feeling really good about my financial health. The next step is layering on new revenue streams.
Business Highlights
Omniscient Digital tripled in revenue again this year. We're now a multi-six-figure revenue business and continuing to grow.
We felt a step-function change happen this year with more inbound leads and more people in our network referring clients to us.
We've paid out a couple thousand in referral commissions and we're happy to pay more. Know any marketing leaders at B2B software companies that need help with marketing? Let's talk. I'm happy to chat about how we can help them and, of course, chat referral commissions :)
As part of growing Omniscient Digital, we grew our podcast, The Long Game, to 44 episodes. Alex and Allie have done most of the lifting here and I'm starting to do more interviews. We're excited to continue growing the podcast.
We've also continued our Office Hours series to help folks grow their business through content and SEO.
Beyond those aspects of the business, I'm proud of us for three things:
1. We hired a great team. We're so lucky to get to work with such smart, ambitious folks who are eager to learn and do great work. We're still growing so if you know anyone who'd be great for these jobs, please let me know.
2. We found people to learn from. Instead of reinventing the wheel, we turned to people who've seen the game before and continue to learn from them. I've struggled with not wanting to feel like it's a one-sided interaction, but it turns out a lot of folks just want to help others avoid mistakes and reach their full potential. I'm so grateful to the handful of folks who have been so generous with their knowledge and helping us in our journey so far.
3. We've developed our leadership styles. As we got used to calling the shots, we developed more confidence and conviction in making decisions, providing guardrails, delegating projects to our team, and most importantly, developing trust. Next year will see how we further develop these skills and styles to as the business grows.
Investments
Outside of investing in Omniscient, I purchased an investment property and some NFTs.
I bought a condo in Long Beach, CA, my hometown, where I saw massive development happening. I had pondered purchasing for a few years before actually committing to it. I literally closed on the deal, picked up the keys the next day, and handed the keys off to a property manager the next day. According to Redfin, the value has gone up 15% since I purchase. More to come on why I decided to buy real estate in a future post.
As NFTs become more mainstream, I figured it was time to jump back into crypto and dig into the hype. My goal was to learn about NFTs, how they work, and the implications of the technology and I wanted to learn that not just by reading but muy going through the process of purchasing an NFT. I couldn't afford to buy a Bored Ape or Crypto Punk so I bought my .eth domain, a bushido ape, and an adidas originals NFT. Check out my NFT portfolio here.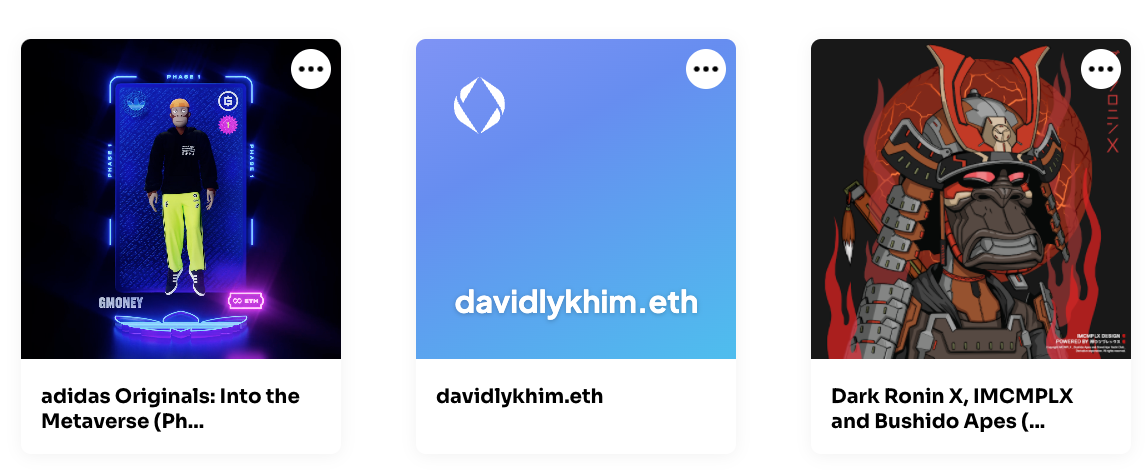 Favorite books
2022 Goals
One of the most interesting parts of doing an annual review is looking at the goals I set at the beginning of the year… and realizing I could've gone bigger. It's also funny to look back at goals I set even two or three years ago and realize how different they are in scope. My goals haven't gotten larger in scale.
So here's what I'm going to do this year:
Scale Omniscient Digital to 7-figures in revenue
Delegate and elevate
Take The Long Game to 100 episodes
Write a book with Alex and Allie
Buy a cash flowing business
Produce assets like courses and templates under davidlykhim.com
Continue to maintain and improve my mental, emotional, and physical health
Continue to build relationships
2022 Theme: Scale
This was my theme for 2021. I think I did well on it and it makes sense to continue on this theme.
Scale means a lot of things, but it mostly means being able to scale my time. That means ruthless prioritization in where I spend my time and cutting out the things that aren't as important.
By scaling my time, I can focus on the things that contribute to life satisfaction like building a business, writing, reading, taking Chance on walks, and spending time with friends and loved ones.
To help me focus on the things that are important to me, I'm borrowing the idea of having three words that serve as reminders:
Create: Am I creating or building something?
Connect: Am I connecting with people?
Curious: Am I staying curious and continuing to learn?
It's going to be another great year. LFG.
Annual Playlist
My annual Spotify playlist of songs that I really enjoyed throughout the year.
Previous year reviews: