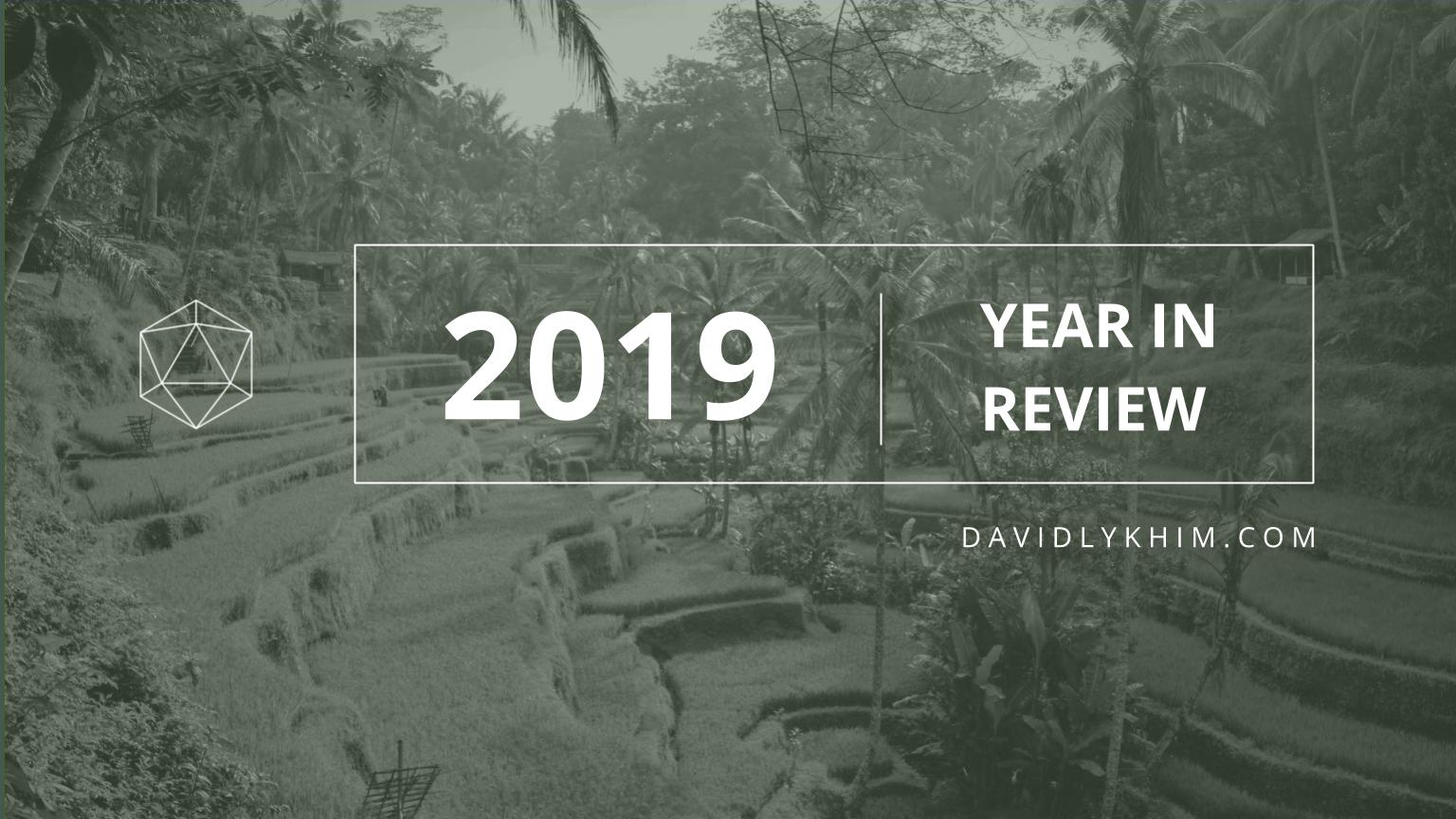 What a year it's been. This year saw a lot of new challenges, learnings, and things to celebrate. Encapsulating all of that, the most important theme of the year was relationships.
In my 2018 review I referred to Bill Gates's annual review where he stated, "Today, of course, I still assess the quality of my work. But I also ask myself a whole other set of questions about my life. Did I devote enough time to my family? Did I learn enough new things? Did I develop new friendships and deepen old ones?"
These questions stuck with me and reminded me that while career and financial goals are important, at the end of the day relationships are what matter most to me. I don't believe that at the end of our lives, I'd be proud of building a big, successful company or making millions of dollars if I don't have people I love to share my life with.
That's the lens with which I'll share my 2019 reflections and learnings and plans for 2020.
What went well
A lot of things went well this year, I'll stay focused on the main things.
More time and energy spent on relationships.
I went against my default state of introversion – doing things alone or with one person – and got people together for concerts, workouts, events, and dinners and went on international trips with friends.
Made a career transition.
I switched from marketing to product management at HubSpot. The role came with a new set of expectations and responsibilities and I've been enjoying the challenge and learning experience. I'm fortunate to get to work with and learn from an amazing team. By the way, we're hiring. Get in touch if you want to chat about working at HubSpot.
Leveled up my speaking.
I've become more confident in my speaking through more practice, repeatedly putting myself on stage, and feeling comfortable with the material. I spoke at Password 2019 in Tallinn, EE, WP Engine Summit in Austin, TX, INBOUND in Boston, MA, and Product-Led Summit in London, UK. I plan to speak at more events in 2020 about ecommerce, marketing, and product management. Request for me to speak at your event here.
Building an agency.
I shifted from trying to create a marketing agency on my own and partnered up with my friend Alex Birkett to create a content marketing agency. We help software and ecommerce businesses tap into content strategy and SEO as a customer acquisition channel. We've found traction and have been learning a lot about running and growing a business.
Got to see new places.
I took more trips than expected for both leisure and work and they were often with friends or coworkers and if I was traveling alone, it was to visit people. Through my travels, people have asked what I travel with so I here's a packing list of things I always travel with. This year, I traveled to:
9 countries (3 new): Indonesia, Italy, Estonia, United Kingdom, Canada, Germany, Ireland (2x), UAE, United States
9 states (3 new): California (4x), Washington DC, Illinois, New York, Texas (2x), Washington, New Hampshire, Vermont, Missouri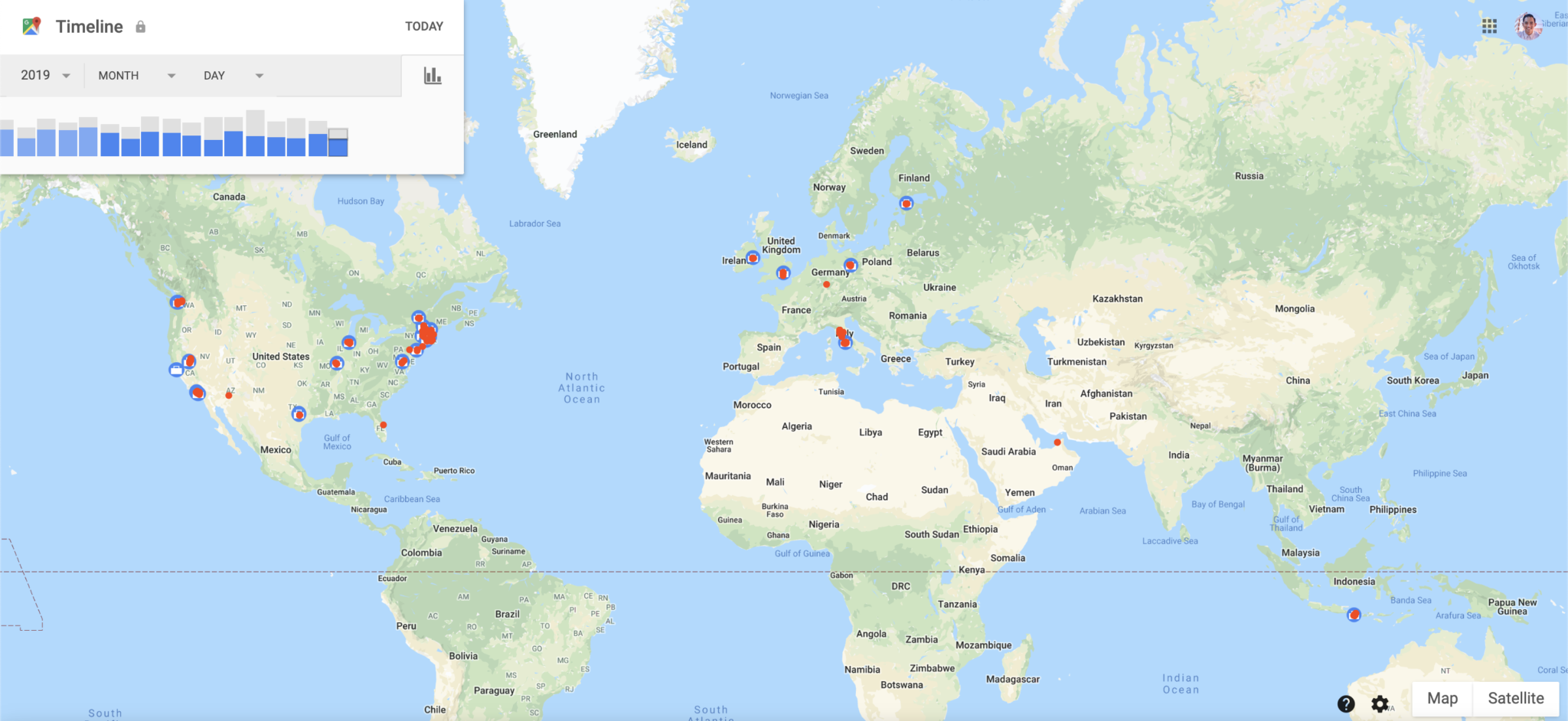 Maintained my fitness.
I ran three Spartan races — completing the Spartan Trifecta — went skiing for the first time, joined a running team, ran a 5k and two 10Ks, and completed a marathon. Whew.
Financial and estate planning.
I hired a financial advisor through Facet Wealth to get professional advice on financial planning. I worked with an attorney to draft up my will and estate planning documents. These have been big steps for me toward better financial management and learning what it means to protect my wealth.
Getting involved with social issues.
This year, I learned first-hand how difficult it is to work with a non-profit based in Cambodia and decided it would make more sense to focus on domestic organizations. I've been speaking with an organization in Washington DC about getting involved and helping with their marketing and operations.
What could've gone better
Each of the items below could have "been better," but I'm not sure how I would've fit in these things without sacrificing the things that ended up going well. Nonetheless, these were things I wanted to do more of but did not, so they're still a part of my reflection.
Didn't write as much.
Due to my activities this year, I published less, journaled less, and wrote fewer letters to friends. While I won't hold myself to a writing schedule, I'd like to carve out more time for reflection and publish more of my learnings here.
Didn't read as much.
Reading has historically been a proxy to show that I'm still learning. Despite not reading as much this year, I still learned a lot this year. I clocked in 9 books in 2019 compared to at least 15 books in previous years. See my reading list here.
Less time spent reflecting.
I got involved in plenty of social and professional activities this year which left less downtime to zoom out and reflect throughout the year. Another way to look at it, I was less in my head and more present with people I care about.
Lack of routine.
I typically have my morning and evening routines that dictate when I work out, eat, read, work on projects, etc. Those routines went out the window as I took on things that are difficult to add predictability to like being in a relationship, running a business, traveling, and attending social events.
Not enough time for language-learning.
I started off 2019 wanting to become fluent in Spanish. Then I realized I was too tired at the end of the day to practice. Halfway through the year, I reflected on how horrible my Khmer is and the language barrier between my grandma and I so I decided to work on my Khmer instead. I hired a tutor on italki and had bi-weekly lessons, but that hasn't been enough to feel comfortable speaking.
What I've learned
Relationships are still everything.
Some of the memorable moments of the year include a trip to Bali with friends, concerts with friends, a trip remote working trip in Italy, friends teaching me to ski, escaping a snowstorm in Lake Tahoe, supporting friends in their next career move, encouraging friends during Spartan races, Friendsgiving, and downtime with family. This came from me fighting my default state of introversion and asking to hang out or get dinner or do a trip together.
On the professional side, friends were happy to introduce me to their friends who attended grad schools I was evaluating. Alex and I got client referrals through our relationships. I got speaking opportunities through people I've connected with over the years. These opportunities didn't come from pre-meditated "networking." They developed naturally from meeting people at events, getting to know each other, connecting, and seeing what we can do together.
I had less time to myself and spent less time reading, writing, working, but because of that, I got to spend more time with people I love. That brought me tons of joy. I'm glad I had the self-awareness to reflect on the importance of relationships and will continue investing in them.
Success comes down to commitment and patience.
I've found that success often comes down to committing to the hard, and oftentimes annoying, work and having the patience to see it through when things aren't easy. Things that are worthwhile — business, relationships, school, fitness — are generally difficult. Once you're committed, you'll have a reason to work through the boring and tedious things and you'll have the drive to push through the challenging and frustrating things.
The way Naval Rakivant puts it, I'm focused on playing long-term games with long-term people.
Routines are overrated.
I've learned that routines help with productivity but productivity isn't always the most important thing. Despite having little structure and routine, I still ended up very productive and very happy this year.
Could I have squeezed out more productivity? Sure. Could I have gotten more done? Definitely. I traded productivity for time with people I love and care about. That has been a worthwhile trade-off to me.
Running a business is not sexy.
I've read this multiple times but now I got to live it. Despite what people like to show on social media or what the media portrays, there are always a ton of headaches in the background. I've learned to do things like finding an accountant and understanding business taxes, finding a lawyer and working with her to create bulletproof contracts, having to deal with Chase bank in person to set up our bank account because they don't let you do these things online. That being said, I'm fortunate to have Alex as a business partner to get through the frustrating and tough times together.
Plans for 2020
When I think of the new year, I don't think of new things to attempt, but rather things I've already been doing or have contemplated for months.
For this reason, I wasn't as excited to write this review because there isn't anything mind-blowingly new and it feels like a rehash of what I've reflected on in previous years. But the exercise still helps and I hope some of my learnings help you as well.
For me, writing this serves as a commitment to these principles and goals.
Maintain my health.
With all the things that happened this year and having less structure, it was difficult to maintain a consistent workout routine. I won't try to force structure so this won't change moving forward. Instead, I'll have to push myself to fit in workouts and yoga sessions when I can, especially when traveling.
Build and develop relationships.
Despite having less time alone, spending time with people has been the highlight of my year. I'll continue fighting my default introverted state and make time to hang out with people I care about especially as people begin to move away.
Build Omniscient Digital.
We've learned a lot about packaging up services, doing sales, pricing, and customer success. There are a few things to iterate on but Alex and I will continue building out the agency. Know any SaaS or ecommerce companies who should or are trying to build out their content strategy and could use our help? Let us know.
We've also got a few pet projects for the agency like Cup of Kava to become our own case study and potentially launch a content product.
Improve my Khmer.
I'll have more regular Khmer lessons and speak with my family in Khmer more instead of defaulting to English.
Invest in growth.
Personal, business, and financial growth all require some investment of time or money. While I've been raised to "save money" — often at the expense of time — I've been shifting my mindset to investing in growth. This could mean investing in hire professionals to help me with things versus Googling and trying to do things on my own. It could mean investing in early-stage startups and taking some risk to generate returns. It could mean investing in a course to take myself to the next level. It could mean purchasing real estate. In all cases, it'll require some investment of time or money or both.
Say "no" more.
I know what I want to achieve and what I need to do to get there. Now it's a matter of focusing intensely on those things. That means I'll have to get better at saying no to things. This will be the most difficult principle for me. I'll have to find some harmony between work and time for relationships.
2020 Theme: Bias toward action.
I find that "bias towards action" encapsulates other principles I want to adopt: "don't overanalyze" and "commit to risk."
I often get stuck overanalyzing situations and delaying decisions with the goal of calculating risk and how to mitigate it. I naturally want more certainty that I'm going to make the "right" decision.
There will be situations where this makes sense, but I've learned there will be more situations where I can collect only so much data and have to make a tough decision despite not having all context or certainty. And that's okay. In fact, it's necessary.
With that, happy new year! 2020 is going to be an interesting year.
2019 Spotify Playlist
Previous annual reviews:
Cover image photo by Niklas Weiss