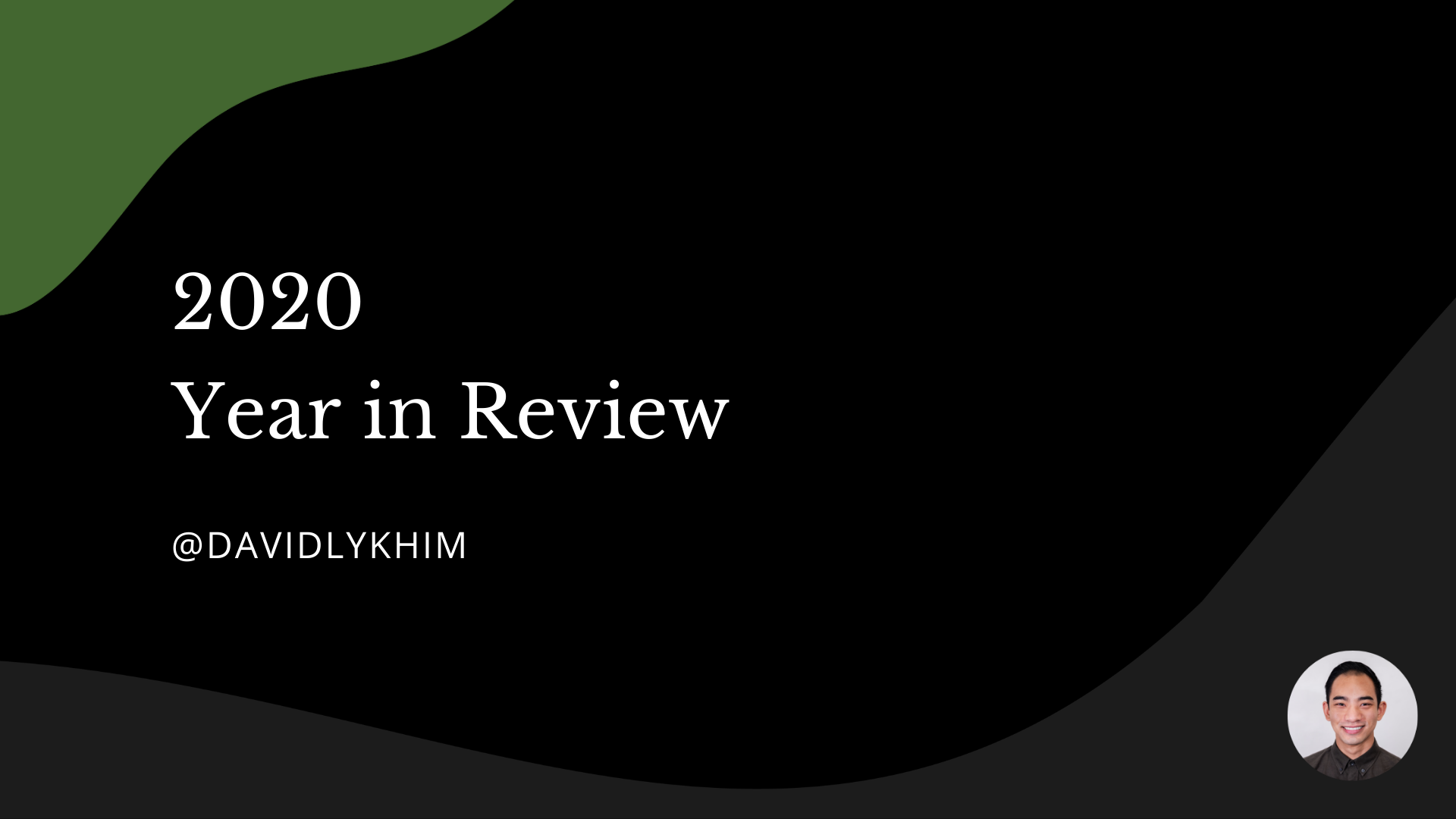 Hey again. I can't believe it's been another year. Everyone has said it already, but it was a rough year. It felt like 10 years crammed into one. Despite the challenges and the consistently bad news, I like to think I made the most of it and came out better.
Over the years, my reviews have become more focused on three areas which you'll notice as you read this review three trends throughout this review: relationship, health, work.
Pertaining to relationships, I continued to ask myself the following questions this year:
Did I devote enough time to my family?
Did I learn enough new things?
Did I develop new friendships and deepen old ones?
Before we jump in, here's my 2020 playlist to listen to as you read this.
What went well
Took a leap of faith in my career.
This year marked my 5 year anniversary at HubSpot. So I left and joined Fishtown Analytics to help grow dbt. A lot of people have asked why I did that. $HUBS is doing really well, I loved the team I was working with, it was generally a great place to be. The short answer is I was getting too comfortable. I'll share more about how I thought about this in a separate post.
Omniscient Digital grew.
The premium content marketing agency I started with Alex in 2019 tripled in revenue this year. Allie joined us as a partner and Karissa joined us to launch and grow our new podcast, The Long Game. There's momentum and we plan to keep pushing.
Strengthened relationships.
Keeping in touch with friends and family was more challenging without social gatherings so most of this came through Zoom calls, texts, and getting back on Instagram.
I moved in with my partner. It was a big discussion figuring out where our relationship as headed but we took the leap. As expected, it came with challenges, but we continue to work through them and grow together.
Made time for myself in multiple ways.
I found myself with a lot of time on my hands when COVID-19 hit. No more commute. No more going out. No more gatherings. So I filled that space by doing more things for myself and taking better care of myself.
I got to read more. See my favorite books of the year below. Check out my full reading list.
I went on more walks which was helpful for zooming out from what I was doing to clear my mind when I got anxious or stressed.
I worked out more regularly, though less intensely. It was more for the mental break.
I stopped listening to news-based podcasts like The Daily, The Indicator, and The Economist because, well, they were depressing and all talked about the same thing: COVID-19 and it's effects. I listened to more entertainment podcasts like Fake Doctors, Real Friends. I grew up watching Scrubs and listening to this podcast felt like being reunited with my best friends.
I found a Khmer tutor on italki and had weekly lessons during which I would only speak Khmer and allowed myself to struggle through it. My pronunciation and vocabulary have improved significantly.
I also just watched more TV as an outlet and have not felt any guilt about it.
Began seeing a therapist.
I told myself four years ago that it might be helpful to see a therapist. There wasn't anything wrong, but I knew it would be helpful to speak to someone and talk things out. I went through the process of browsing PsychologyToday for therapists but it was overwhelming. An old roommate recommended BetterHelp which matches you with a therapist. If you don't like them, you get matched with another.
Through working with my therapist, I actually named my anxiety. I always called it stress, but I realized there was more to it. Since naming it, I'm now working on it — well more like getting more comfortable with self-doubt and self-criticism which has been more present with the new job. I've accepted those feelings will always be there, but I can keep it in check so it doesn't affect me as much.
If you're reading this and have considered seeing a therapist but haven't, I strongly recommend BetterHelp. It's not covered by insurance and might be a bit expensive, but helps you find someone to talk to. I ended up working with my therapist outside of BetterHelp at a much more affordable rate.
If you want to talk more about therapy, feel free to reach out over email or Instagram.
Self-education about the injustices to Black Americans.
The (more public) injustices around Breonna Taylor, George Floyd, and Ahmaud Arbery that spurred larger Black Lives Matter protests this year was a clear moment for the country to become more educated. I read books and essays (Between the World and Me by Ta-Nehisi Coates, The Fire Next Time by James Baldwin, So You Want to Talk About Race by Ijeoma Oluo), had tough conversations, attended protests, and watched documentaries. I wish I had educated myself sooner.
Hired an executive assistant.
This required a big psychological jump for me. I've always been the type to do things on my own and haven't been great at asking for help. I've gotten better at that over the last year and a half, but now with an assistant, I'll get even better at asking for help.
What didn't go well
There's a pattern in my previous reviews when I get to this section: the summary is often, "I wish I did more."
I'm not doing that this year. I made a ton of tangible and intangible progress this year and I'm extremely pleased about it.
The one obvious thing that didn't go well though is COVID-19 happened and I got it, which resulted in a solitary quarantine that took some toll on my mental health. But as seen from the above, I believe I came out of 2020 much better than the year started.
What I Learned
Keep the momentum going.
Don't get paralyzed by striving for perfection. It's okay for most things to be good enough. I've told myself this for many years but it really came into practice this year as I pushed myself to keep making progress.
Focus on the long-term game.
This year, I began paying more attention to the story of the long game. It turns out a lot of folks have been working on their project, business, or craft for years. That investment compounded over time and resulted in leverage.
I already "knew" this before, but it's different now that I got to understand it through my own experience of building a business and creating leverage for myself.
It's okay to forgive yourself for not fulfilling your illusion of perfection.
"You're always trying to be perfect aren't you?" A friend pointed out to me (more eloquently) two years ago. It was the first time I had heard it said out loud and the first time I acknowledged it.
Yes, I'm always trying to be the perfect partner, perfect son, perfect employee, etc. It results in a lot of anxiety, self-imposed pressure to perform, and an endless list of things I feel I should do.
It wasn't until this year that I felt I really made progress and forgave myself for not meeting such unrealistic expectations for myself and allowing myself to let go a bit.
Plans for 2021
Health
This will always be a priority. I'm intentionally bundling physical, mental, and emotional health into a general "health" goal because it's all intertwined. I've learned it doesn't help for me to list all the things I want to do for physical and mental health. These lists ironically end up being a source of anxiety, "Crap I didn't meditate/journal/workout today." I'll keep it simple and general: I'll eat well. I'll exercise regularly. I'll make time for myself to reflect. Easy.
Continue investing in my relationships.
It might still be Zoom calls for now but that'll have to do. I'd like to get back to doing organized trips with friends and family when that's safe to do.
Scale Omniscient Digital.
We have a content strategy course, a podcast, and services. We're building out our content and will scale out sales. We'll want to launch a minimum viable software product and start gathering feedback.
Build and acquire compounding assets.
Omniscient Digital is obvious asset here. The profits we generate from the agency can be parlayed to creating other products like more courses or a product. The podcast will also create compounding returns because we get to talk to and learn from smart people. The business itself compounds because we continue to learn and grow as partners.
I'm going to use social media more regularly to start building an audience. I'm late to the game here due to an avoidance of social media and in general not feeling the need to share what I'm doing. This will be the most uncomfortable piece for me, but it'll be fun learning the platforms. It's also just a great way to keep in touch with friends.
By the way find me on Instagram, Twitter, and LinkedIn.
The idea of building compound assets leads to my next plan…
Purchase an investment property.
This is another completely new experience for me. I've longed to purchase an investment property for a while and I'm finally at a place psychologically and financially to take the next step. There's going to be a lot of learning involved, but I'm excited.
2021 Theme: Scale myself.
Last year's theme was to bias toward action. That's always going to be a work in progress since I tend to index toward pefectionism. However I'll have plenty of reminders from the Omniscient team and my team at Fishtown Analytics on this.
Scaling is one of the toughest parts of growing a business, building compounding assets, and developing leverage.
If you've been keeping that track, I'm going to work a day job at Fishtown Analytics, build Omniscient Digital (with a podcast, course, and services), probably manage an investment property, and still want to make time for loved ones and myself.
I'll need to get really good at scaling myself and asking for help. Otherwise, none of that will work.
It's completely on-brand for me to add more to my plate, but it feels different this time. Over the years, I've learned to manage my stress and anxiety, but it's not just that, I'm also excited. None of this feels like work.
2021 is going to be an exciting year (:
Previous year reviews: