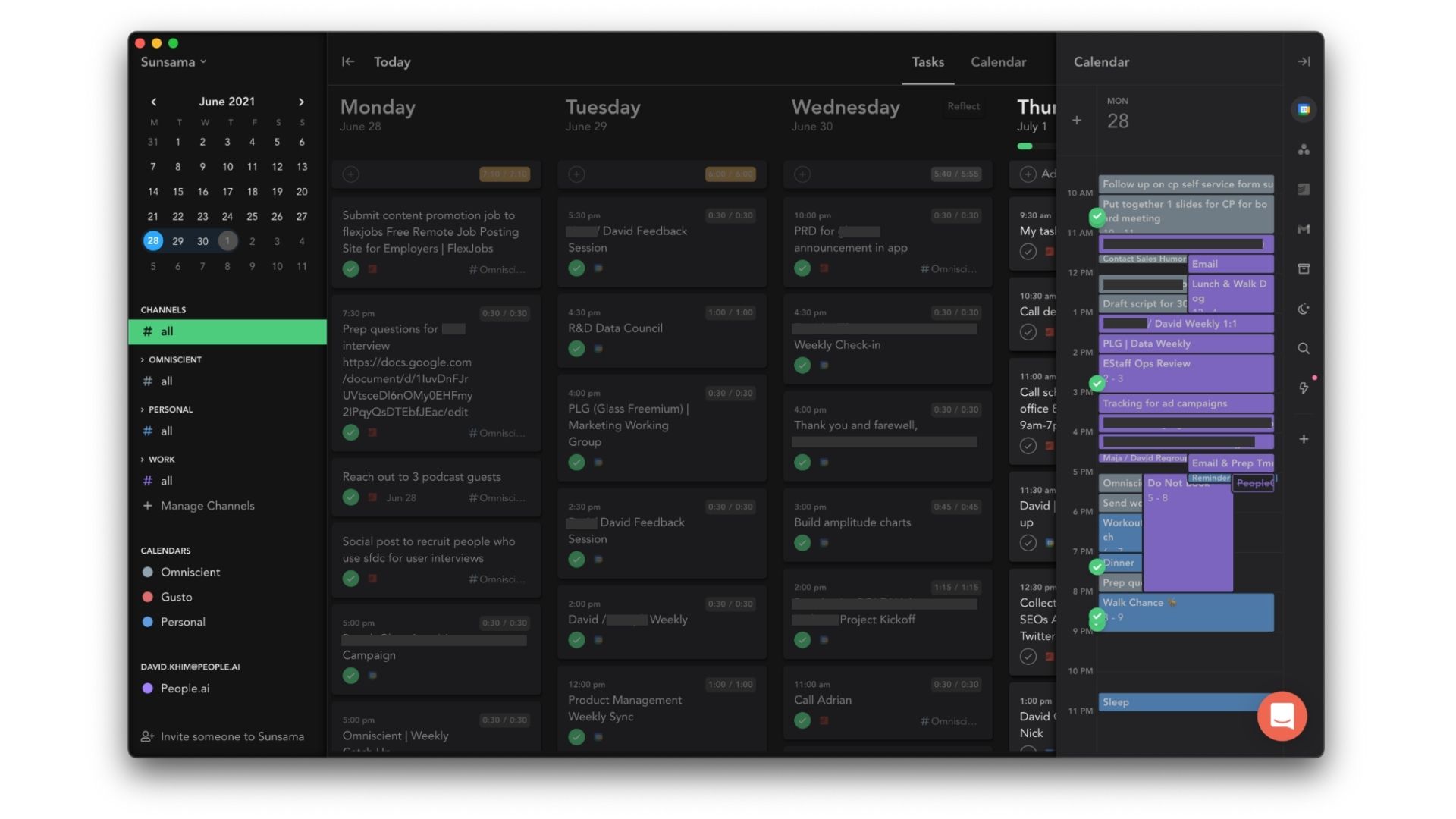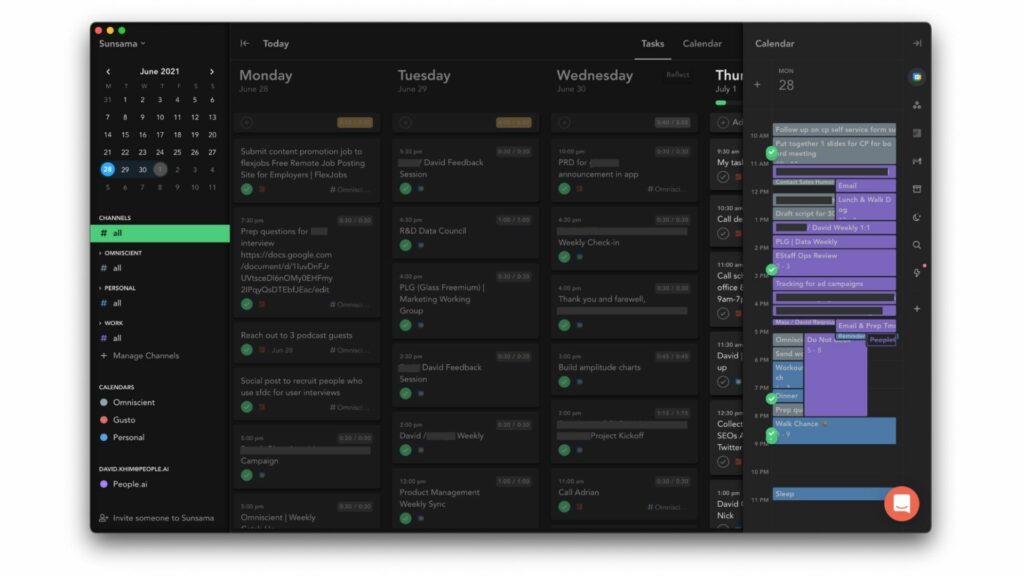 Juggling multiple projects and feeling like you're drowning can seem to be a never-ending cycle. But if there's one thing I've learned as a full-time employee, business owner, boyfriend, dog dad, and general human being with too much going on, it's that simplicity is preferred over complexity in almost every area imaginable.
Sunsama is built with that principle in mind, which is why it's been my daily planner tool of choice since March 2021.
Yes, another task management tool. I had that same thought so I sent out a tweet asking about peoples' experience with Sunsama and got multiple messages to the tune of "Sunsama is a game changer."
And I got responses like these…
So before you write it off, it's worth giving it a shot.
One of the features I love about Sunsama is its emphasis on prioritization for each day of the week and managing your workload to avoid burnout. Its intuitive design makes it easy to arrange your day exactly how you want it–whether you're planning first thing in the morning or the evening before.
If you're on the hunt for a productivity tool that does what it should, it's worth considering Sunsama as a viable option you'll stick with.
Here's what we'll dive into:
Sunsama's key features
A simple view of calendar and tasks in one place
The daily planning workflow
The weekly review
Pricing
Sunsama alternatives
Sunsama's key features
What made Sunsama as an all-in-one tool stand out for me was its singular focus on the management of daily and weekly tasks rather than overwhelming you with a barrage of tools built for too many timelines.
While other tools give you calendar views, kanbans, Gantt charts, timeline views, subtasks, custom fields, automations… and quite honestly a bunch of things you'll probably never use, Sunsama keeps it simple.
Sunsama's creator, Ashutosh Priyadarshy, was able to successfully distill everything you'd need in a daily planning tool that isn't secular. There's a clear idea behind its design that shines through in features like reminders to wrap up your day and reflect. Or a repository to store any tasks you didn't get to on a given day.
Sunsama's features work well in its mobile app, which is available for both iOS and Android. I prefer using it on my Mac though, my Google Pixel screen feels small when I'm visualizing my workday.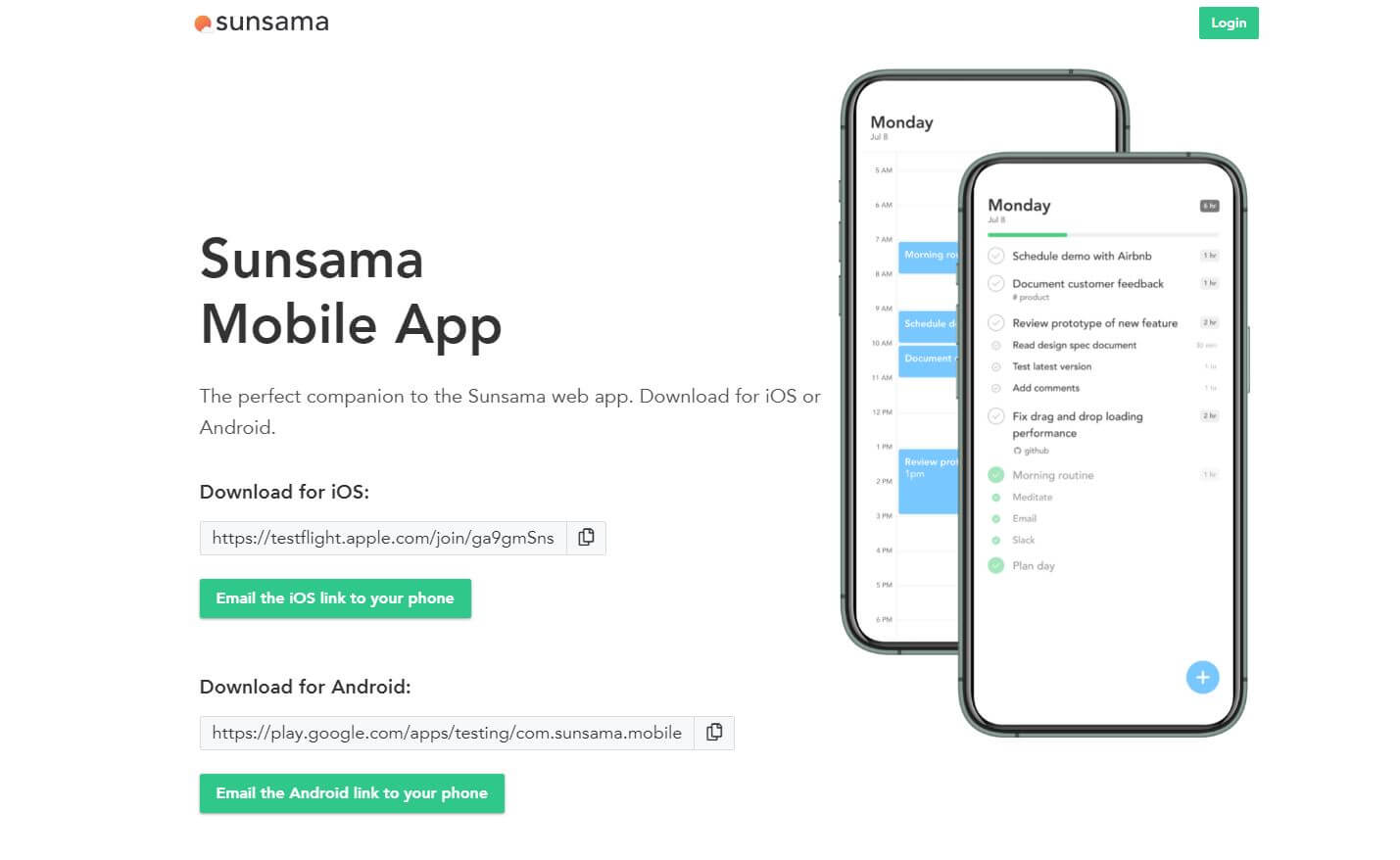 This, along with an extremely smooth UI experience makes for a tool you're happy to check in with each morning and evening. When it comes to lessening the friction that often comes with using most productivity tools out there, Sunsama wins solid usability points. That's all to say, I look forward to planning my days using Sunsama.
Here are a few key features worth pointing out:
Simple reporting and tracking
Ideally, a productivity tool doesn't only track your tasks but how long it takes you to complete them. Sunsama's reporting feature takes care of this.
At the end of each week, it lets you know exactly how you've spent your time according to what tasks, assuming you've taken the time to set your timers throughout the day.
Task classification for personal and work tasks
The way you keep track of where you're being most productive as well as what's taking up the majority of your time is by being able to easily classify each task as you plan your day with channels and categories.
Once you set these up during the initial sequence, it's as easy as classifying each of your tasks for the day and letting Sunsama track and file tasks as you complete them.
Integrations with the task management tools you're already using
While Sunsama's list of integrations isn't expansive, it does integrate with tools you're likely already using and pulls from them so you can easily create your daily task list. This is a chef's kiss as far as pulling tasks from different platforms to ensure you aren't leaving anything out.
Currently, you can use Sunsama with:
Gmail
Outlook
Asana
Trello
Gira
Github
Google Calendar
Slack
Desktop.com
Gitlab
Shift
Jira
A view of your calendar and tasks in one place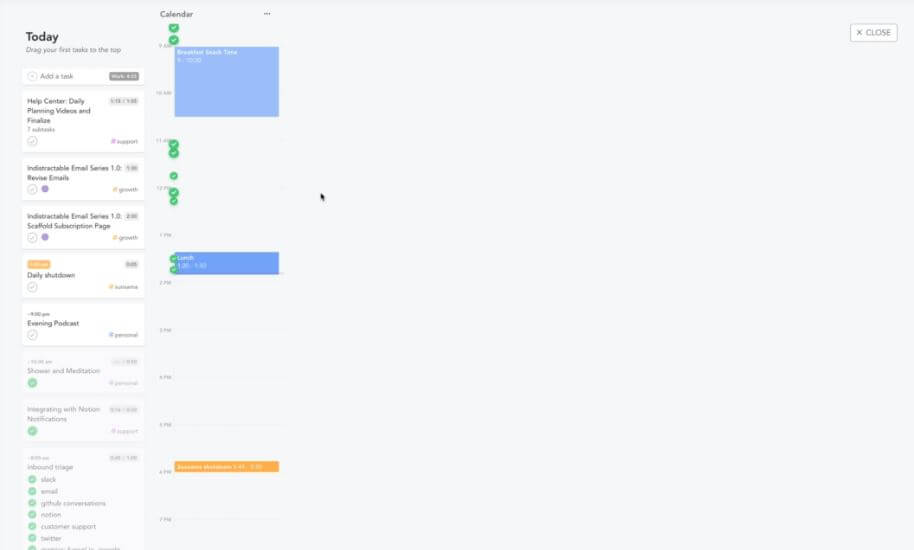 It seems like there isn't a decent calendar app that does this well. As far as mixing simplicity and focus to maximize your daily tasks, Sunsama eliminates the need to toggle between things like your Google Calendar and your task management list.
Toggle between calendar view or task view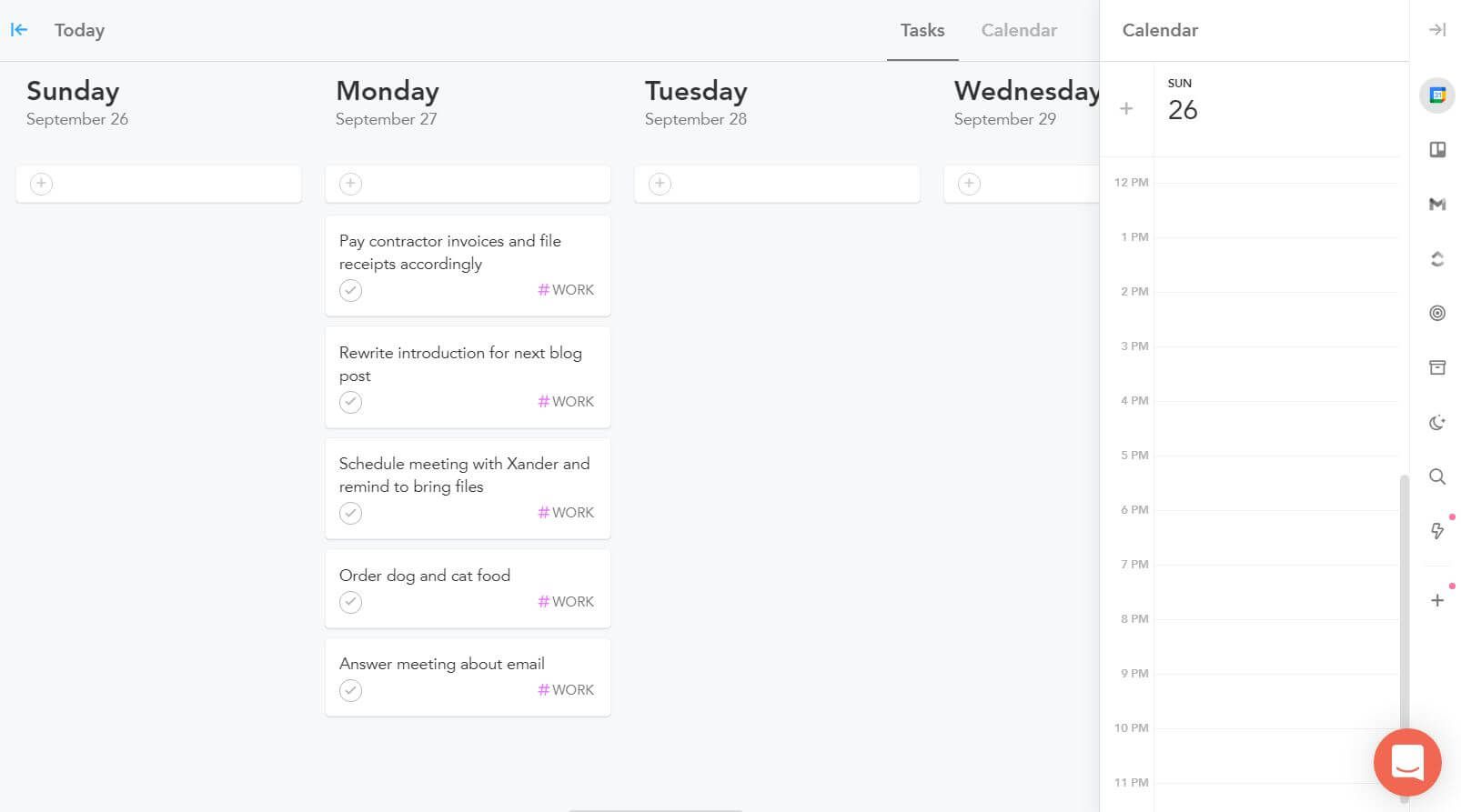 It's pretty safe to say tabbing endlessly is the bane of everyone's existence (anyone else have 27 tabs open right now?). Sunsama's dashboard allows you to toggle between calendar and task views with keyboard shortcuts, which is yet another favorite feature.
You don't even have to worry about not knowing any of them as a beginner either, you can easily bring up a list of all its shortcuts when you can't recall how to do something. This essentially means less having to go back and forth between mouse and keyboard, which saves time and increases your efficiency. So far, what's not to like?
Google Calendar and Outlook integrations
Sunsama's integration with Google Calendar and Outlook makes it easy to pull in scheduled meetings or upcoming calls.
Focus mode puts your to-do list front and center without the tasks and widget overdrive many other planning tools bombard you with.
The daily planning workflow
It helps to think of using Sunsama through a simple three-step planning process:
Capture
Prioritize
Schedule
Capture all your tasks for the day
Sunsama's daily planning framework allows me to take in information from the latest day to create my upcoming schedule the next day. Once you integrate all your productivity tools, it's as easy as pulling them up on Sunsama, then dragging and dropping them into your task list for the day.
This includes emails too, which is a salient feature that I use often, especially with messages I know I'll want to shift my attention to later, but might forget in the email shuffle if I don't pull it out.
It eases the feeling of worrying about accidentally forgetting an important task because all your tools
are connected to one task prioritization system.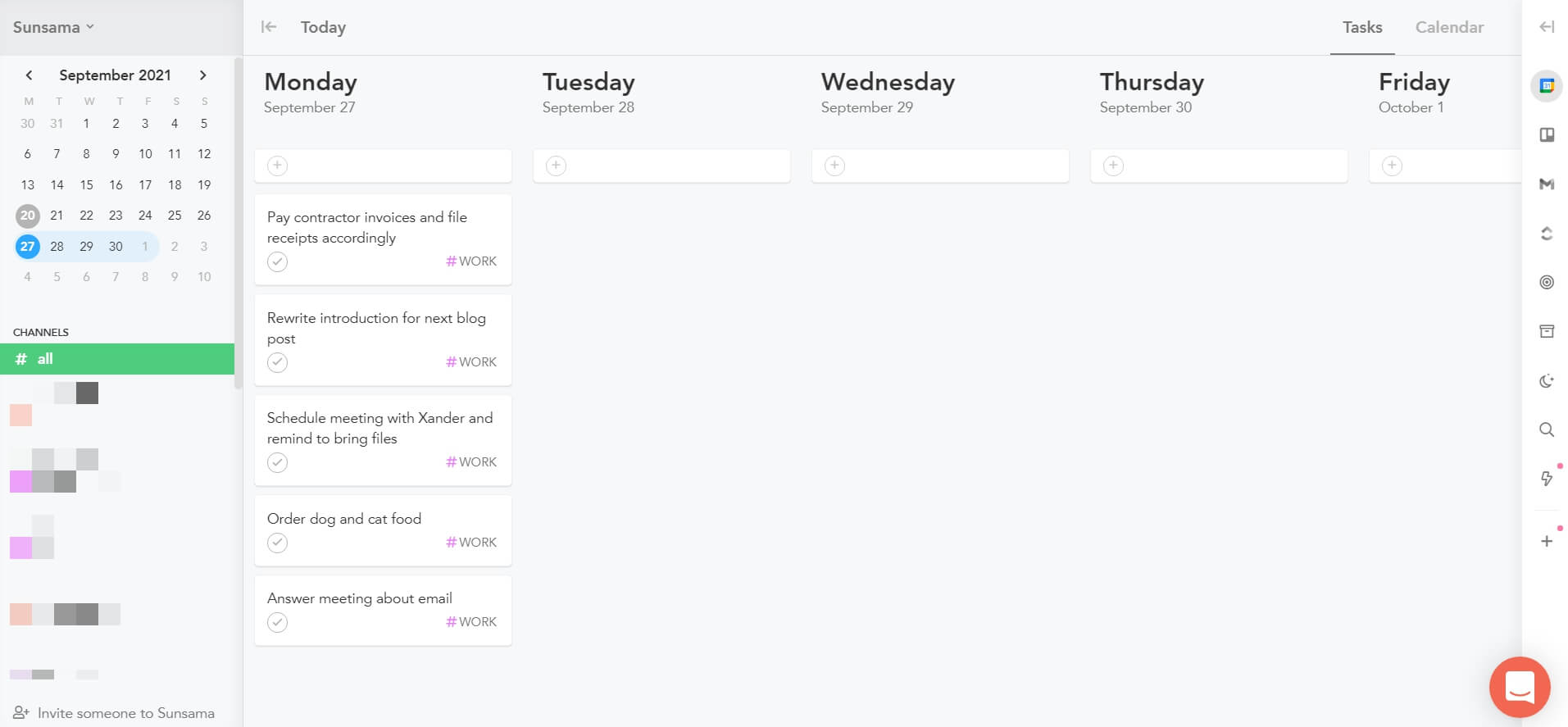 Prioritize what's important or urgent
Next, I prioritize my tasks by order or either importance or urgency. This step is crucial in making sure I spend my time on tasks that'll move the needle instead of wasting hours away on semi-important emails.
With drag and drop features, prioritizing my newly created task list for each day becomes easy.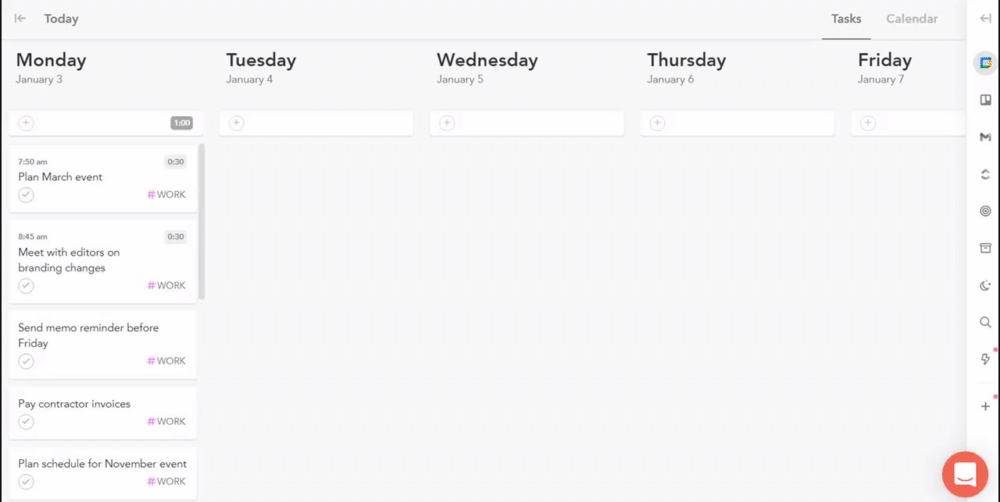 Schedule (but don't overdo it)
I'm guilty of overscheduling my day and being too ambitious about what I'll get done in a given time frame. Sunsama was built with overworking and burnout in mind and has "checkpoints" in place to stay away from overdoing it.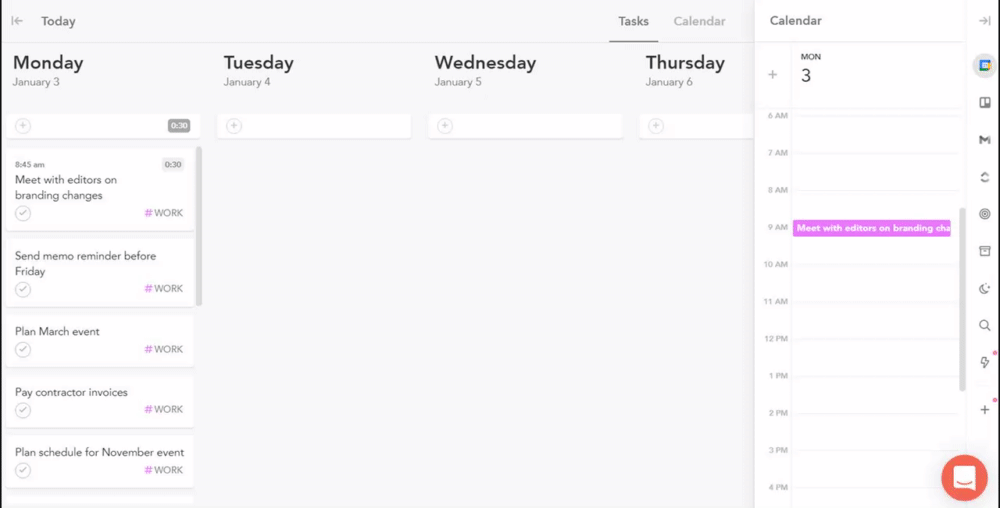 It lets you:
Set a specific amount of time for each task
Cleanly set subtasks under main tasks
Automate a recurring start and end time each day (and reminds you when it's getting close to that time)
Reflect on the work you've done in a week
It also lets me use an hourly schedule if I want to time block the day. I usually take advantage of this feature if I have more meetings than usual and I need to watch the time closely. Sunsama pulls up the hourly schedule right beside your task list so there's no tedious switching between pages involved.
The weekly review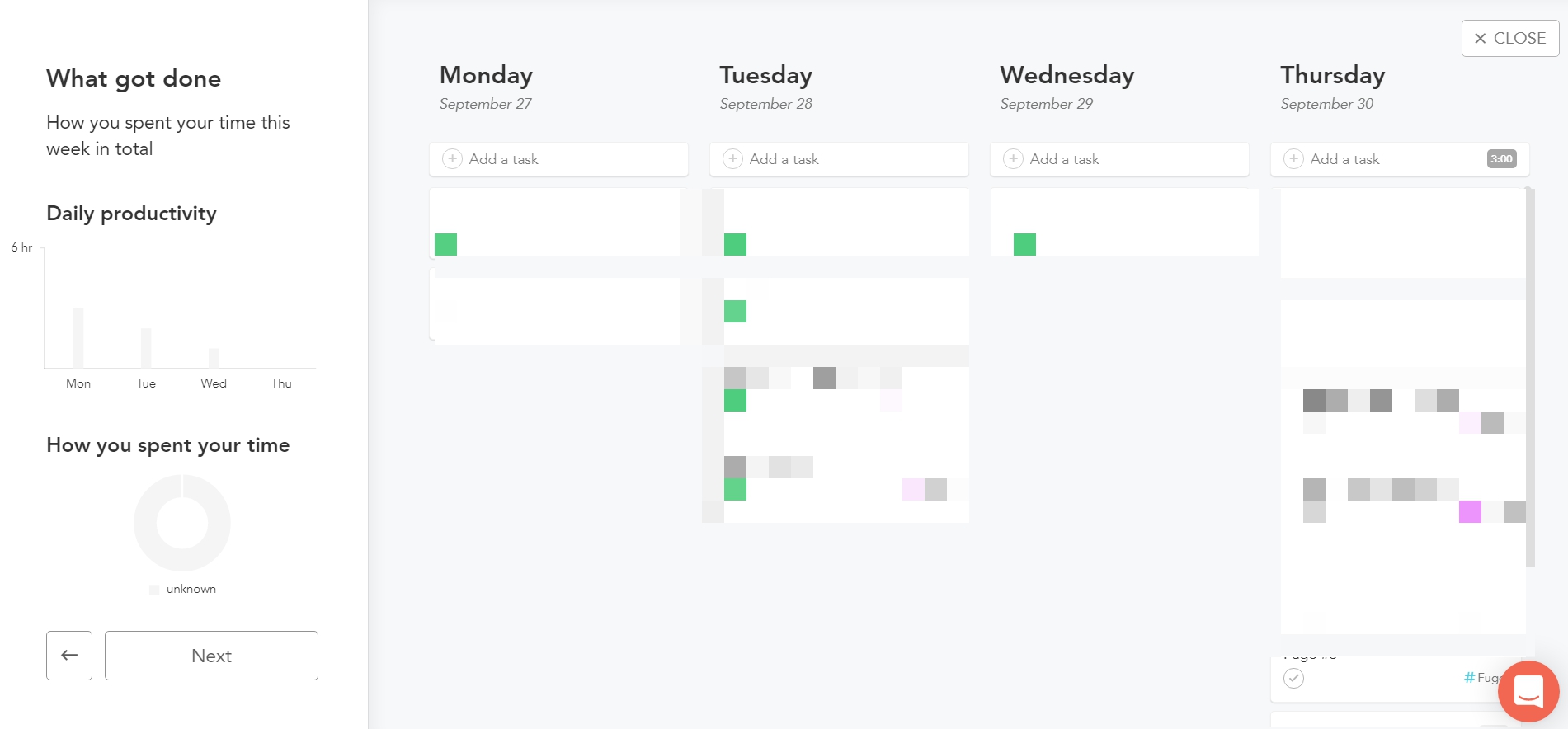 While I'm guilty of overscheduling, I'm guilty of forgetting about all the tasks I finished throughout the week. I know I'm not alone in this. Sunsama's methodic framework leads you into a review session you get to schedule at the end of the week so you can visualize how you did.
At the end of each week I can see what I spent the most time on, where I missed the mark, and what was standing in the way of certain projects. At a glance, detailed time charts show me the true story of how my week actually went.
I don't always pay a ton of attention to the weekly review, but when I do want to learn about specifics and my productivity level, it's there whenever I need it.
Sunsama's pricing
Here's where some users might get hung up. Sunsama now costs $20 (up from $10 a month a while back) for access to every one of its features. Depending on what your goals are, the price might not matter all that much once you test the ease of using Sunsama.
Sunsama's pricing model is straightforward, which is something you don't see in the SaaS space often. However, you can try it out for free for 14 days without any credit card commitments to make sure it meets your needs.
3 Sunsama alternatives
My review of Sunsama as a tool wouldn't be complete if we didn't at least consider alternative task management software options. They're out there. Some even continue to add new features. But the question is how useful are they to you?
Here are a few of my favorites that might answer that question for you: You'll notice each of them already integrates with Sunsama (though when I picked them it wasn't on purpose).
Todoist is great, you can start using it for free, but it has its limits just like any other app out there. Depending on how you plan and manage your tasks best, it can be useful to you if you're collaborating a lot with team members.
I use Todoist and Sunsama in tandem and take the best each tool has to offer to create my own system. It's the best way I'm able to create a system that molds to my daily and weekly needs without sacrificing efficiency.
Google Workspace
Yes, Google Workspace is the OG of the internet. It's also easier on your pocket since you can use it for free. If you cobble a few tools together, you can pretty much get something like Sunsama up and running.
The question is, do you want to and is it worth it?
ClickUp has named itself the everything tool. Which is fair, in a lot of ways it certainly is. But that's what can also make it cluttered to use. Not to mention there's a learning curve involved in the initial stages of adoption.
If that's your cup of tea, then ClickUp can be a solid alternative to Sunsama. You can build anything from personal task trackers to forms or even highly detailed project management systems whether it's for personal use or to manage a whole team.
One thing's for sure though, ClickUp competes with Sunsama on price. You can start using it for free or upgrade to paid features starting at $5.
Sunsama as a daily planning app
If you haven't been able to tell, it's a hard yes for me if you ask me about using Sunsama as a productivity app. It seamlessly became a part of my daily routine, whether I'm dealing with a packed day or it's one of those rare days with zero meetings.
I like to think of Sunsama as the productivity tool that walks you through a daily story molded to your needs. It approaches productivity by walking you through a flexible framework that makes sense instead of senselessly throwing a pile of optimized "productivity" tools at you.
Its simplicity and integrations with major tools in the productivity and project management space make it easy to pick up and integrate into your daily workflow.
But words only go so far. You have to test drive it yourself.
Try Sunsama free for two weeks here.