It's tough to make money as a creator, a solo entrepreneur, a freelancer.
With more than two million professional creators and 46 million amateurs, that can only mean one thing: only the top creators hosting their content on popular platforms are earning what they deserve.
On Patreon, for instance, less than 2% of creators earn a monthly minimum wage. Other platforms berate creators for asking to be paid what they deserve.
To do better, you need an email marketing platform that allows you to build an audience, interact with your fans, promote your content, and earn a living without getting in the way with numerous restrictions and fees.
That's where ConvertKit comes in.
In this post, we're going to talk about ConvertKit's pros, cons, and alternatives to help you decide if it's the right email marketing software to help you earn a living from your craft.
Let's get started.
What is ConvertKit?
ConvertKit is an email and marketing automation tool to help creators build an audience, promote their content, and sell their products.
ConverKit's Features
ConvertKit's features are bucketed in three categories:
Grow your audience
Connect with your fans
Earn a living
Depending on where you are on your journey, each of these categories has relevant features to help you focus on what matters to you. Let's break down what you get in each category and possible use cases for each of these features:
Grow Your Audience
Without a loyal audience, you won't have anyone to interact with and sell your products to. So ConvertKit offers opt-in forms, landing pages, and integrations to help you grow your audience
Opt-In Forms
Optin forms are a popular way to get hold of people who interact with your content, helping you to make sure that they have access to the content you share as soon as you release it.
I use them here on my site: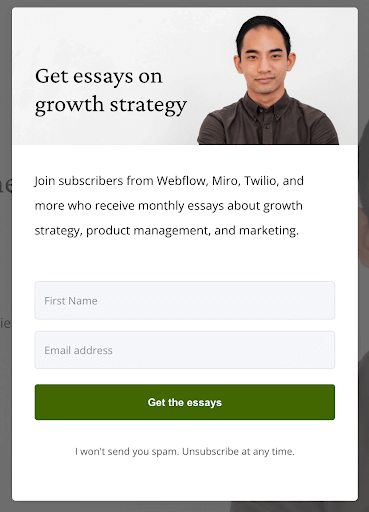 Use opt-in forms to deliver freebies to your web visitors to help them implement what they learn from your content.
Freebies can be in the form of checklists, templates, or a pdf version of your content.
ConvertKit also has a WordPress plugin that makes it easier for you to add forms to your website.
Choose how your format shows up on your site from the three options you find (Modal, Slide-in, and Sticky bar), choose a template in the next step, and finally, edit the copy to align with your needs:

You can also customize the following:
Time duration before an opt-in form shows up for a visitor
Choose the device on which your form shows up: mobile, desktop or both
Place your opt-in forms on specific pages of your website, depending on which page you're getting more traffic.
Deploy your opt-in forms without interrupting the visitors' experience by using a pop-up, a slide-in, or an inline form
The opt-in forms you create using ConvertKit allows you to comply with relevant regulations such as GDPR.
Landing Pages
ConvertKit landing pages make it easier to spin up new pages without building those pages from scratch. Convertkit provides a library of landing page templates optimized for conversion so you can host giveaways, contests, and more.
The Convertkit landing page builder has customization options such as adding CSS code so you can customize your landing page as needed.
Integrations
ConvertKit integrates with other platforms like Shopify, Teachable, Squarespace and more — tools you're probably already using — so it's easier to run your business without worrying about siloed tools.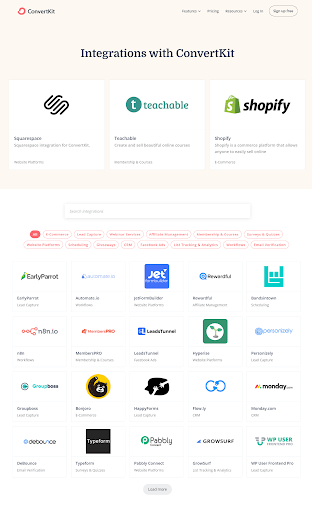 ConvertKit also integrates with Zapier, so you can set up dozens of automations across your other tools.
Connect with your fans
It's worth it to connect with your fans not just to grow revenue but to build relationships.
Here are the features that ConvertKit has to help you build meaningful relationships with your audience at scale and build a solid online presence:
Email designer
Creating email templates using ConvertKit is straightforward and the email editor is intentionally minimalist and easy to use so you won't waste time figuring out how to create emails.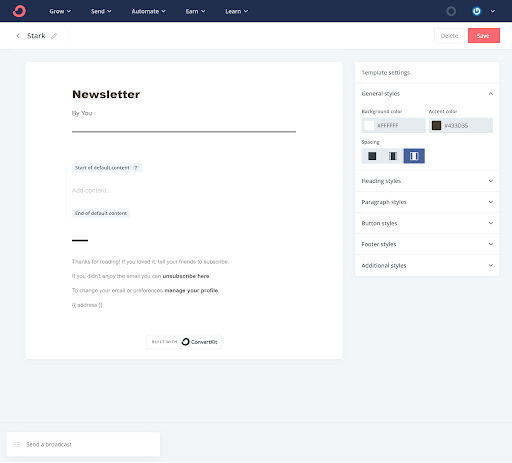 You can create both text-based or HTML designed emails. Fortunately, ConvertKit provides plenty of templates to help you get started.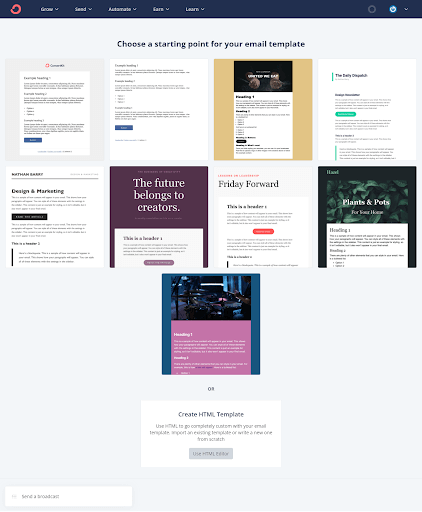 Email Marketing And Automation
Email marketing has evolved and become more technical, but the basics haven't changed. You still need to be consistent, send interesting and relevant emails, and build trust with your audience.
To help you do this, ConvertKit's automation features include broadcast emails, create email sequences, and build email powerful automation campaigns.
Broadcast emails
Broadcast emails are the emails you send to your entire email list. Some call these email blasts because you're sending a batch of emails to your entire list at once.
Segmenting your audience allows you to send tailored emails to those email subscribers rather than just send your entire email list the same email. Use the A/B testing feature to identify your best performing subject lines based on their open rate.
Drip Sequences
Drip sequences allow you to nurture your subscribers over time with a sequence of emails sent based on timing or on actions they take on your emails.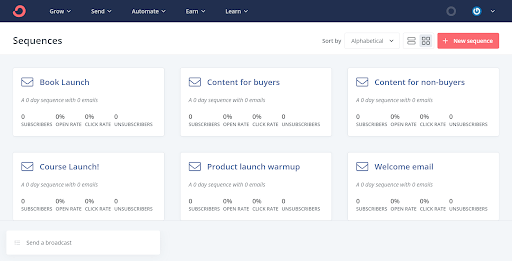 In ConvertKit, you can create the sequences relevant to your audience to allow you to scale your interactions with them. Examples of sequences include:
Welcome email sequences
Engagement email sequences
Ascension email sequences
Re-engagement email sequence
Depending on the type of sequence you're creating, filter it to make sure that you're sending relevant autoresponders to your subscribers.
These filters also make list management easier because you know which section of your subscribers is engaging with you and decide what to do with unengaged subscribers.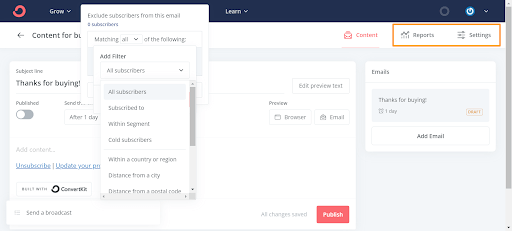 You also have a settings button to help you customize the sequence and a reports dashboard to show how each sequence is performing.
Visual automation builder
This is where it all comes together. Your automations help you set up workflows for all the campaigns you're running.
Got a new subscriber who signed up for your lead magnet? Trigger a welcome email sequence and then add them to your highest converting offer email sequence.
Got a subscriber who doesn't open emails anymore? Send them a re-engagement email sequence and then add them to a nurturing sequence for your latest product.
The drag and drop visual automation builder allows you to create such automations and more, create tags, set rules, and relevant triggers that will make your marketing campaigns effective as soon as you start rolling them out.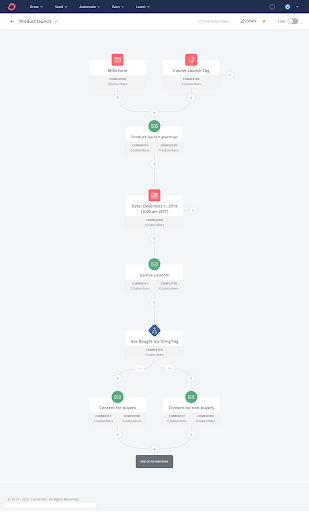 The user interface is intentionally minimal and simple, making building these workflows straightforward.
Earn a living
ConvertKit's commerce option allows you to sell your digital products and collect your payments through the tool. The commerce option allows you to sell books, music, presets, coaching, and ebooks.
Here are three simple steps that allow you to set up your commerce option: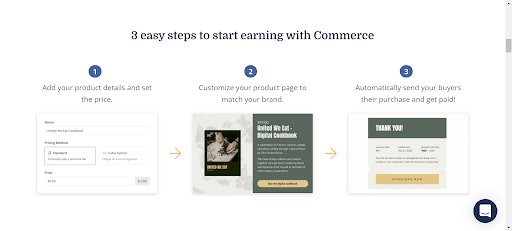 Create product pages, use the visual automation builder to create a sales funnel and track your sales performance in a single dashboard.
Creator Pro​​​​​​​​​​​​​
ConvertKit's Creator Pro option allows you to level up your email marketing activities by tracking the level of engagement of your subscribers, access deliverability reports, or even start a referral program.
If you're running ads, creator pro lets you sync your Facebook audience segments with your subscribers so you can run relevant social media ads to the right audience and optimize your marketing spend.
You can also update broken links after sending an email using Creator Pro.
Pricing: Is ConvertKit worth the money?
The short answer is yes.
ConvertKit's functionality is focused on one thing: ease of use meaning that setting up and using it is straightforward.
Throughout this post, we've seen how plain the user interface looks, without any confusing elements that distract you from designing emails, forms, setting up workflows, and sequences.
The email marketing platform has a thriving community of fellow creators, tons of relevant tutorials, and relevant documentation to help you set things up and start earning a living from your craft.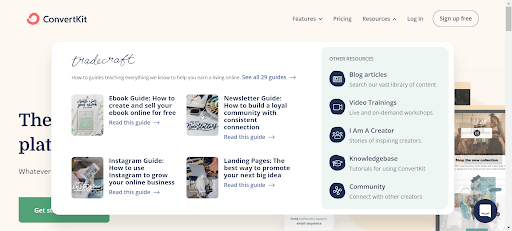 And in case you get stuck and need to reach out to the customer support team, there is a live chat option with email support backup to help you solve any challenge you come across when using the tool.
With all these features the tool is still affordable for most creators. ConvertKit's pricing comes in three plans based on the number of subscribers you have:
Free plan for up to 1,000 subscribers.
Creator plan goes for $9/mo for up to 300 subscribers
Creator Pro goes for $29/mo for up to 300 subscribers
What is Better Than ConvertKit?
Even with all these great features, ConvertKit isn't for everyone. And that's okay.
In this section, we'll look at other email service providers that you may want to consider if you feel that ConvertKit isn't going to meet your needs as a creator:
Mailchimp
Mailchimp is one of ConvertKit's closest competitors. If you're running an online business and require more robust features, then Mailchimp is an ideal tool for your email marketing needs.
The pricing differs for both tools, with Mailchimp offering a free trial and free usage for up to 2,000 subscribers. With ConvertKit, you start paying after you hit 1,000 subscribers.
ActiveCampaign
This tool is ideal for small businesses who want to scale their business operations by building advanced automations, score leads using a CRM, and manage a complex email automation program.
ConvertKit, also offers automations but with a simple visual automation dashboard to keep things simple for creators as you learn how to use the tool and get things done faster.
Your Turn
At the end of the day, earning a living as a creator is difficult.
Compared to other businesses, you may lack the advantages that they have such as a team, funding, mentorship, support from friends and family, and even struggle with self-doubt. In the face of all these challenges, it's easy to give up.
ConvertKit was built to help you make money from your craft. Sign up for a free plan or start your free trial today to see how easy it is to set up your ConvertKit account, build an audience, and make money from your craft.