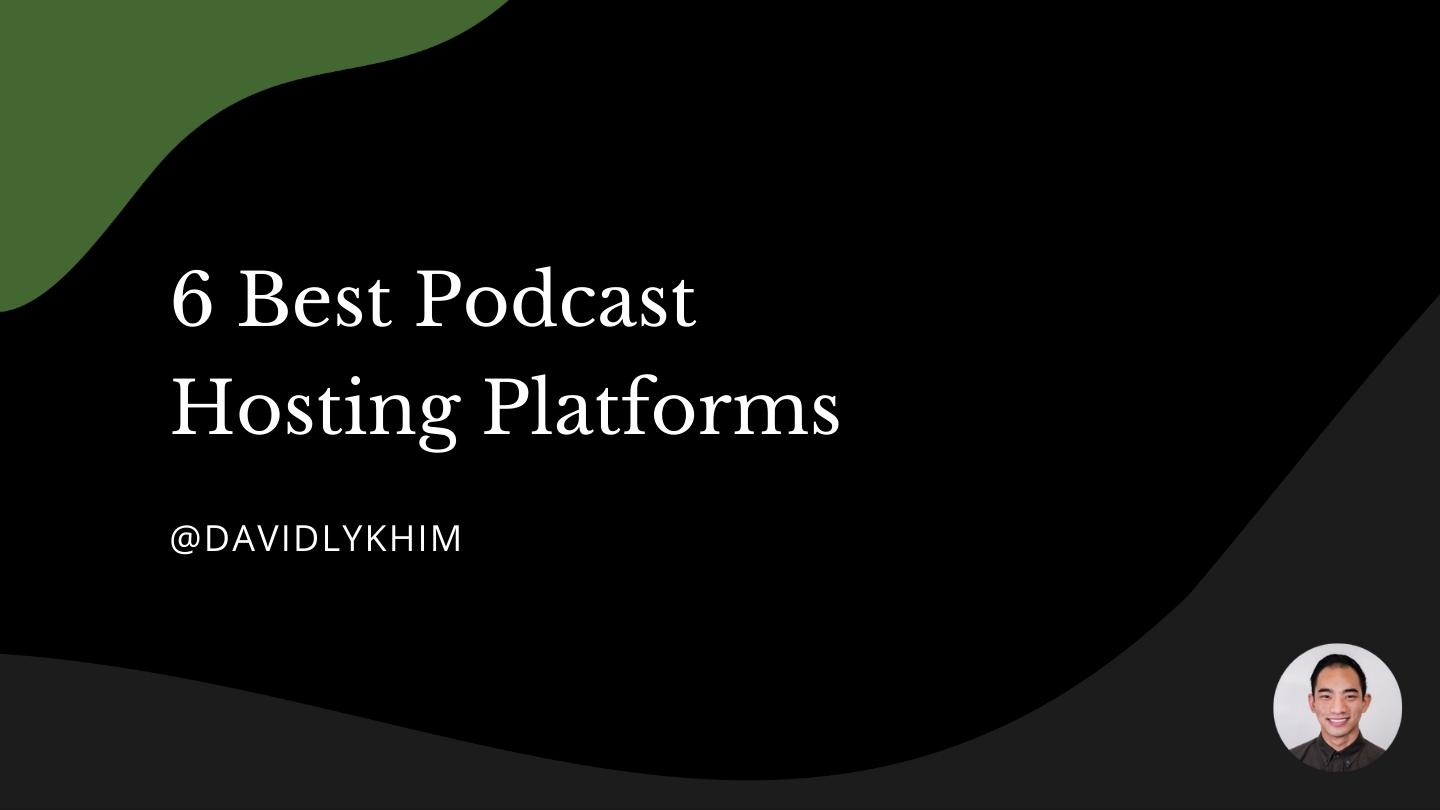 The biggest thing I've learned from starting a podcast is that it isn't difficult to start a podcast.
There are plenty of things to get hung up on like which podcast hosting platform to choose, what mic to buy, whether you should do video, what you should talk about, and on and on. But at the end of the day, just hit record and upload.
I'll be honest, there's no wrong choice when it comes to choosing a hosting service, and it's best to avoid overthinking the decision.
In this guide, I've reviewed six of the best podcast hosting platforms and provided a breakdown of their key features and pricing, to help you decide the best fit for your new podcast.
What to Look For in a Podcast Hosting Platform?
Good reputation, ease of use, and budget-friendly are obvious considerations, but what else should you look for in a podcast host?
Audio Quality
Subscribers will not listen to podcasts that don't have high audio quality.
They want good content, clear sound, and a seamless experience. They definitely don't want to strain their ears trying to make sense of what you just said.
A good podcast hosting service will take care of the behind-the-scenes work to ensure your audio quality doesn't degrade. To evaluate a podcast hosting's audio quality, listen to other podcasts that use that host. You'll find the names on their website. Select a platform that has a crisp and clear sound.
RSS Feed
Want your podcast on Spotify, Apple Podcasts, or Google Play?
Make sure the podcast hosting platform gives you a simple RSS link to submit or post podcast episodes on other platforms to promote your podcast. This will make your show available to more people, growing your audience.
Flexible Storage and Bandwidth
You don't need unlimited storage and bandwidth (though it doesn't hurt), but you do want flexible podcast hosting plans that let you scale based on the volume of content you want to publish and the traffic your show gets.
Avoid podcast hosting platforms that stop listeners from accessing an episode if you've already met your bandwidth limit for the month.
Embedded Media Player
This is simply a block of HTML that you drop into your website's theme or on individual web pages.
Look for a podcast hosting service that allows you to embed a media player on your website. The only exception to this rule is when you're using a website produced by your podcast host.
Each podcast hosting platform has designed their media player differently so this comes down to personal preference.
Podcast Analytics Tools
You want your podcast to grow as fast (and efficiently) as possible. For this, you have to know everything you can about your target audience.
Luckily, the best podcast hosting platforms can do just that. Many of them offer a myriad of analytics tools to provide you valuable insights, such as the number of actual listens, top-performing episodes, and audience demographics. Also, ensure the data is presented in a visual, easy-to-understand format.
Monetization Features
Over the years, podcasting has turned out to be a lucrative career option. While you won't be making six-figures right off the bat, you can still use your platform to earn a decent income once you establish a strong following base.
When the time comes, you would want a podcast host that offers well-rounded monetization features. This can include letting you accept donations, support premium content, and offering affiliate partnerships.
Keeping the above factors in mind will help you narrow down your search and shortlist options that are worth your money. Next, let's take a look at the top six options.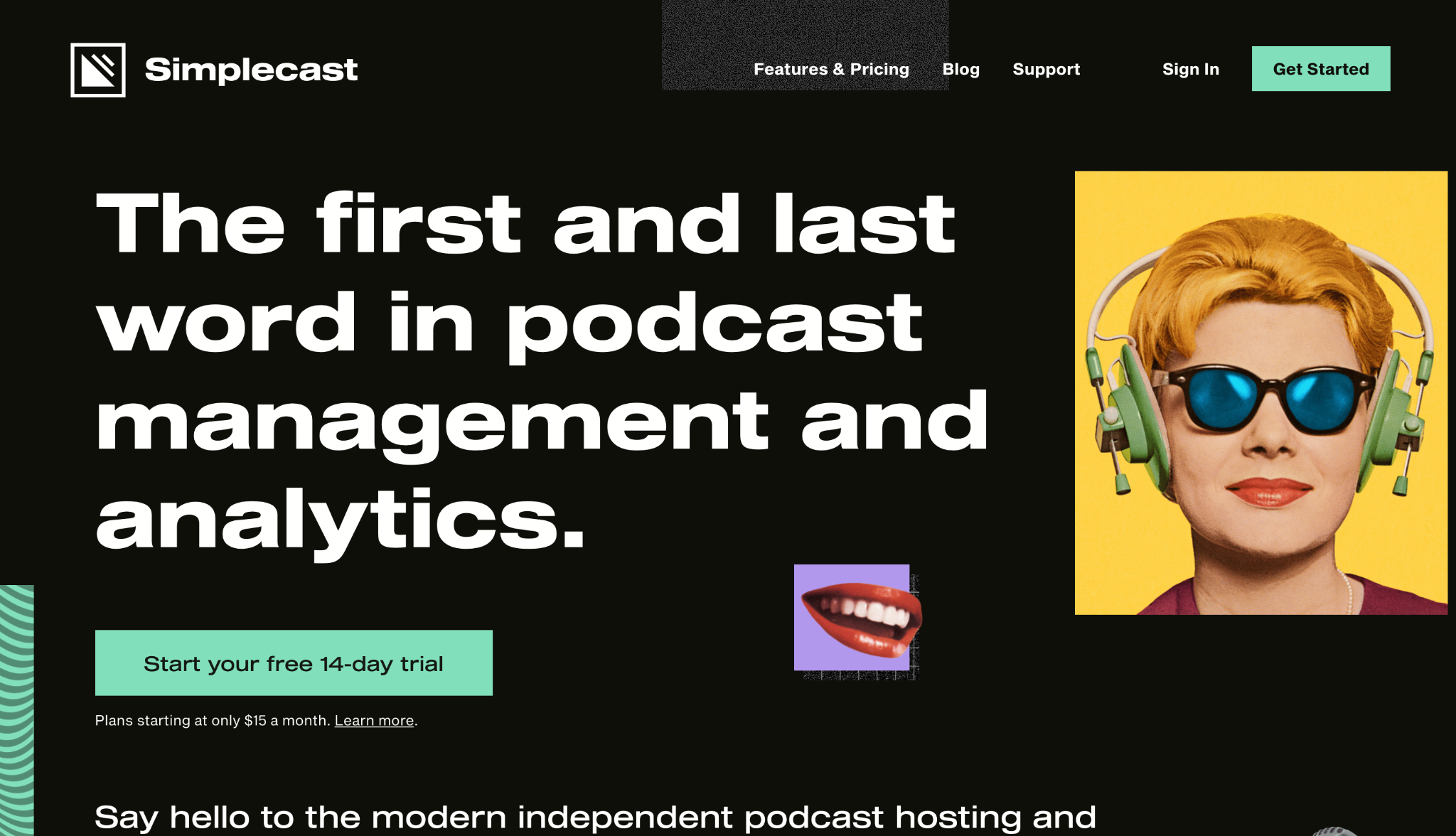 Simplecast means business when it comes to podcasts and has excellent podcasting tools suitable for amateurs, professionals, and enterprises.
Simplecast is packed with industry-leading features, including embeddable episode web player, analytics, and unlimited storage & uploads, and has one of the best (and smoothest) embeddable players.
I like the 'One-click Publishing' feature that lets you publish directly to Spotify, Apple Music, Google Podcast, and more. Another standout is its 'Recast' tool that lets you schedule and share clips of your podcast on social media.
Even the analytics are incredibly detailed and easy to understand. I say this from experience since we use Simplecast for our own podcast, The Long Game. Knowing critical metrics like our top episodes, downloads by location, and total downloads over timer really helped us improve our content and grow our listener base.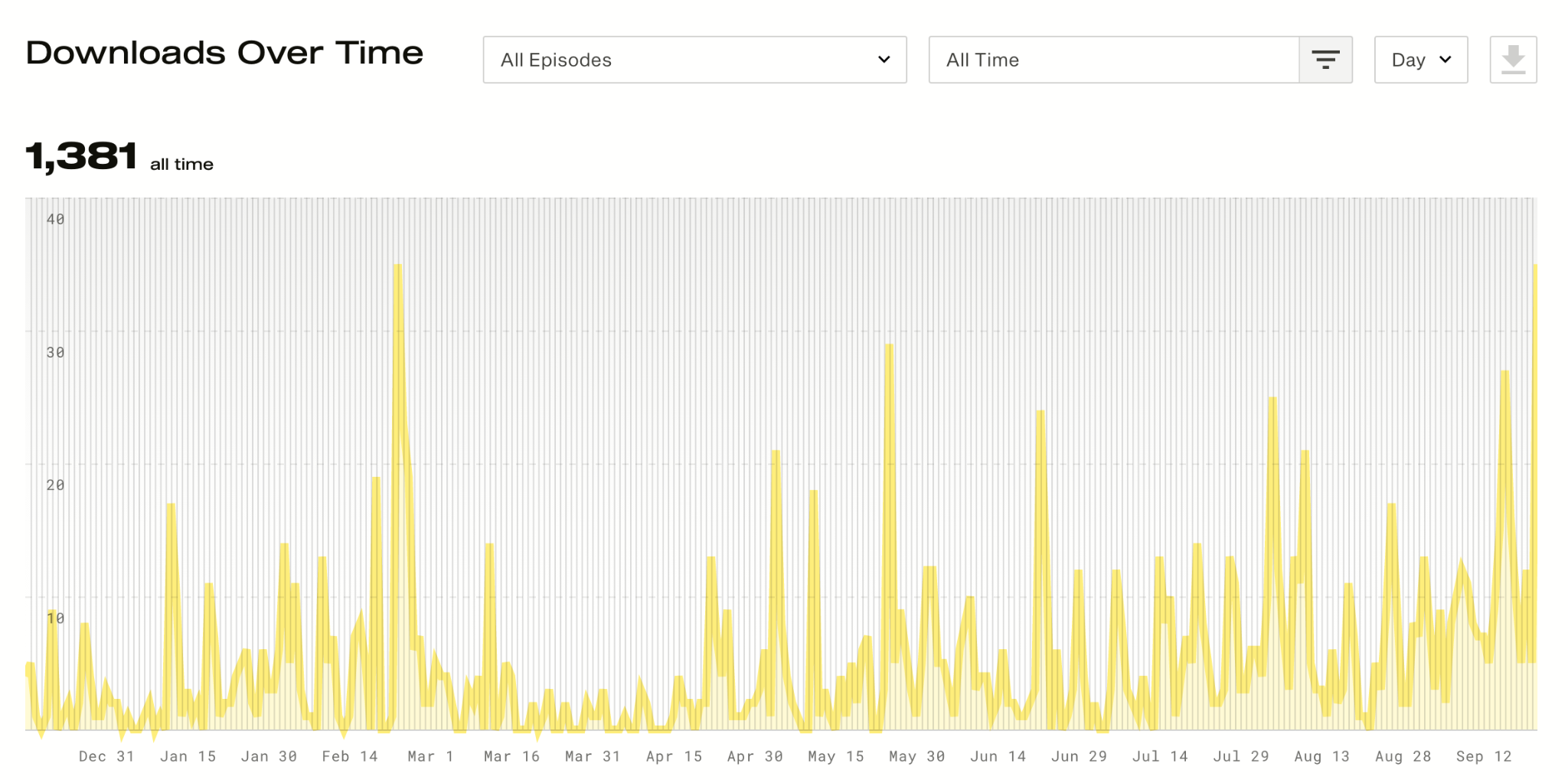 Simplecast's clientele includes industry heavyweights like Facebook, Nike, HBO, and Shopify.
Key Features
One-click publishing
Multiple web players and podcast players
Shareable podcasts excerpts for social media
Allows multiple team members collaboration in one account
Fully-functioning website
Advanced analytics tools
Pros
Unlimited audio storage and uploads
Allows podcast excerpt sharing and scheduling
Advanced analytics and reports
Multiple team members
One-click publishing to podcast libraries
Cons
No free option
Limited basic plan
Pricing
Simplecast currently offers three plans:
Basic — $50 per month
Essential — $35 per month
Growth — $85 per month
A 14-day trial is also available. No credit card is needed.
Get started with Simplecast here.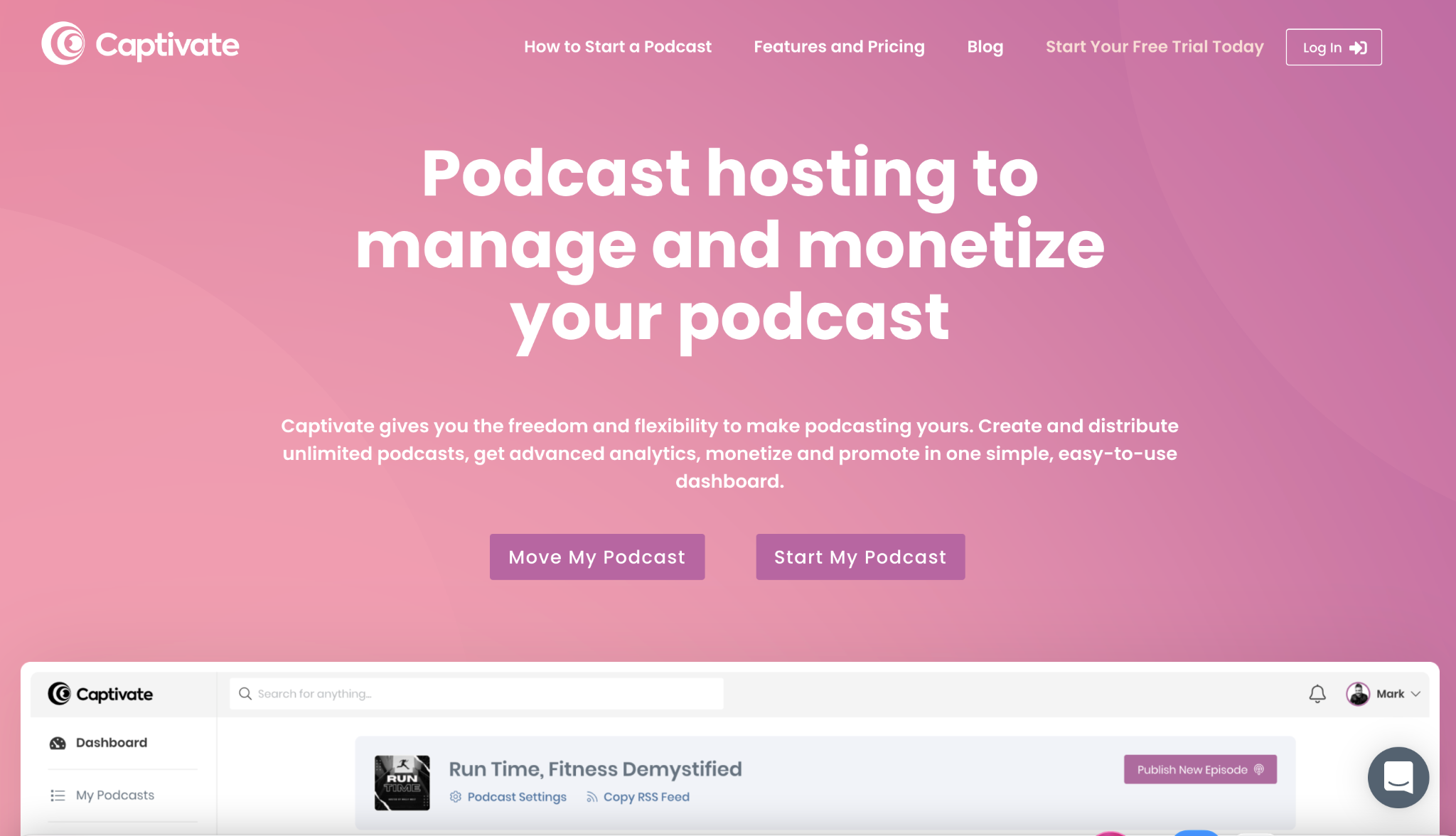 Captivate pitches itself to podcasters looking to grow and monetize their podcast. It has an edge over its competitors because it offers many premium features (private podcasting, team & collaboration, podcast promotion)—for free.
An intuitive and well-organized interface gives you quick access to commonly used functions. Plus, you can host an unlimited number of shows on the platform, as well as enjoy unlimited upload and storage space.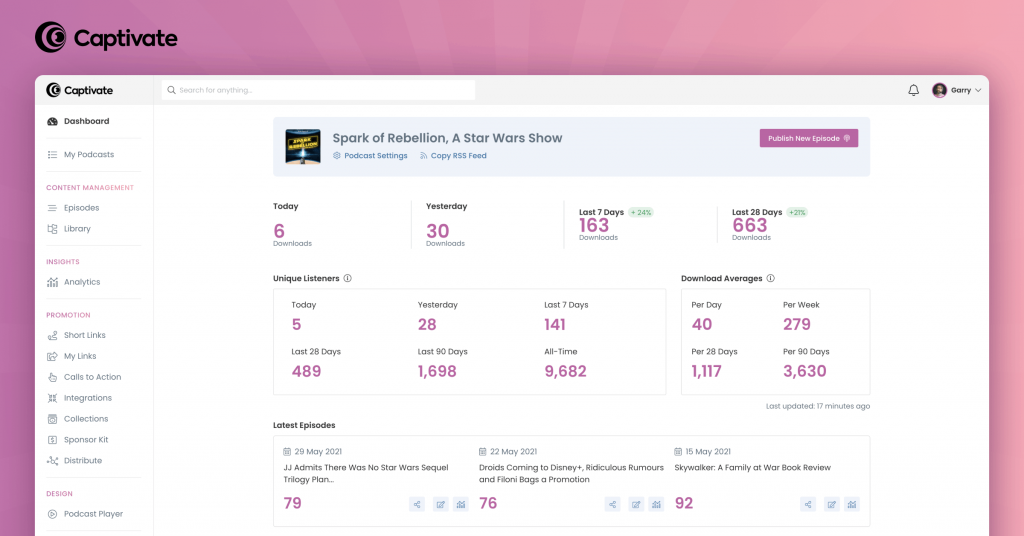 My favorite Captivate feature is its 'One-click Sponsor Pitch' creation tool. It organizes the analytics data into a PDF media kit that includes all the key metrics and analytics you need about your podcast. You can then use this information to monetize your podcast more effectively.
Captivate offers many other growth and monetization tools. For instance, there's a 'Calls to Action' feature that lets you insert two custom links into the podcast player to any membership platform (Eg: Patreon) page.
Other amazing tools like batch uploading, WordPress website integration, and smart UI features are also available.
Key Features
Calls to action feature
Unlimited team members
Private podcasting
Custom trackable short links
Audio mastering and Dynamic Ad insertion
Pros
Customizable and embeddable player
Advanced podcast scheduling
Calls to action and links to your podcast player
WordPress and email marketing integrations
Cons
No free plan
Monthly download restrictions may apply for listeners
Cheaper subscription plans only offer one private podcast
Pricing
Captivate offers three pricing plans:
Personal — $17 per month
Professional — $44 per month
Business — $90 per month
A 7-day free trial is also available.
Get started with Captivate here.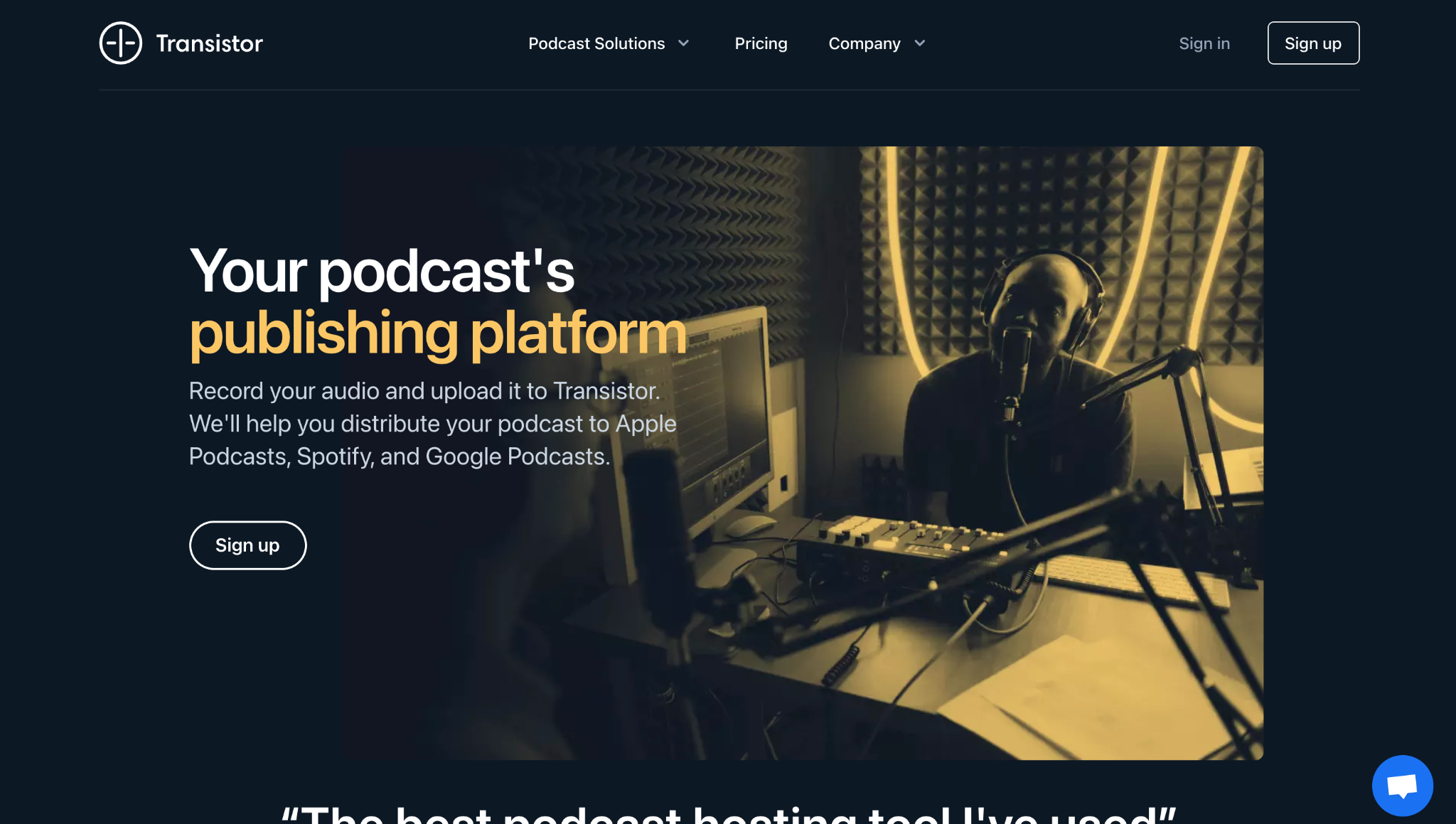 Transistor is another excellent podcast hosting platform that tries to make publishing podcasts simple and seamless.
It offers all the tools you need to publish your podcast, but the one area where Transistor truly excels is its private podcast feed feature that lets you run a private podcast in any form.
Private podcasting is one of the more effective ways to monetize your show and engage with your community. For instance, you can run a public show alongside a 'Premium Content' option that your fans will have to pay to access.
Transistor also offers built-in analytics and reporting features to help you grow your podcast audience. You can view trends and stats like the number of subscribers, average downloads per minute, and downloads over time.
What's more, if you use another hosting platform like Libsyn or Anchor, you can import your existing feed into Transistor using its user-friendly migration tools.
Key Features
Unlimited shows
Multiple user management
Podcast distribution support
Advanced analytics and reporting
Pros
Unlimited podcasts
Excellent private podcasting feature
Included podcast website hosting brings a professional touch
Cons
No free plan
No audio enhancements
Pricing
Transistor offers free subscription plans:
Starter — $19 per month
Professional — $49 per month
Business — $99 per month
A 14-day free trial is also available.
Get started with Transistor here.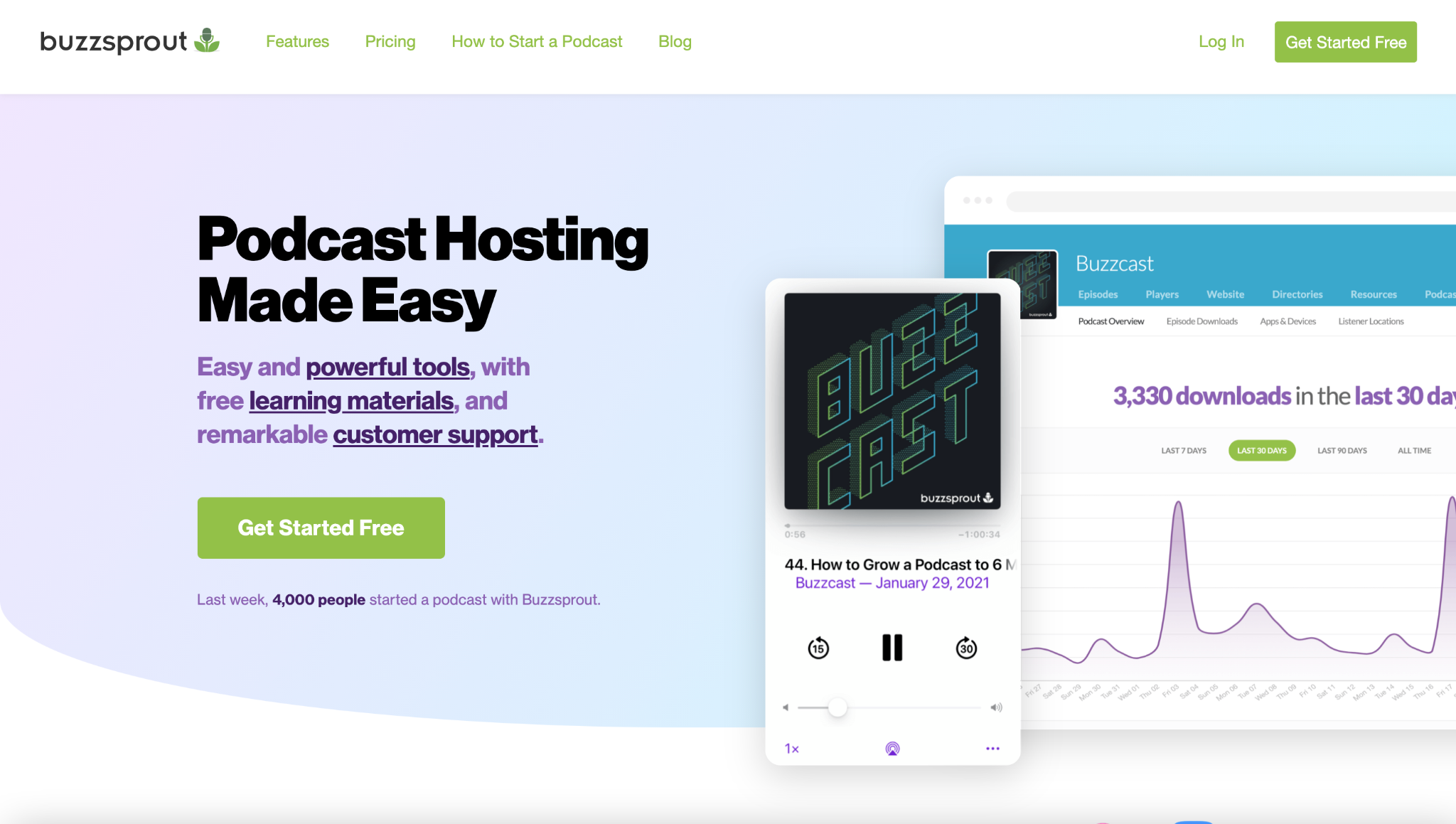 Buzzsprout is a free podcast hosting provider that's an excellent choice for beginners. Since its launch in 2009, it has grown its client list, including names like Pat Flynn, Jared Easley, and Courtney Stephen.
Uploading and scheduling your podcast on Buzzsprout is straightforward. All you have to do is upload the audio file, change the episode title and description, and submit your podcast to the relevant podcast directories. If you want, you can add quick details about your episode as episode chapter markers.
The audio quality is great. You can upgrade to 128k stereo optimization for better sound. Buying podcast transcription services as add-ons is another possibility.
This service is particularly famous for its 'Magic Mastering' ad-on, which Buzzsprout describes as "an Instagram filter for your audio." This tool polishes and enhances audio quality, giving your episodes a professional finish.
Buzzsprout lets you embed and customize a podcast player right on your website. This way, you can either feature a single episode or a whole playlist of episodes. There's also an analytics dashboard with an algorithm to estimate how many listeners tune in to each episode on an average within the first 90 days.
Key Features
Unique 'Listeners' statistics
Multiple episode players
Automatic episode optimization and scheduling
'Magic Mastering' feature
Dynamic ad capabilities
Pros
User-friendly
Free three-month service
Reliable forecast performance tracking
Cons
Basic plan only offers three hours of content upload
Free plan includes website ads
Pricing
Compared to other hosting platforms, Buzzsprout has unique pricing. Currently, there are four options:
Upload 2 hours each month — Free
Upload 3 hours each month — $12 per month
Upload 6 hours each month — $18 per month
Upload 12 hours each month — $24 per month
Get started with Buzzsprout here.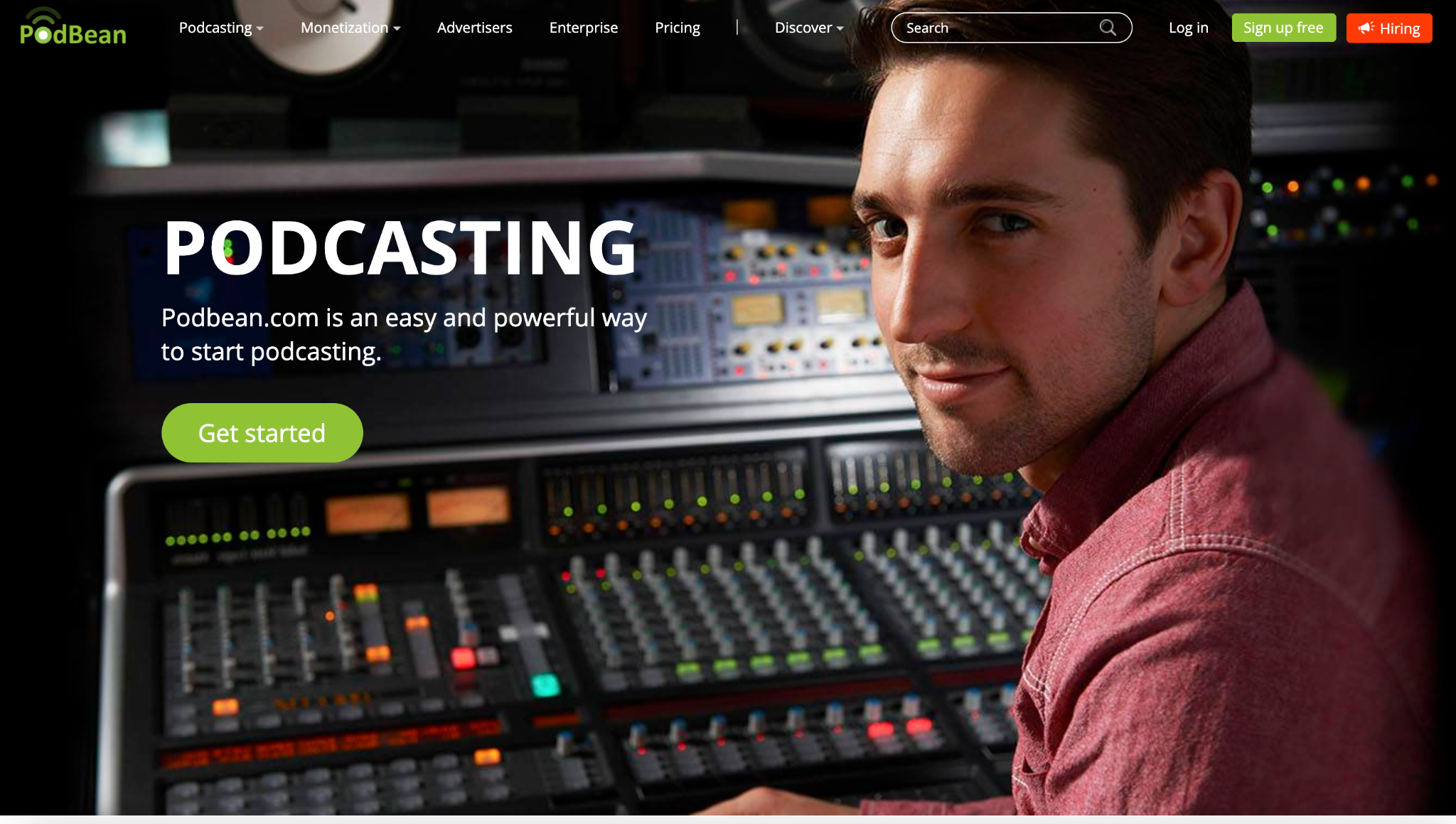 Podbean is one of the most popular podcast networks with 580,000 podcasters, 11 million episodes, and 8.9 billion downloads.
Podbean is one of the cheapest podcast hosting providers and offers a myriad of useful features that any professional podcaster may need. It supports unlimited podcast hosting plans, which come bundled with unlimited bandwidth. So you can use their paid plans to upload and store an unlimited number of shows, regardless of the length.
There are tons of beautiful designing tools to host your website with customizable themes. You can also embed the Podbean podcast player directly into your WordPress posts and pages.
Podbean's monetization features enable you to list your podcast in its advertising marketplace, allowing you to connect with potential advertisers. You can even host paid shows or join Podbean's patron program to solicit donations from listeners.
Key Features
Unlimited storage (Free plan excluded)
Dynamic ad insertion
Patreon program to accept recurring revenue from listeners
Auto-posting to social media
Livestream podcasts
Pros
Free plan allows up to 5 hours of audio
Advanced podcast scheduling
Well-rounded podcast monetization features
Cons
Limited data analytics
Only Plus plan has video podcasts
Pricing
Podbean currently offers four monthly plans:
Free
Unlimited Audio — $9
Unlimited Plus — $29
Business — $99
All Podbean subscription plans include a 7-day free trial.
Get started with Podbean here.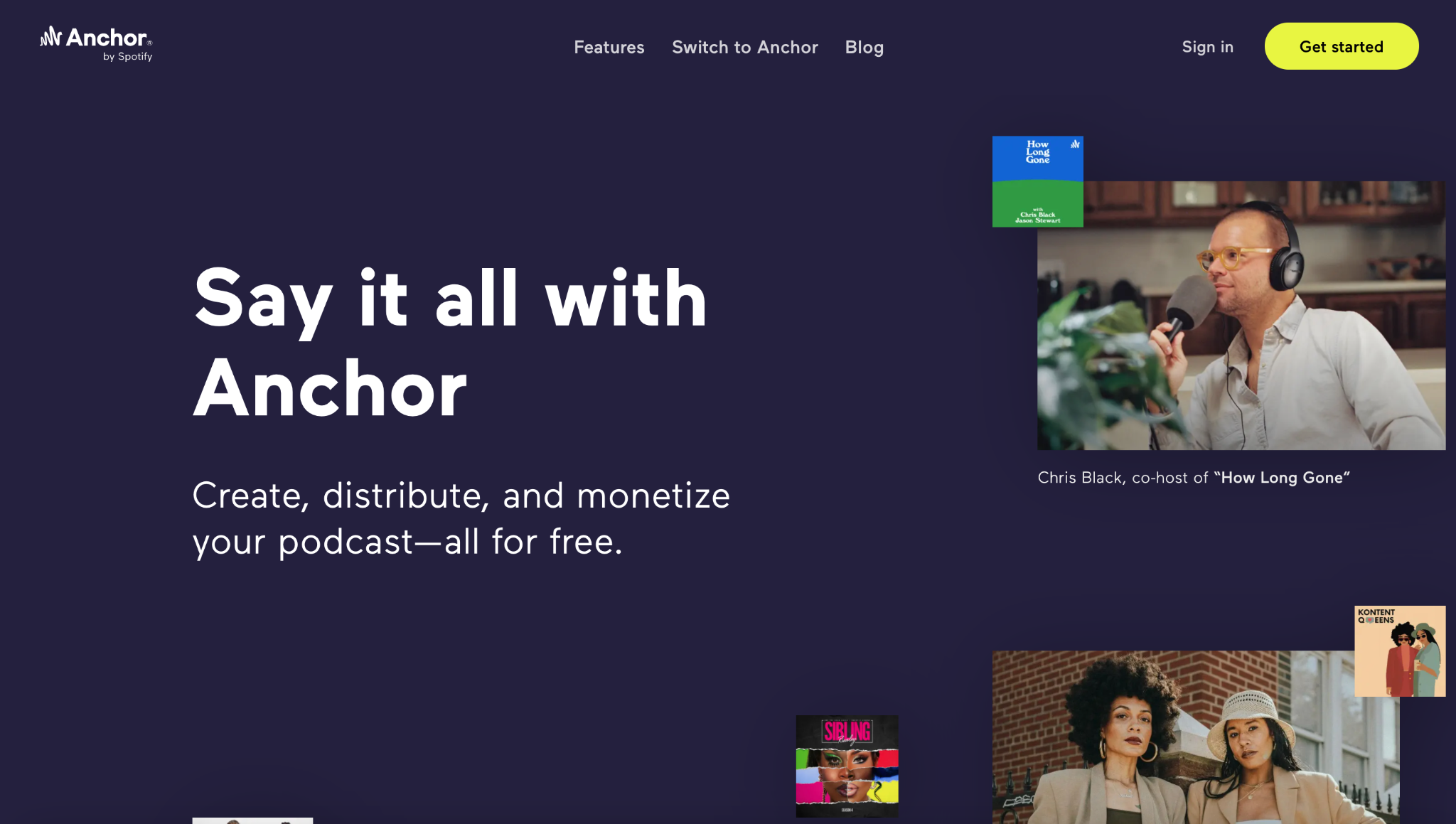 If you're looking for a podcast hosting service that offers simplicity and speed, look no further than Spotify's Anchor.
Even better news? It's totally free.
Anchor is a well-renowned free podcast recording software that lets you record excellent quality audio with no limit on the number of episodes. You can easily distribute your podcast to all major websites in just one click.
The platform is more focused on mobile podcasting, but you can also use their interface to manage and edit your new episodes. There is also a free analytics feature for detailed insights.
Other features include a built-in ad platform, easy audio file editing, and smart monetization.
Anchor may not be a good option if the reason why you're launching your podcast is to make a part of my brand or business. More importantly, agreeing to its terms of service will make your content "transferrable" and "perpetual." In other words, Anchor can take your content and give it away without your control and will hold a perpetual license to user created content.
Evidently, the free price tag isn't exactly free.
Key Features
Built-in uploading, recording, and editing tools
One-click podcast distribution
Sponsorship or subscription support
Advanced analytics and insights
Pros
Free
Tons of built-in creation tools
Lets you accept donations from listeners
Cons
Limited editing features
Email address in your RSS feed cannot be changed
Pricing
Anchor is free of cost. Forever.
Get started with Anchor here.
What's the Best Podcast Hosting for You?
I know—that was a lot to process!
I hope this guide helps you find the best podcast host for simple podcasting. Make sure you choose a service that fits your specific needs, and of course, budget. Simplecast is my #1 recommendation because of its excellent analytics tools and the fact you publish your podcast directly to your choice of podcast directories. It can really help you grow your podcast—I say this from experience.
You got this!
What podcast are you going to create?