There are many options for WordPress hosting platforms each with different levels of feature robustness, security, and technicality. Most folks start with basic shared hosting with Bluehost or other cheap platforms like GoDaddy. Those are fine in the early stages of building your website and business, but as you grow or once you realize you value additional security, you'll want to upgrade to managed WordPress hosting.
What is Managed WordPress Hosting?
Managed WordPress Hosting is a service where all the technical aspects of running a WordPress website including updates, security, website uptime, and daily backups are taken care of by the host.
One of the benefits of managed WordPress hosting is the premium support provided by real WordPress experts.
WP Engine is one of the most well-known managed WordPress hosting providers in the market today.
About WP Engine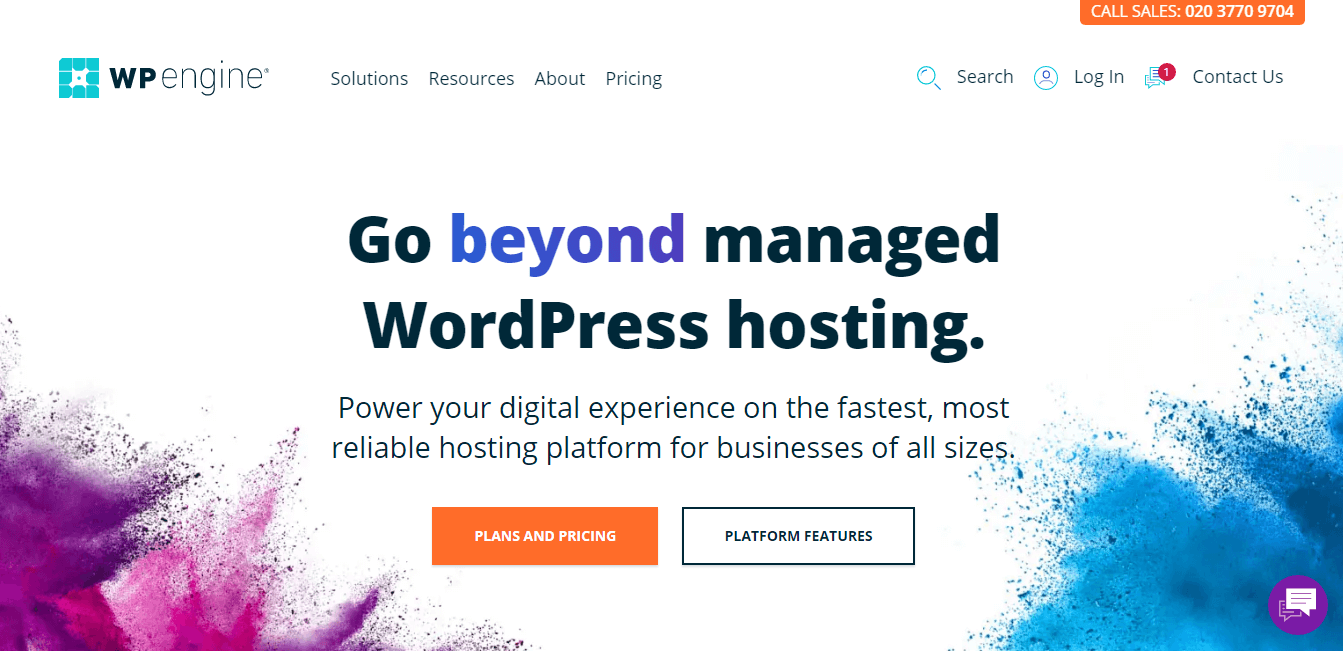 WP Engine was one of the first hosting providers to offer managed WordPress hosting. With over 150,000 customers across 140 countries, WP Engine hosts a variety of WordPress sites from small businesses to enterprise brands.
By offering high-performance hosting environments optimized for WordPress websites, WP Engine positions itself as a worthy contender for anyone who wants a premium hosting platform.
In this review, we'll discuss WP Engine's key features and downsides to help you decide whether it's the WordPress hosting provider for you.
Here's what we're going to cover:
Why you should use WP Engine
Where WP Engine falls short
Alternatives to WP Engine
Why I switched from WP Engine to Kinsta
WP Engine pricing plans
Why Use WP Engine?
Let's go over the defining features of WP Engine and why this hosting service could be a good choice to host your site.
Top-Tier Performance
WP Engine guarantees 99.95% server uptime, which means that there will only be about four hours of downtime a year. You have the option to increase your uptime to 99.99% which brings it down to an hour of downtime a year.
A bonus, WP Engine will compensate you with hosting credit if your uptime rate drops below their guarantee.
Exceptional Site Speed
If website speed is a top concern of yours, WP Engine is the right web host for you.
To reduce latency, boost load times and improve SEO, the Content Delivery Network (CDN) delivers content to your audience based on their location. It also has an NGINX extension (an open-source HTTP server) that stabilizes the load of your site's content, giving your visitors better user experience.
Advanced Site Security
WP Engine takes security seriously.
Their custom firewalls help keep external threats at bay and there are daily virus and malware scans to detect and eliminate any new threats. WP Engine automatically backs up your site every day and has one-click restore to get your site back up quickly in case of emergencies. If your site becomes infected while hosted on WP Engine, their team of WordPress experts will help you fix and restore your website.
WP engine also monitors all the traffic going to your website to automatically identify and block potential attacks. This monitoring service will keep you updated on any security risks that could affect your site, whether it's a maintenance upgrade, a datacenter issue or theme and plugin updates.
WP Engine automatically updates and patches WordPress core to get rid of potential vulnerabilities. It also protects your website against brute force attempts, JavaScript/SQL-injection attacks and DDoS attacks.
Here's a quick rundown of the security features you'll get when you sign up for WP Engine:
Firewall monitoring and updates for protection against threats
Daily malware and virus scans powered by Sucuri
Automated daily backups for site restoration
Free SSL certificates across all pricing plans
Free site recovery if your website is hacked
One-click restoration function for quick website recovery
Round-the-clock technical support for security purposes
One-Click WordPress Staging Environments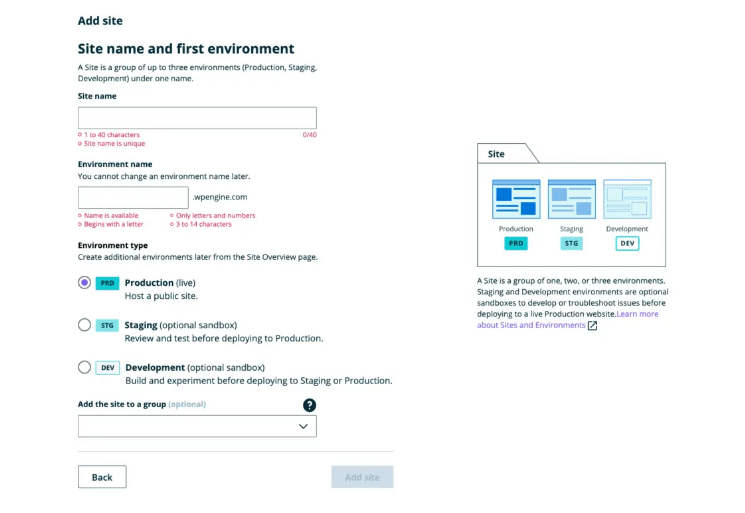 Anytime you install WordPress on a website, you'll have access to a staging environment, where you can make changes to the website before updating your live website.
Thi allows you to clone your website and test new plugins, experiment with new themes, and make code changes without affecting your live site.
Automated Site Migration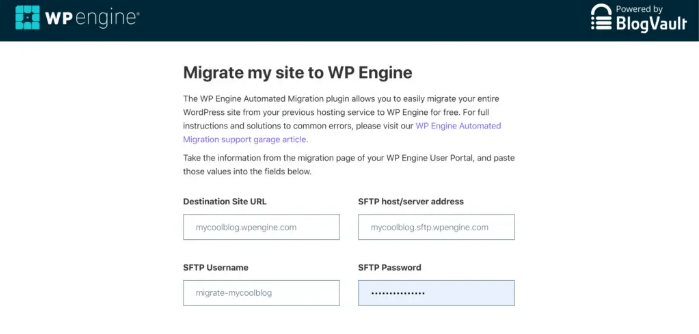 If you're already hosting a website on another platform, WP Engine makes it easy to migrate to them using their automated site migration tool. You just have to install their WordPress migration plugin and follow their migration checklist.
Helpful Customer Support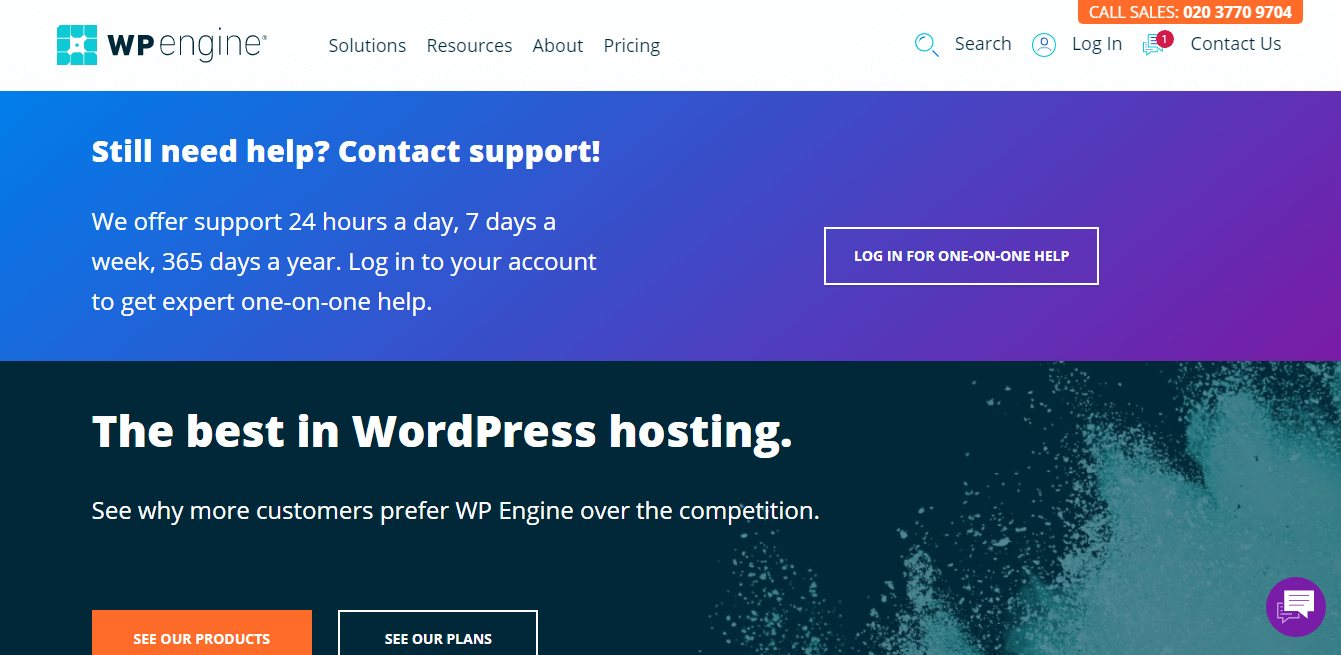 WP Engine provides around-the-clock customer support options including phone support, email and live chat. While 24/7 phone support is not available on the Startup plan, their live chat support team has quick response times.
Most of the support staff are WordPress experts and will be able to assist you with technical problems like load times, performance issues, and theme or plugin conflicts.
You'll also find a wealth of online resources, tutorials, blog posts and an extensive knowledge base that can guide you through any problems you are experiencing.
Where WP Engine Falls Short
Although WP Engine is one of the best web host choices for WordPress websites, it still has some downsides including:
Their plans are expensive. Starting at $25 per month, WP Engine isn't the most price-friendly host for hobby websites. You can find cheaper, reliable hosting platforms (like the ones below).
WP Engine has strict traffic limits. If you exceed the visitor limits of your plan, you'll be penalized and have to pay an extra fee. This can be a problem if your website sees significant spikes in traffic, for example during product launches or discount periods, or seasonal promotions like Cyber Monday or Black Friday.
WP Engine does not offer domain or email hosting. If you prefer to register your domain name or host your email account through your web host, you'll need to use third-party services like G Suite. I do this myself and it isn't a big deal, but some folks like to have it all in one place.
Alternatives to WP Engine
WP Engine is a white glove hosting platform that serves small websites well, but the service can be steep for smaller businesses. If you run a small site and/or have a small budget, you might want to look into WP Engine alternatives.
Below are five contenders.
Kinsta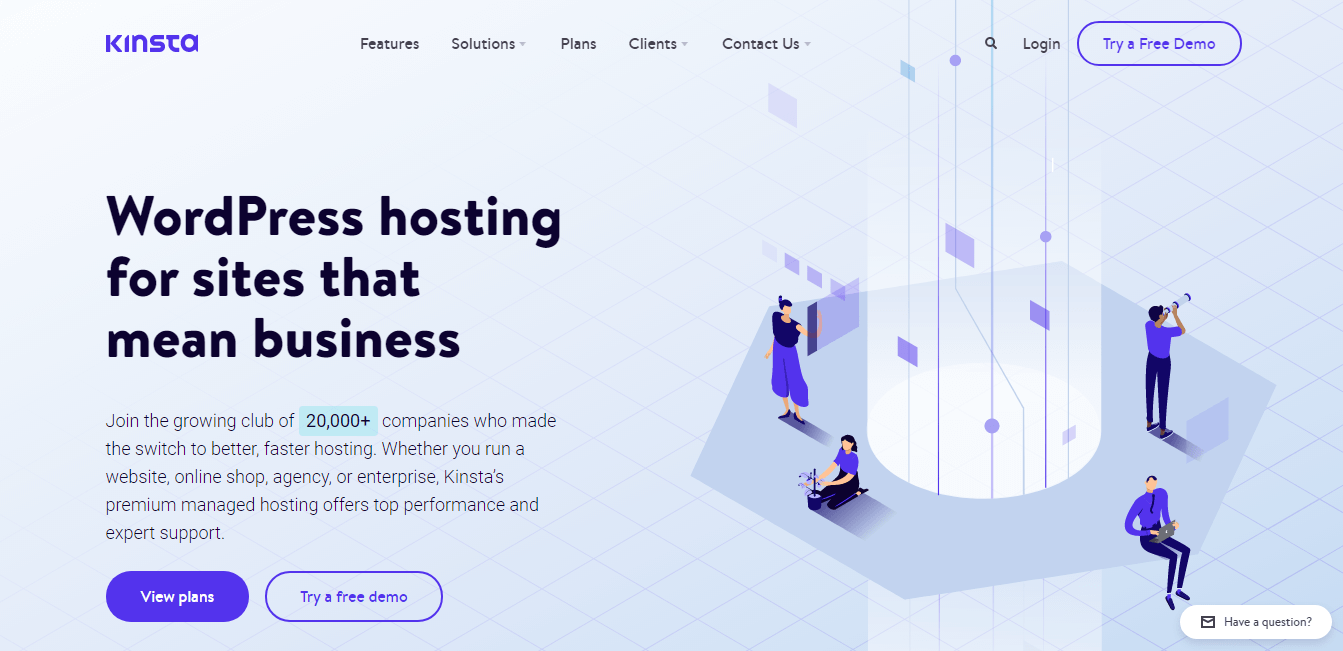 Pricing: Kinsta's pricing plans start at $25/month, billed annually at $300. Prices can stretch to $15,000/year depending on your business needs.
While Kinsta's pricing is similar to WP Engine's, their platform provides great performance with the most intuitive user experience. I also had a great experience with their support team.
Kinsta is the first managed WordPress hosting company that hosts its sites on the premium tier of the Google Cloud Platform, the same technology that powers all Google products.
Kinsta has a beautifully designed hosting dashboard that's easy to navigate and set up all the technical things like automatic updates, PHP version updates, setting up staging sites and SSL, and more.
Learn why I moved all my websites onto Kinsta.
Siteground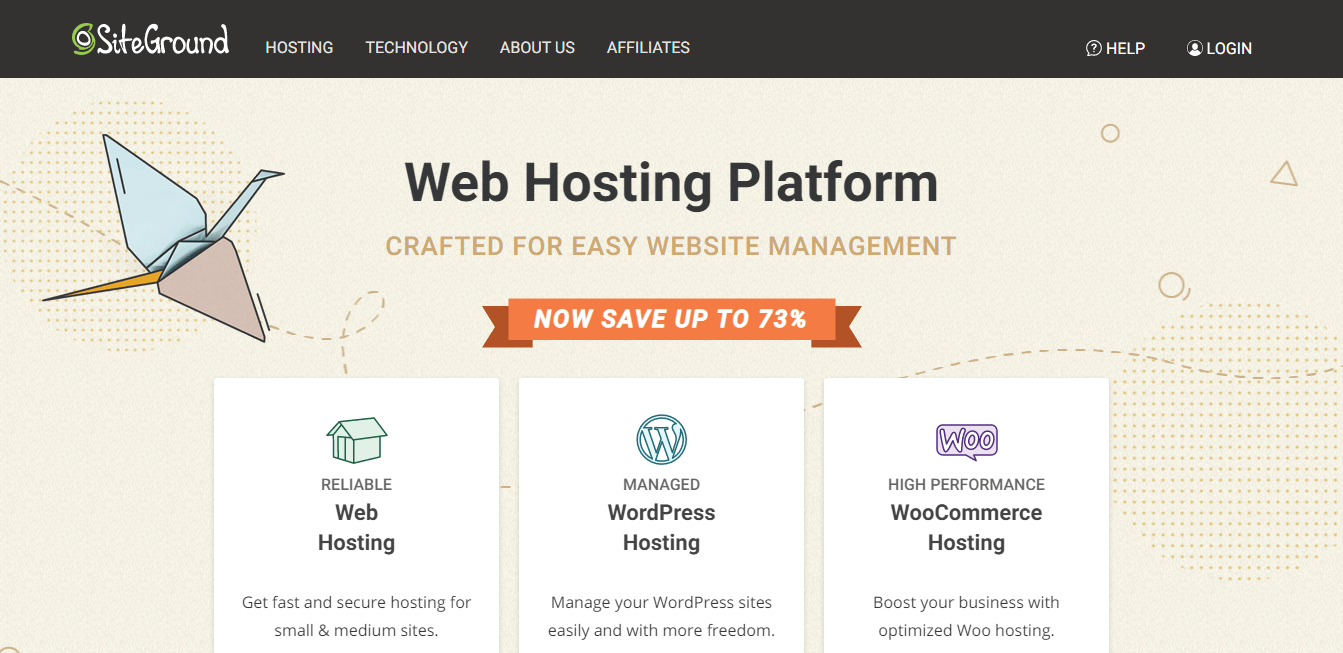 Pricing: Siteground's managed WordPress hosting plans start at $3.99, billed annually.
Siteground offers regular web hosting, managed WordPress hosting, and Woocommerce hosting packaged up with free email hosting. All of that, at a much more affordable rate.
Siteground's customer support team is available 24/7 via phone, support ticket and live chat.
Flywheel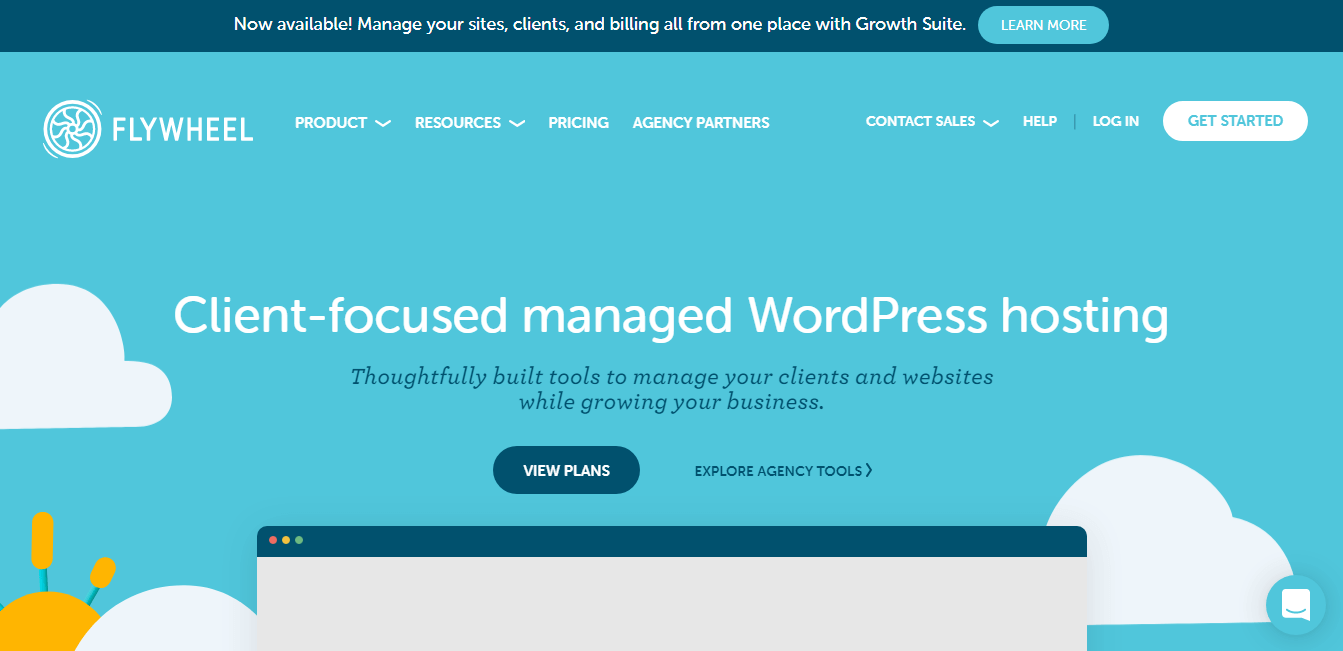 Pricing: Flywheel's plans start at $13/month, billed annually
Flywheel is a managed WordPress host that provides speed-optimized and client-focused managed hosting for web developers and designers.
Flywheel offers customer support via phone call, chat or email support.
Dreamhost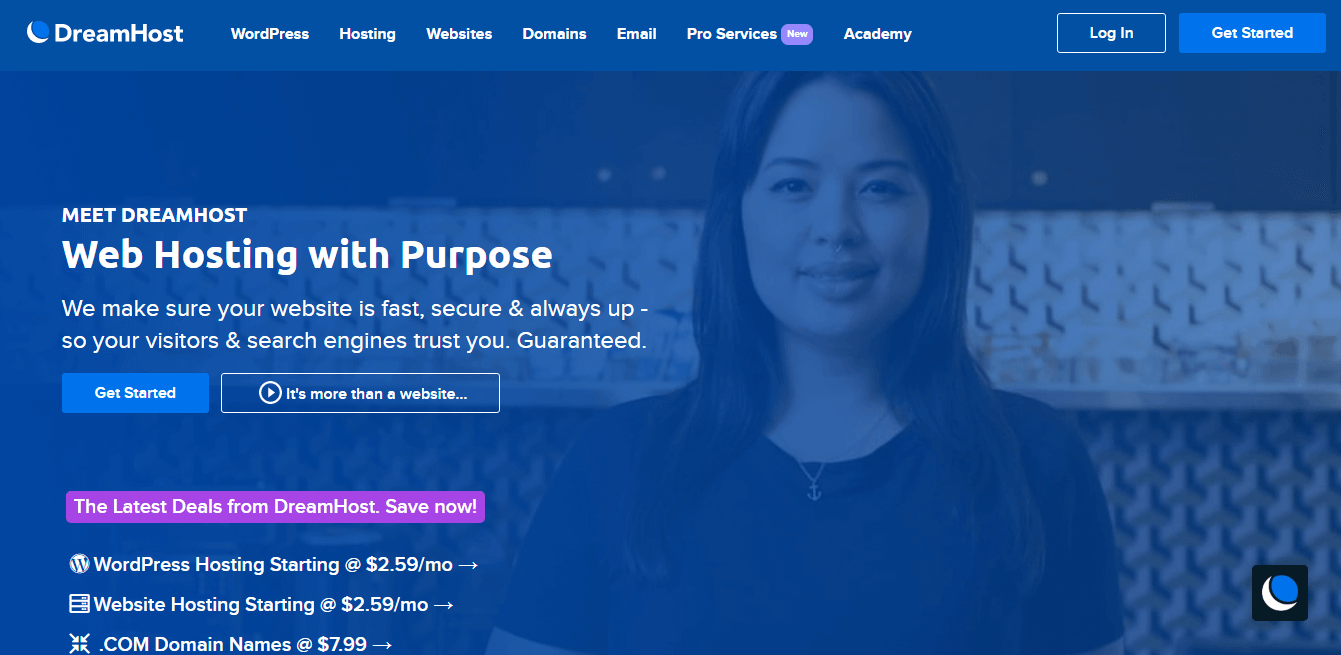 Pricing: Dreamhost's managed WordPress hosting plans start at $12/month, billed annually
DreamPress, Dreamhost's managed hosting plan, provides all the features you need to create your blog or website.
Unlike WP Engine, Dreamhost allows unlimited email accounts so you can create and host branded emails for your company. Dreamhost also provides domain registration services so you can maintain your website and domain all in one place.
Bluehost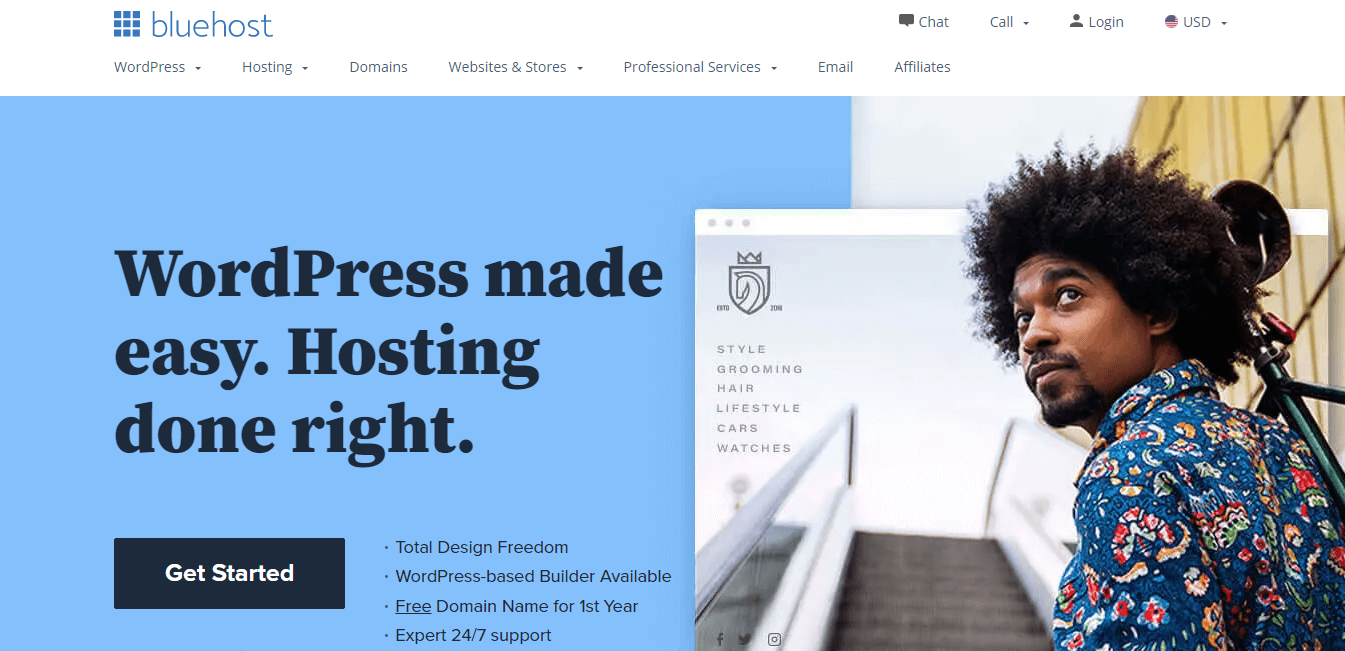 Pricing: Bluehost's shared hosting plan starts at $2.95/month, billed annually.
Bluehost is one of the most popular low-cost WordPress hosting providers. However, what you save in dollars, you pay for in lack of security and a clunky interface.
I previously used Bluehost for hosting my websites until I got hacked twice within two months. That's when I moved to WP Engine and eventually to Kinsta.
Bluehost is one of the cheapest options, so if you're looking to save a couple dollars a month, this may be the choice for you, but beware.
WP Engine Pricing Plans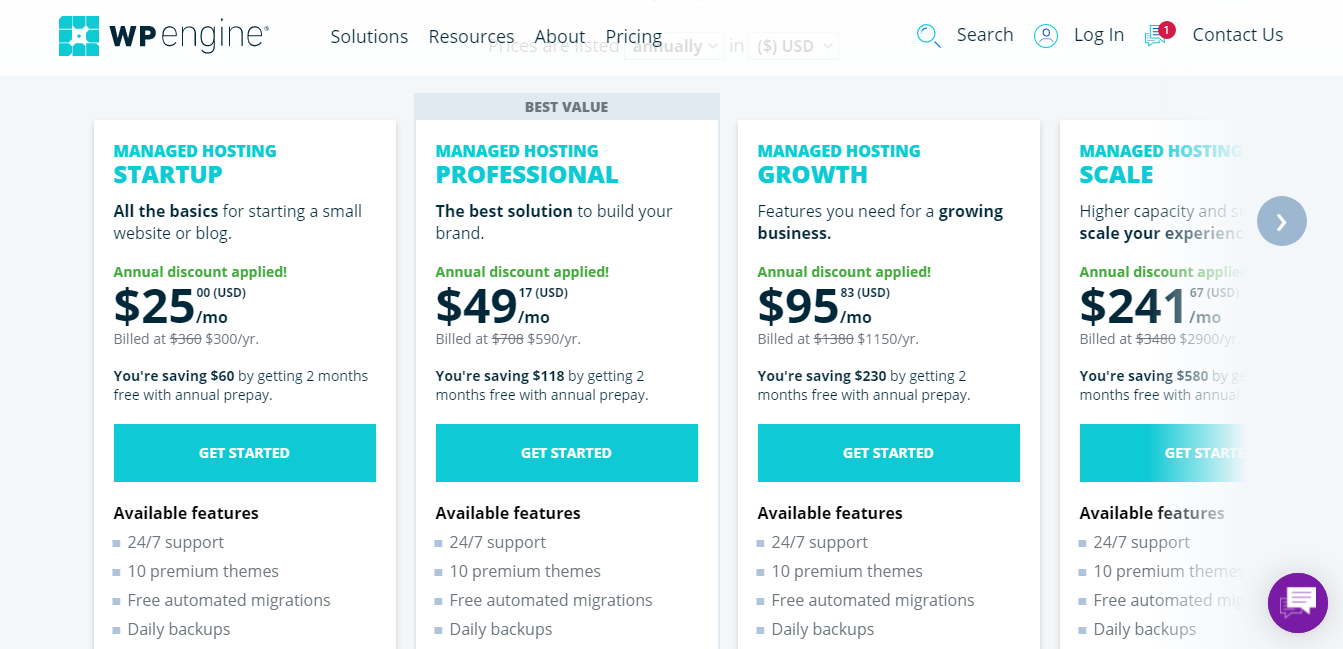 Startup
The Startup plan is the most basic plan and it starts at $25 per month.
This plan is best for people with small websites and blogs. However, the price is steep if you have little traffic and a small budget.
I recommend using another host like Siteground if that's the case.
Professional
The next plan is Professional, which starts at $49 per month.
This plan is best for websites that already have some traction. It's also great for websites that experience traffic spikes during certain months or seasons as it offers over double the monthly visitor limit and bandwidth of the Startup plan.
Growth
The Growth plan is for mid-sized websites and starts at $95 per month.
This plan is best for you if your website has a lot of traffic (and revenue) is growing at a steady rate. In this case, it makes a lot of sense to pay a premium for the piece of mind of having a high uptime and top-notch security. This is especially if you have a lot of traffic. For example if you have a growing ecommerce website, you don't want your website going down during a big promotion.
Is WP Engine Worth the Premium Price Tag?
Yes, it's a great choice if you have a growing website that requires top notch security and guaranteed high uptime.
However, if you have a small budget, or a hobby website, with no plans for aggressive growth or monetization, I recommend using another platform.
If you have a small website, but want peace of mind that your website is protected and you have a large budget, by all means, spend on that white glove experience.
Give WP Engine a try. They have a 60-day money-back policy.
The worst-case scenario? You don't like it and can get a free migration service to move onto Kinsta.