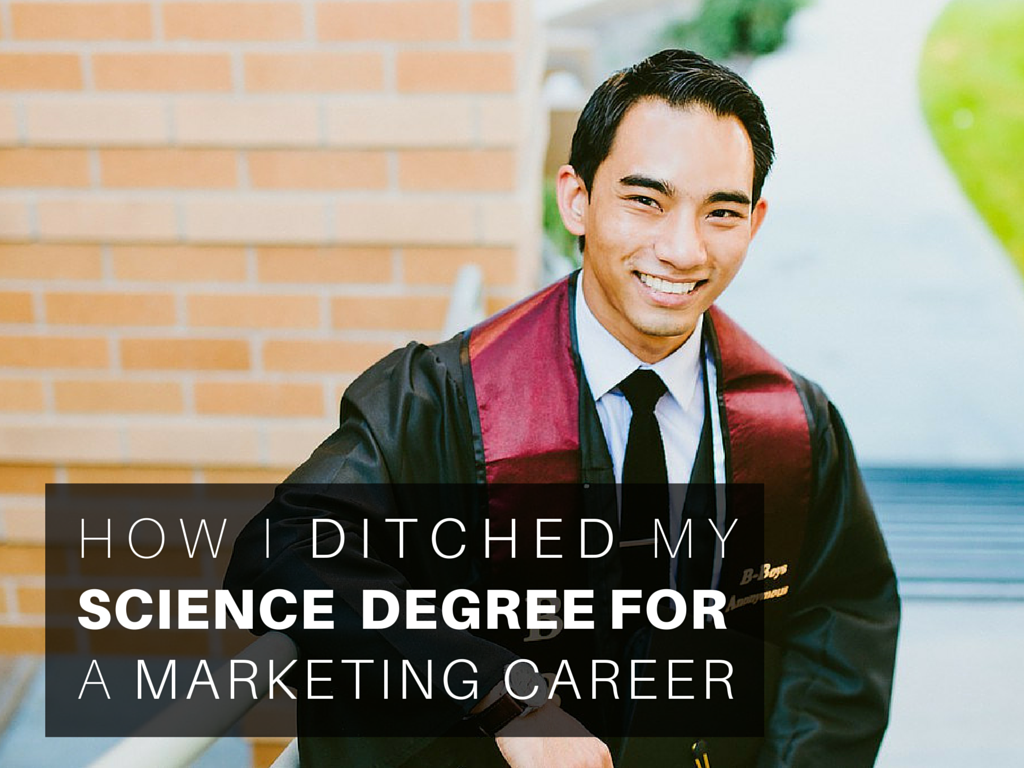 What are your career plans? Do you think you'll be doing anything with your degree? If you've already started your career, is your job relevant to your degree? If it is, do you want to continue down that path?
These were the heavy questions I forced myself to answer when I was nearing the end of my college career.
In 2013, I made the decision to ditch my chemistry degree and pursue marketing and entrepreneurship.
The transition was terrifying to say the least. My parents didn't agree. My friends didn't understand, but they blindly supported me. My girlfriend at the time didn't quite get it either but supported me nonetheless.
It was up to me to see the decision through and believe in myself.
But why did I make such a drastic change?
I took a long term approach to the decision and, although I admit I had my doubts, I never regretted the decision.
I want to share my reasoning with you, in case you're hoping to made a switch in your career as well.
This is an in-depth look into my decision, one that I haven't thoroughly discussed with anyone because it was extremely personal. It was difficult to explain to others, not because they didn't understand–I realized it wasn't a matter of reasoning–but because they weren't always open to seeing my perspective.
So now I'm going to share my career decision-making process, for the first time, with you.
Note: I'm going to address drastic points for why I decided not to pursue a career in the sciences and why I decided against a graduate degree. My goal isn't to deter you from either of those career choices. I simply want to share my process for those who need some direction for a potential career switch in hopes that my thought process will help them through that decision process.
Let's start with the basics.
Chemistry and I had tons of chemistry, but an element was missing.
To clarify, I didn't hate chemistry. I loved it. Learning chemistry theories and figuring out equations, although frustratingly difficult, were fun for me. It felt natural being in a research lab with fume hoods whirring and surrounded by chemicals. Chemistry wasn't the most glamorous or popular major, but I enjoyed it. That's why I majored in it.
Friends told me I would be a good teacher. I tutored a few friends in chemistry and helped one friend get an A on her exam when she was previously struggling to pass.
And I love chemistry jokes.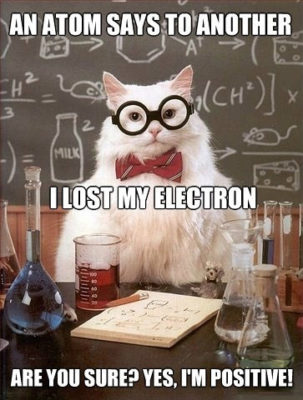 Not all career changes are made based off hatred or lack of interest for an industry.
So why didn't I continue with a career in chemistry despite loving it?
Chemistry was a Dead End (to me)
I realized that I can only do so much with a bachelor's degree in chemistry. Most chemists end up in an entry-level quality analysis/quality control job. These jobs often involve a lot of manual, repetitive work. Some end up going into industrial chemistry and running large-scale reactions. You know the shampoo you use? Yeah, that was most likely synthesized in a huge batch, in a big metal container like what you would see in Breaking Bad. 
Fun fact: I didn't start watching Breaking Bad until after I made the switch to marketing.
I admit, the up front pay of those entry-level jobs was nice and, for a time, I did apply for those type of chemistry jobs. Ironically, I only got two interviews, neither of which hired me.
But I realized wouldn't have much opportunity to advance to bigger things with just a bachelor's degree. It also doesn't help that chemistry jobs are slowly fading away.
In the most recent American Chemical Society survey of new graduates in chemistry and related fields, in 2011, 14% of recent bachelor's degree recipients reported that they didn't have a job but were seeking one, up from 12% in 2010. In contrast, 9% of new Ph.D. grads said they were seeking employment in 2011, up from 6% in 2010.
Dodged that one.
How about going back to school?
If I wanted to have an impactful career in chemistry, I would've had to go back to school for a graduate program. Getting a master's degree wasn't an option. If you have a master's degree, people won't assume you went straight for your master's. Instead, they will place you into one of two categories:
You gave up on your Ph.D and opted out for a master's.
You failed the proficiency examination to obtain your Ph.D and thus received a master's instead.
Don't believe me? Take a look at the Ph.D Program at the University of Chicago Department of Chemistry. The bottom states:
No stigma is attached to failing a proficiency examination.
Sure there isn't.
To further prove my point, Youngstown State University's FAQ page states that:
Because the YSU Chemistry Department offers a terminal M.S. degree, the stigma of being a "wash-out" from a Ph.D. program does not exist. We do not offer the Ph.D. degree, so students who come here, come with the intention of an M.S. only.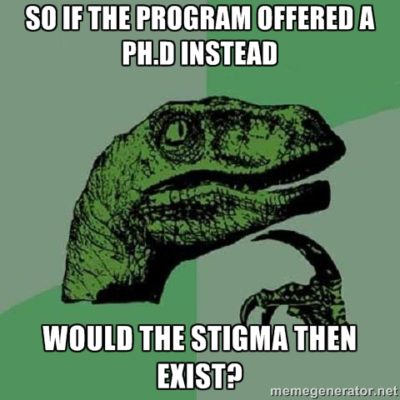 I'm going to argue that if these universities feel the need to address a possible stigma, that means there is some sort of stigma. It may not be held among the scientific community, but scientists don't work with only scientists. They have to work with businessmen and consultants and CEOs. People in those positions will often trust someone with a Ph.D more than they would someone with a master's.
Oh and in 2012, Forbes listed a master's in chemistry as one of the worst master's degrees for a job (sorry chemistry majors).
How about a Ph.D then?
So now I've ruled out getting an entry-level chemistry job and a master's degree. That leaves me the option of going all the way for a Ph.D program.
I had 5 problems with that:
I was sick of school.
The average time it takes to get a Ph.D is 5 years. Not down.
I was sick of school.
Graduate school for chemistry could be very bad for your mental health.
I was sick of school.
Five years of work experience would teach me more and get me further professionally than five years in school.
I knew that graduate school would be bad for my mental health because I had my fair share of weak moments, and I knew being alone in a lab for extended hours wasn't good for me.
I was also sick of school.
Let's go with the scenario that I threw all of those reasons out the window and decided to pursue a Ph.D in chemistry anyway.
If, after 5 agonizing years in a lab, I did receive a Ph.D in chemistry and ended up doing research for a living, much of my livelihood would be based off of getting grants for my research. Most research won't get grants, one of the reasons being that the NIH is broken.
That meant my livelihood would be highly dependent on other people. Though I understand in any case, you're dependent on others (i.e. customers) for money, I wasn't comfortable with being highly dependent on others. However, with startups like Experiment.com, I hope funding becomes more available for researchers.
If I somehow got funding and my research was ground-breakingly, world-shakingly amazing, I would still have to wait years before I would see my research implemented in a manner that would improve peoples' daily lives.
Of course, there are various reasons for getting a Ph.D. I'm not saying there aren't. They just didn't resonate with me.
The Switch to Marketing
Up until now, I just discussed all the reasons why I didn't continue with chemistry. As you saw, I really thought out almost every possible scenario for myself if I had pursued chemistry.
My conclusion was that I didn't want any of those scenarios for myself.
If you're looking to change your career, I encourage you to think deeply about why you want to make the change. It's not just about being happy or passionate about what you do–those things will come. It's better to think of your future in terms of opportunity. Which career path will create more opportunities for you to do what you ultimately what to do in life?
Because what you ultimately do is going to be a large determining factor of how happy and how passionate you are. This means looking at the potential long terms results of your decision and how those results align with your personal values.
I had a goal to be my own boss. I didn't want to depend on someone else for my livelihood. I wanted to be an entrepreneur and have my own business. That was an extremely vague goal, though. I didn't have many business ideas and I didn't know what type of business I wanted.
I also wanted to be able to empower others to improve their own lives and help them get to where they want to be. I wanted to see the people around me succeed. That was the whole premise of why I founded The UP Lab.
After reading hundreds of articles about entrepreneurship and business, I realized that every business requires good marketing. And after studying what marketing could do, I realized that marketing could be used as a tool of empowerment.
Great marketing can give a nonprofit the momentum it needs to get donations and press and, ultimately, make the world a better place. Great marketing brings people together and creates movements. Great marketing can take a struggling business to success. Great marketing can help an individual break out in her career.
I also wanted to be in the startup game. Move quick. Mess up. Fail. Learn. Repeat. And startups need marketing, right?
Marketing it is.
Here's where it all came together. Marketing fit my values in two ways:
It can be a tool for empowerment. I want to help people and nonprofits get to where they want to be.
It allows me to be versatile and agile, two key elements of being a part of a startup.
But David, are you passionate about marketing?
Once I graduated and got my chemistry degree (it's still enclosed in an envelop somewhere), I jumped straight into studying marketing day and night. I slowly made my way into small jobs that gave me opportunities to grow and slowly moved up. Now I'm working at an amazing digital marketing agency.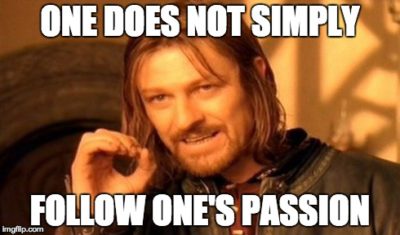 The thing to note is that, no, I wasn't passionate about it. Nowhere near it. Even now, I wouldn't say I'm passionate about it. But the more I continue to study marketing and learned the intricacies of it, the more I enjoy marketing.
This is what Cal Newport calls the Career Craftsman's Philosophy.
The Career Craftsman believes that compelling careers are not courageously pursued or serendipitously discovered, but are instead systematically crafted.
I enjoyed thinking about marketing and I learned about the endless possibilities. The more I see how powerful marketing can be used as a tool of empowerment, the more I love it.
So no, I wasn't passionate about it. I saw something more than passion. I saw a career path that would allow me to create change and make an impact on the lives of others. That's why I stuck to marketing. That's why I enjoy it more and more each day.
I know that as I continue to do this, I will eventually learn to love it and be passionate about it.
Conclusion
In no way am I suggesting that science majors switch to a business or marketing path. And I'm not discouraging you from pursuing a Ph.D either.
But if you're thinking about switching careers, take a step back and reflect on why you're considering the switch. If it's because you're stressed or angry or frustrated, then take a step away from those emotions and focus on your personal values.
What do you want in your life? Which career will provide you the opportunity to live out those values? Which career will take you down a path that allows you to do something you care about?
Remember, your degree doesn't define you and if you're interested and care about the work you do, the passion will come.
Heyo! I'm creating a resource to make the job hunt easier. Want first dibs?