Last updated: November 12th, 2017
If you're looking to jumpstart your career in digital marketing, you're at the right place. There are many "ultimate guides" and articles out there about the best ways to do everything. Not all of them can be the best.
I'm going to be straight up: This guide won't be the ultimate guide to learning marketing (whatever that means anyway).
But this guide is going to be truthful and valuable.
You're only going to get the necessary info to start thinking like a digital marketer. I'm going to show you the most useful resources I used to learn marketing (trust me, there's a lot of useless content out there).
Note: This is not a guide to become the best marketer in the world. It's a collection of the most useful guides and content for you to get started so that you don't have to wade through endless amounts of useless content.
---
So You Want to Be A Digital Marketer
First off, great career choice. Second, you're in for a ride. Either buckle up or get off. There's no going halfsies on this.
Consider this: Dharmesh Shah, co-founder and CTO of HubSpot, predicts that the demand of great marketers is going to increase. Not only that, but the salary of digital marketers will double over the next five years.
So there are a lot of opportunities in marketing. But those opportunities will only be available if you work hard–harder and smarter than the other marketers.
Here's the problem: When I first decided to become a digital marketer, I read everything. Literally everything.
I downloaded all of the Copyblogger guides. Read articles on Search Engine Land, reviewed Quick Sprout guides, and went through the Quick Sprout University (plus many more websites).
To be blunt, not all content is equally useful. A lot of articles I read repeated each other and some provided useless information.
The goal of this page is to give you resources to build a strong marketing foundation without having to filter through the useless stuff.
I'll also share the people you should follow to stay on top of industry news and trends.
You As a Digital Marketer
Digital marketing is an extremely broad field ranging from web development to graphic design to writing and all things in between.
To be an effective modern marketer, you must be data-oriented. A lot of young marketers I've met say they want to do marketing strategy but they haven't done any work. To learn to effectively strategize, you have to get your hands dirty and actually do work.
The most useful type of marketer is the T-shaped marketer. As you'll see, there are various aspects of marketing. A T-shaped marketer has a broad understanding of each channel of marketing but is specialized in one (or a few) channels.
You're a jack/jill of all trades, ace of one.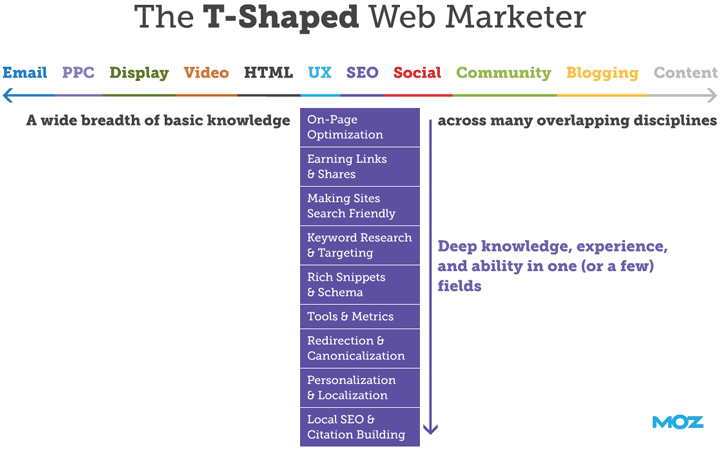 If you're not convinced, Rand Fishkin, founder of Moz, also believes marketers should be T-shaped. Tim Brown, CEO of IDEO, takes the idea further and believes that people should be T-shaped.
In addition to having a T-shaped skill set, the best marketers are scrappy problem solvers and can think for themselves.
This will all make more sense as we continue.
No matter what area you decide to specialize in, it's important to remember that, in marketing, things are always changing.
If you aren't adapting, you're going to get left behind.
Stated another way: If you like doing the same, mindless thing every day and you don't enjoy learning, then digital marketing is not for you.
With that being said, let's get started. (I mentioned I would cut the bullshit, right?)
Here are the guides to study if you want to get started in digital marketing.
---
Digital Marketing Overview
Quick Sprout's beginner's guide to online marketing is a great guide to get you started on understanding the various aspects of online marketing. It scratches the surface of the different channels of marketing so you can get a holistic understanding of how everything ties together.
SEO
Search engine optimization (SEO) is foundational knowledge any online marketer and content creator should have. It's a method to get traffic from organic search results on search engines like Google and Bing. Study Moz's Beginner's Guide to SEO to get a crash course on how to optimize for search.
Go deeper into SEO: Quick Sprout's Advanced Guide to SEO
Further Reading: SEO and content marketing are more intertwined than ever. Learn how the two work together in the big picture so that you can effectively market content.
Copywriting
In digital marketing, writing is the main method we use to communicate with our audience (in addition to video, audio, and graphics). Copywriting is essential to communicate your message clearly and in the way our audience wants to be spoken to. Study Copyblogger's Copywriting 101: How to Craft Compelling Copy [pdf download].
Go deeper with copywriting:  Quick Sprout's Definitive Guide to Copywriting
Further reading: Breakthrough Advertising and Cashvertising
Content Marketing
Content marketing is a strategic marketing approach focused on creating and distributing valuable, relevant, and consistent content to attract and retain a clearly-defined audience — and, ultimately, to drive profitable customer action.
The purpose of content is to attract readers who hopefully become customers. It's a cornerstone of the inbound marketing methodology and how you provide value to your audience.
Comprehensive + Useful + Entertaining Content = Value
The bad thing about content marketing is that there's a lot of noise and competition out there. That doesn't necessarily mean it's difficult, it just means you have to create content that's 10x better than what's out there.
That also means that it's difficult to find great content marketers (hint: this is a huge opportunity).
Study: Beginner's Guide to Content Marketing by Moz
Go deeper with content marketing: Quick Sprout's Advanced Guide to Content Marketing and How to Build and Operate a Content Marketing Machine
Recommended Certification: HubSpot's Inbound Certification Program
Email Marketing
Email is still the largest driver of revenue for many businesses. You probably subscribe to your favorite clothing brands for discounts and blogs for updates. If any emails become uninteresting, you unsubscribe. But if it's something really interesting (for me, that's when J.Crew has an upcoming 40% off sale) then you'll click to their website and (sometimes) buy!
A business that can grow their email list with interested customers and keep those customers engaged have a powerful tool to drive sales and grow their business.
Study: The Ultimate Guide To Successful Email Marketing
PPC
When done well, pay-per-click advertising is one of the largest drivers of growth for business. It can also be a huge waste of money if not done properly.
Study: Unbounce's Noob's Guide to Understanding Pay-Per-Click Marketing
Web Development
I recommend using Codecademy. It's free and fun to go through.
Paid courses: The Complete Web Developer Course and Coding for Entrepreneurs
Graphic Design
I recommend going through the Canva Design School to familiarize yourself with design concepts.
Go deeper with design: Basics of Photoshop: Fundamentals for Beginners
So you've gone through all the guides. Now what?
So now you know what to do, but you don't have anything to market. Yes, you do!
Yourself.
Let's start your first project.
As a marketer, it's important to be able to marketing yourself (surprisingly a difficult task). I recommended you start off by getting your website to rank in Google for your name.
Do a google search for your full name, do you rank on the first page?
No? There's your first project. Conquer your online presence and show up for your name.
Already rank? Create a website and start a blog. Don't worry too much about what you write about (just keep in mind how you want to present yourself). Here are some ideas to write about:
What you're learning
A course you're taking
Learnings from the book you're reading
These things all demonstrate that you're growing as a marketer. Hiring managers love to see continuous improvement.
Don't worry about personal branding or building a following or picking a niche.
Just write.
People to Follow to Continue Learning
Brian Balfour, Founder/CEO of Reforge, previously VP of Growth at HubSpot
Matthew Barby, Director of Acquisition at HubSpot
Ramit Sethi, CEO of IWillTeachYouToBeRich.com
Ryan Holiday, Best-selling author and CEO of Brasscheck
Joanna Lord, CMO of ClassPass
Kieran Flanagan, VP of Growth at HubSpot
Susan Su, Head of Marketing of Reforge, previously 500 Startups
John Doherty, Founder of Credo
Noah Kagan, Founder/CEO of Sumo
Eric Siu, CEO of Single Grain, Founder of Growth Everywhere