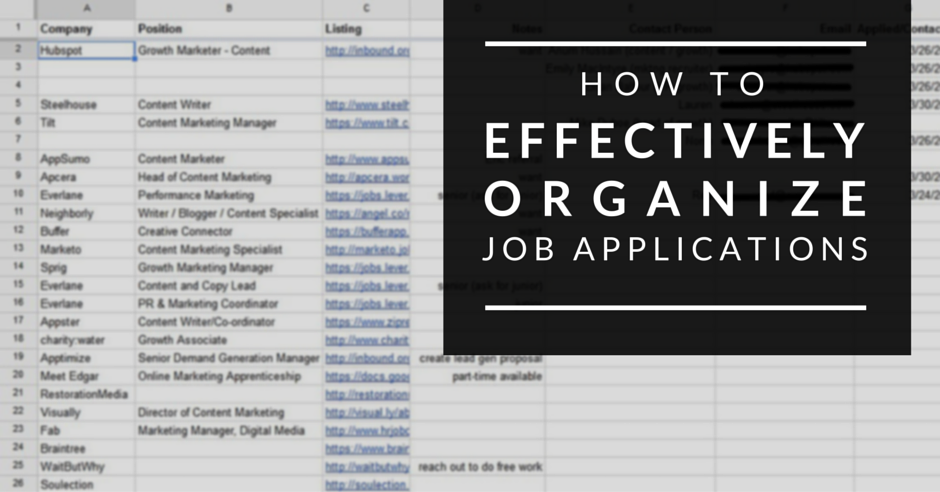 When we apply for dozens of jobs at once, how do we keep track of following up with each one?

You're searching for jobs and sending in resumes and applications and cover letters to dozens of companies or you're laser-targeting a few companies. But you forgot to follow up. Actually you forgot which companies you even applied for.
There are a lot of moving parts and it gets difficult to keep track of all your applications and cover letters and who you're talking to and who to follow up with. It gets overwhelming.
So I created a simple spreadsheet to keep track of my own applications and now I'm sharing it with you.
Get the Job Application Tracker Here
This tool can be extremely useful to you for three reasons:
You can keep track of which companies you apply for
You can remember who you're in touch with
You can see who you need to follow up with and when
Spreadsheets aren't the sexiest thing to use. And while you probably aren't going to brag to your friends about your awesome and insanely organized job application spreadsheet, you'll find that this tool makes applying for jobs much less stressful.
But you can still brag about this awesome tool with friends if you want. (:
How to Use the Spreadsheet
1. Keep track of job listings.
I like to find a bunch of job listings and add them to the spreadsheet before I begin applying for any jobs. You may find that you like to apply for jobs and add them to the spreadsheet as you go instead.
Do whatever works best for you.
Open up the spreadsheet to follow along with my example below.
Say, for example, you found Awesome Company and they're hiring for Awesome Position. Put that information into the spreadsheet and add the link for the listing.
2. Remember when you applied.
Great. Now, you can fill out the application and keep track of your application process for this Awesome Company. Put in the date you applied under the "Applied/Contacted" column.
3. Keep track of your contact person.
After applying, go to LinkedIn and find the best person to get in touch with that's most related to the job position you applied for. It may take some time to find this person and a little more time to find that specific person's email but it's possible (with email finder tools) and it's worth it. I'll explain why later.
Watch the short video below to see how you can find almost anyone's email.
Once you find the right person and dig up her email, put their contact information into the "Contact Person" and "Email" columns.
Now it's time to do your research on this person. Find any articles she may have written and give her personal website a visit to learn about what she does and what she's interested in. You can add these notes to the notes column.
You should have enough information that you can write an email tailored specifically to her.
The most important part is to immediately create a sense of familiarity and generate interest from this person. If you've done your research, you can provide talking points to show that you know about her work and aren't just sending a cold email.
Include powerful reasons for this individual to pay attention to you. Don't say vague crap like "I work well with teams" or "I'm a hard worker." Instead say something like "I'm always learning. I just read a book about x, and learned about y from some person's blog."
Make a statement then provide proof of that statement.
4. Keep track of your follow-ups.
At this point you've emailed the person, continue filling in the spreadsheet to keep track of the date you applied for the job followed by columns to keep track of your follow ups.
This is the most useful part of the spreadsheet because:
People often forget (or don't know) to follow up
People don't know when or how often to follow up
Say you applied for the job on the 14th. Two days later, you're looking at the spreadsheet to continue applying for jobs and you realize that you haven't gotten a response to your application, so you send a follow up email.
While the spreadsheet is extremely easy to use. The hard part might be getting yourself to actually use it because it might feel like an extra, useless step.
Why should I organize all my applications? I just need to send my application and wait for a response.
You can do that if you're comfortable with blindly sending out applications.
But if you have one place to keep track of your applications, you can easily keep track of who you're talking to and what you talked about. By doing all of this, you can follow up more effectively which will increase the chances of you getting the job you want.
Put in a little more effort to save yourself the stress and headache that comes with job hunting.
Get the Job Application Tracker Here
Heyo! I'm creating a resource to make the job hunt easier. Want first dibs?