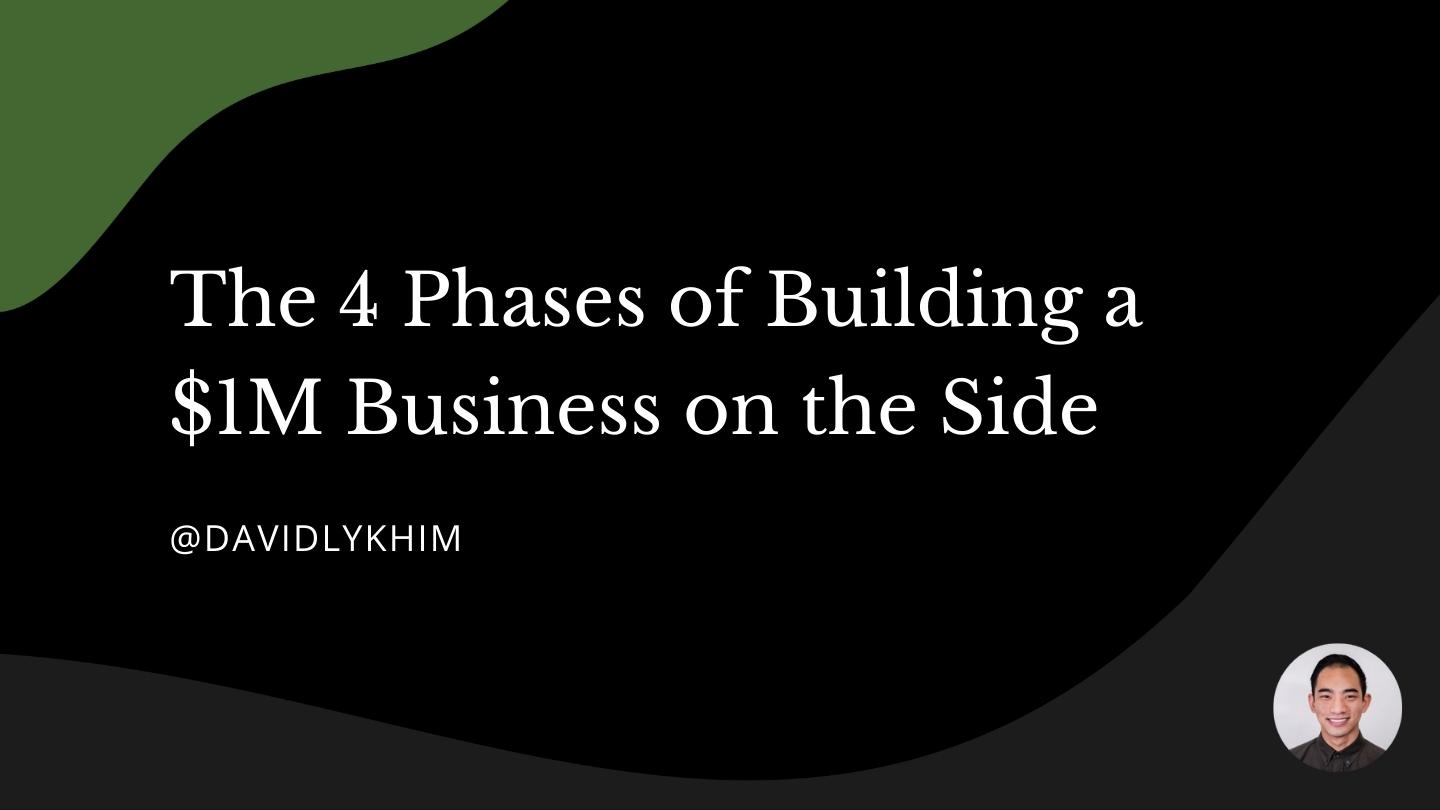 My advice to anyone who wants to be an entrepreneur and run their own business: Don't quit your job. Dip your toes in the water and build a business first.
I'm not completely risk-averse but I do my best to mitigate risk if it's not necessary.
So I experimented by doing consulting and freelance writing gigs on the side to see how I could manage a business by myself.
That allowed me to learn — without risk because I had my day job — how to be a strong consultant, how to manage separate business finances, and how to manage clients.
The worst-case scenario was losing all my clients. In that case, I still had my day job.
When my friend / ex-worker / now business partner and I decided to team up to build Omniscient Digital, with we followed a similar framework.
We both continued working our day jobs while we figured out if we could build a business together and get clients.
We didn't treat it as a big deal. I don't think we really announced it to friends. We just started pitching people, getting clients, and doing the work.
I'll walk you through the theme of the first three years and how we thought about validating the business to mitigate risk.
Year 1 (2019): Business Validation
When we decided to team up, Alex and I treated building the business as a test. Let's see if we could even get clients.
We did. We got a few.
The first year, we made about $50k just messing around. We had a handful of clients who were willing to pay us.
At that time, we did all the work ourselves. We did the keyword research, built out the content strategies, ran all the client calls, and sometimes even did the writing.
We eventually hired freelance writers to do the writing — Allie was one of them. We knew that we were probably paying insane rates but we didn't care too much about profit margins. We just wanted to prove we could get clients and provide the service and if clients were happy, we assumed they would refer us to their friends.
We weren't very aggressive with getting clients because we weren't entirely sure what the service would be yet or whether we'd be able to handle more clients. We didn't have any processes in place.
Over the course of that first year, we proved we could get clients and got clarity on what we were selling and why clients wanted to work with us.
Year 2 (2020): Evolving Pricing and Packaging
The second year was about growing the team and improving our pricing and packaging.
We continued getting clients who came to us inbound. Something was happening that was leading to us getting clients and we didn't know what it was. We started a running joking that we had to "manifest" leads.
That manifestation was working.
Until it didn't.
The coronavirus hit and we had our first experience of getting fired. One of our clients had to let us go as they were facing uncertainty and understandably had to cut their expenses.
We had a dry spell for a few months but started seeing clients come through again in the second half of the year and we got back to manifesting clients.
After seeing the results we generated for clients, we realizied we were severely undercharging. So we raised our rates. Prospects didn't flinch. They were happy to pay and believed we were worth the investment. Some tested us out with a short contract and loved us so they continued the contract.
We began treating what we were building like a real business and began speaking about the financials regularly. At this point, I began building the financial infrastructure of the business.
That year, Alex and I spoke with Allie who went above and beyond our expectations with her work ethic, her values, how she carried herself, and the quality of her work. We asked if she was interested in running the editorial process.
She moved out of her responsibilities as a writer and began managing a group of contractors to produce work for our clients. She did it far better than we could.
Then we brought on Glenn to help manage our clients and build out content strategies. While Glenn didn't have a ton of experience with content and SEO, he had experience in marketing and demonstrated he was driven and motivated to learn.
We also hired Karissa to create content for the agency which included producing The Long Game and turning those episodes into multiple pieces of content.
That podcast proved to be a great idea.
At the end of the second year, Allie joined us as our third founding partner. Bringing on a partner is often a scary thing. After working with Allie for a year and a half and witnessing her work ethic and values in action, Alex and I knew we wanted Allie as a partner.
We sat down with our business lawyer and drafted up all our paperwork. This was a really interesting exercise because we had to think about long-term ramifications like what would happen if one of us wanted to drop out of the partnership. Would we be able to do another similar business? Would we each individually continue to own existing relationships that we brought to the business? Could we take clients away?
It's what I imagined a prenuptial conversation sounds like. I accepted we were going through the equivalent of a marriage but in business.
Thus we had our third part-time partner.
I feel really fortunate to have found such great partners.
We made $120k that year. Not much, but we were just getting started.
Year 3 (2021): Setting Up to Scale
At this point, we were a team of 5 part-time team members and about a dozen supplementary contractors. We all continued working our day jobs.
How did we do that? We'd do a call or two during the day and work on the business at night and on the weekends.
This was key in building the business on the side. The business did not impact our performance at our day jobs where we were exceeding expectations.
We were even changing day jobs because we were progressing in our careers outside of the business.
Eventually, we realized we had to jump in full-time.
The crazy thing is, Glenn and Karissa jumped in full-time before we did. They trusted us and that was a big moment of reflection for us. If our employees had enough faith in us to be with us full-time, why weren't we making the jump?
Our excuse was we weren't paying ourselves a salary through the business and wanted to make sure we could take care of our team before we jumped in and took a salary.
In this third year, the business tripled in revenue and there was no longer a financial risk to jump. We would have to take a pay cut from what we were getting paid at our day jobs, but we could live comfortably from just the business revenue.
We had a solid team to scale the business, we just needed the partners in full-time.
We made $545k in gross revenue that year with a profit margin of about 35%.
Year 4 (2022): The Big Jump to Scale
As we executed on that timeline, we continued to grow and get clients. We hired a CFO to get another set of eyes and make sure were financially responsible.
We also brought on our third full-time employee, Sam, as our managing editor, to drive excellence in our content product process and build out our team of editors and writers.
Each person we've hired was a milestone that validated we were building a real business and people wanted to work with us as clients and as teammates.
Alex and I are now full-time in Omniscient and we're already seeing our sales pipeline accelerate and setting up the business to scale.
At this point, we're focused on scaling our sales and marketing and making sure we have the infrastructure to support that growth. That includes hiring more team members, automating administrative tasks, and strengthening our processes.
If you're interested in building with us, check out our job openings.