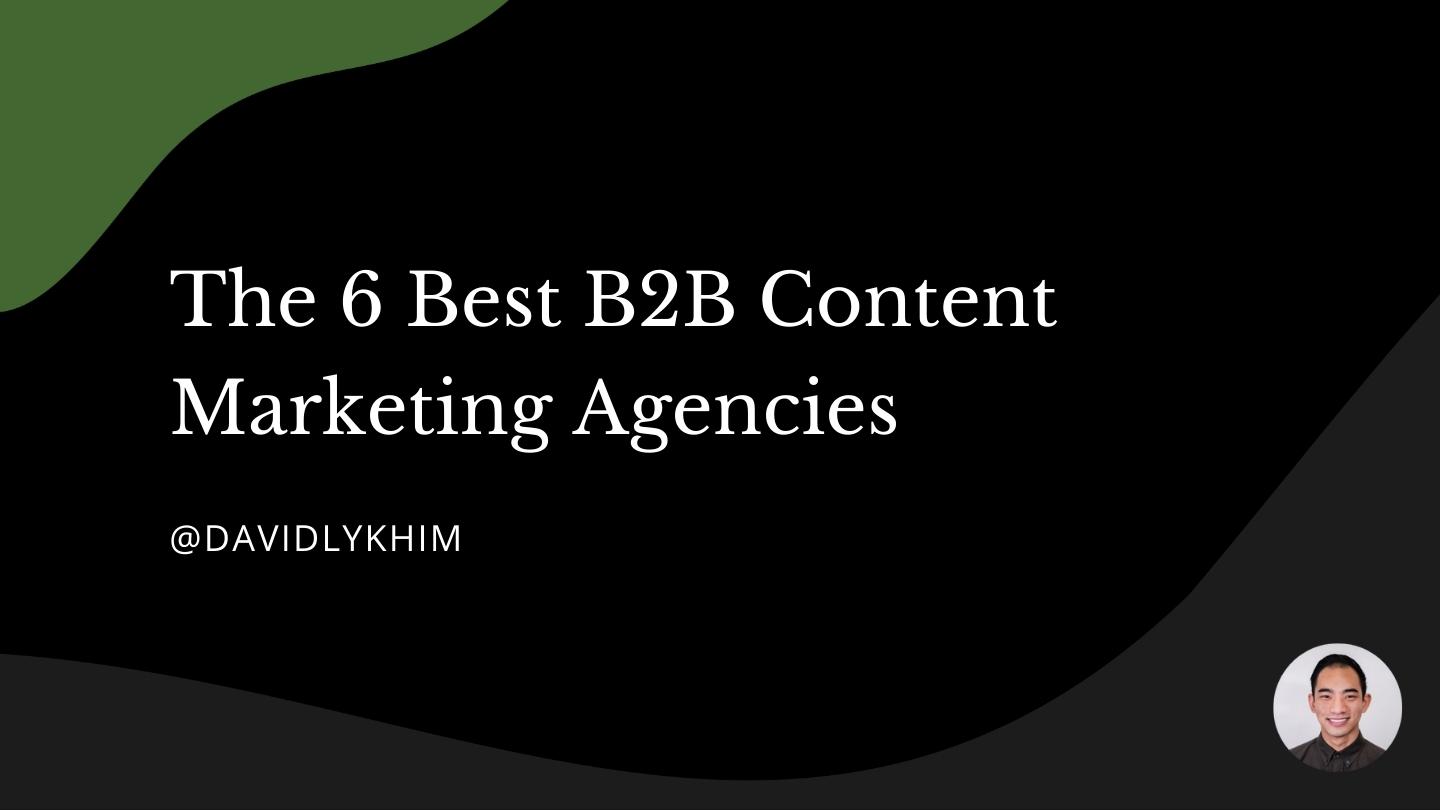 Before we jump into this, there isn't a "best" content marketing agency, but there is a "really good" content marketing agency for you.
It often just takes a lot of digging and vetting to find the right one.
I'll help you evaluate and decide who to work with and how.
I'll also make some recommendations for some agencies you should consider. While this won't be an exhaustive list, the agencies I highlight are reputable agencies with solid track records.
But first, let's start with how to evaluate content marketing agencies.
What's your goal?
Are you trying to grow organic traffic? Build thought leadership? Use content for lead generation? Improve your email marketing? Scale up your PPC campaigns?
These are valid goals, but you must decide what it is first.
This clarity will help you evaluate which content marketing agency is the best to help you reach those goals.
What challenges are you facing?
By listing out your challenges, you can better understand the scope of work you need from an agency. That will help determine whether you should work with a full-service agency or one that can provide a particular service that complements your current in-house resources.
Types of content marketing agencies
Before going on your hunt for the best content marketing agency, you must decide what type of digital marketing agency you want to work with.
There are many agencies, and while many say they are full-service agencies that can help with everything, they often specialize in something.
Based on your goal and challenges, you might want an agency specializing in social media. Or one that focuses on technical SEO services. Or, you might end up deciding you need a design agency.
Experience
Does the experience of the agency team align with your goals?
If you're a B2B software company, you wouldn't want to hire an agency that's founded by ecommerce experts that focuses on ecommerce companies.
You also might not want to hire an agency specializing in social media marketing to help you with search engine optimization.
You'd want to work with an agency that focuses on B2B software companies and ideally has a team with experience at those same companies.
Those are obvious examples, but make sure that the agency's makeup and services align with what you need support with.
Take a look at the case studies they've published. Those are often representative of the companies, industries, and services they focus on. You'll be able to tell if they focus on small businesses, startups, or high-growth SaaS companies.
Scope
What is the scope of work you need help with? Some agencies provide a range of content services, including video production, social media, graphic design, website design, landing page copy, blog posts, email copy, marketing automation, link building, and more. These agencies will try to sell you those additional services.
I also hesitate to believe those agencies are the best at everything they do.
If you know what services you're looking for, you might want to look for an agency that specializes in that service.
For example, at Omniscient Digital, we intentionally focus on blog content, and gated content offers like white papers, SEO, and link building. We may expand with complementary services like LinkedIn copywriting, technical SEO, or graphic design in the future. But we're focused on what we know we're great at for now.
Cost
You'll find a range of agencies that charge $100 a blog post up to $2,000 a blog post.
What you get at each end of the spectrum will range.
For example, a $100 blog post might require you to be the editor, the project manager, the SEO specialist, and the strategist. Not all writers or agencies who produce content at that price point will be low quality or excellent service, but there isn't reason to believe their work will be high quality.
On the other hand, a premium agency that charges $2,000 a blog post would ideally provide a completely different experience. They provide you with a dedicated strategist, editor(s), writer(s), and a project manager to keep the content production process running smoothly. These agencies often, and should provide a white glove service. There might be some feedback on your end in the beginning, but over a few cycles, the content they produce should require little editing and feedback.
Those agencies are the ones that adapt to your style and tone and adopt your success metrics as if they were their own.
Of course, these examples only refer to written blog content. The same can be said about video production, social media, copy, etc.
So what are the top content marketing agencies to consider working with?
I'm biased but I would be silly not to promote my content and SEO agency. My partners and I have experience building growth programs on in-house marketing teams at companies like HubSpot, Workato, and Shopify.
Our specialty is helping software companies turn content into a growth channel by developing a tailored content marketing strategy informed by SEO to help them grow organic traffic and general leads. Our managing editor comes from companies like Backcountry and Clearlink and runs a tight content production process to produce high-quality content that often doesn't require much editing. We're very proud of our content creation process and the quality output.
We also build high-quality backlinks with a guaranteed minimum domain rating (DR) of 50.
We're growth and analytics folks, so we build robust reporting for our clients as if we're building reporting for ourselves. We build reports in Google Data Studio, so it's easy for clients to view progress on building organic traffic and conversions driven by the blog content.
We've been able to produce great results for clients like Jasper and GatherContent.
Grow & Convert
Benji and Devesh at Grow & Convert are some of the smartest folks in content marketing. They help clients produce bottom-of-funnel content to drive conversions and use a mix of PPC and content marketing to drive traffic to that content.
Siege Media
Ross Hudgens, founder of Siege Media, and their team take a different approach to content production. They do content writing and provide graphic design to complement the content they produce for clients. They're known for producing top-tier graphics and infographics with their blog posts.
Animalz
If you do marketing for a tech company, chances are you've heard of Animalz or their content by Ryan Law, their VP of Marketing. Animalz was born out of San Francisco and has helped many well-known Silicon Valley startups with their content marketing services. They focus on using content marketing to help develop brand awareness for software companies.
Foundation Inc
Ross Simmonds and the team at Foundation have built a brand around one of the most forgotten, least exciting, but necessary parts of content marketing: content distribution. They have an excellent library of resources to help you implement the exact tactics they do.
Single Grain
Single Grain specializes in pay-per-click (PPC) and SEM but also provides various services, including content marketing, SEO, and conversion rate optimization. They're a full-service agency that can support all your digital marketing efforts.
Ready to choose a partner?
Choosing the right content marketing partner to build your content program isn't easy, considering budgets, scopes, and timelines.
Good luck with the process! Feel free to reach out if you'd like to chat about whether Omniscient Digital would be a good fit.